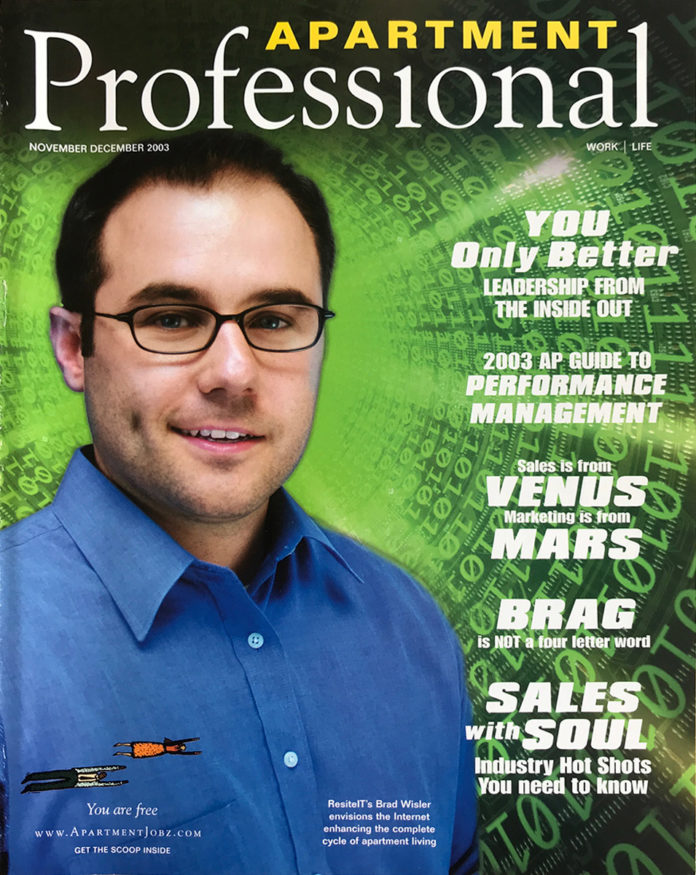 Internet-based tools are all the rage in driving property performance.
In the initial stages of internet development, most apartment firms treated the Internet as a novelty then progressed to viewing it as a commodity to be packaged and sold as an amenity. The next stage of Internet development moved to deploying web-based technology as a marketing and management tool. Among the largest apartment firms, who are usually the first adopters of new technology, expenditures in Internet-based marketing has jumped from the bare minimum to more than 25 percent, according to a white paper by the National Multi Housing Council (NMHC).
Online advertising has proven to be a powerful and cost-effective tool. Apartment firms can use the web to present information readily to consumers and update that information quickly in response to market conditions and changes in company strategy. With the majority of apartment residents (nearly 80 percent) having PCs and Internet usage, failing to tap this readily available marketing medium means missed opportunities.
People across economic and age spectrums are using the Internet more readily, according to a study by Pew's Internet & American Life Project. The study found that the fastest growing group of Internet users by economic demographics is those with incomes of $30,000 or less. At the end of 2000, 38 percent of this group was online, compared with just 28 percent in June of that year. A 10 percent gain was seen in those six months. That rate of growth was forecasted to continue until usage rates equaled other demographic groups. At the time of the study, 104 million Americans, or 56 percent of all American adults, were using the Web. In July of this year, that number is estimated to have grown to 143 million. With that many people online, you can be certain your residents are online paying bills, communicating, and searching for apartments.
Until recently, the Internet primarily served as a way to present information to prospective residents and generate leads. Limitations in technology and property management practices previously restricted apartment firms from moving the lease transaction process online. New technology has emerged that enables firms to fully abstract leases online and capture information from online activities and incorporate them into the firm's property management and accounting software. This new capability will propel the use of the Internet as a marketing and management tool and will further widen the gap between apartment firms that have embraced web-based technology and those who haven't.
Some history
Internet usage literally exploded within the past decade, quickly moving from a novelty used by academics and computer geeks to the primary communications media used by business, consumers, government, and nonprofit organizations globally on a 24/7 basis. As a result, the Internet has transformed the way apartment managers and residents interact as well as how prospective residents find and lease apartments.
During the dot.com boom, which mirrored the frontier land grabs of the 1880s, there was a mass migration by companies and consumers to the Internet. Armed with IPO money, firms rose from nowhere to stake their claims on the web and sought to leverage Internet technology to unseat long-term players in the business community. With the exception of standouts such as Amazon, most of these firms failed. Thinking they had a competitive advantage, these startups quickly found themselves competing with a virtual onslaught of established business entities wielding the same sword of web-based technology. The long-term players had deeper pockets, but more importantly, they were able to transition their business plan and identity to the web and successfully translate or reinvent themselves to the online community.
Similar problems faced the apartment market when it saw an influx of online apartment rental sites, and companies either outsourced their web development to firms unfamiliar with the apartment industry or turned the job over to in-house IT staff who lacked the design and integrative skills to produce viable, marketing-effective sites. The end result was a lot of web content for the apartment market that missed the mark.
Focused alternative
Resite Information Technology (ResiteIT), based in Bloomington, Indiana, is a small, rapidly growing technology firm that has made its mark developing web sites and custom applications designed specifically for the apartment industry. Unlike the majority of the hundreds of design firms, web site developers, and marketing communications agencies serving the apartment industry, ResiteIT focuses on multifamily exclusively.
The advantage of Resite Information Technology is that it develops custom, web-based technology and sites for the multifamily industry. The company understands the apartment market and leverages its technological development skills to create products and services that expand marketing opportunities, streamline operations and make resident relations more efficient.
"Our goal is to give our clients in the apartment industry web-based tools that make their work processes more efficient and productive," says Greg Starr, director of business development for ResiteIT. "Our web-based products and services are developed as solutions to the critical areas of apartment management: marketing, e-commerce, resident relations, and property management.
Where ResiteIT differs from generalist web development firms is its strong knowledge base of apartment industry processes and core tasks. The company's products are predicated on extensive research on the fundamental principles underlying multifamily management and operations. ResiteIT develops products and services that recognize there are the two key components to successful apartment community management: managing daily operational tasks and interacting with residents.
"Unless your applications and web sites are streamlining your core processes and adding real value, they are do not meeting the key needs of your organization," says Starr. "We're not just providing web sites, but functionality that improves business performance."
Starr adds that his firm's products are online solutions that offer new ways to automate time, consuming tasks and give managers greater freedom while also providing greater control of the processes and information generated from them.
Such applications as its two new offerings, ResiteIT Payment Solutions and Lead to Lease, are designed to automate core processes at the heart of apartment management operations. Payment Solutions enables properties to collect and deposit payments online and in the office. Using it, apartment managers can accept payments for rent, utilities, application fees or deposits via electronic check or credit card. The result is a process that is more convenient for residents while drastically reducing the time and cost of rent collections. This solution provides advanced reporting functionality, a resident payment interface and seamless integration with accounting, utility billing services, and other providers.
Lead to Lease is an add-on to apartment web sites that expedites acceptance of applications electronically. The wizard interface matches existing applications to allow residents to complete and submit applications online from anywhere.
"We're developing products that embrace the whole cycle of apartment management," says Brad Wisler, president and CEO of ResiteIT. "Firms can do much more than just use the Internet to enable prospects to search for apartments, you can use the Internet to do everything from promoting apartments to capturing lease applications to accepting payments electronically."
Another product in ResidentIT's suite is Resident Hub, a virtual online community office where residents can pay rent with electronic check or credit card, submit service requests and access important news, events, calendars and classified ads through an interactive newsletter.
"ResidentHub is a very user-friendly product which was not time-consuming for our managers to learn or keep up with," says Anne Beatty, vice president of operations for Pinnacle Properties. "ResiteIT is a very service-oriented company. They conducted training with our regional managers in addition to the community managers onsite. The website they developed for us provides a lot of features which aid in the marketing of our properties."
ResiteIT's tools for enhancing resident communications includes dynamic, interactive newsletter content, targeted emails, surveys and announcements that can be sent with a click of the mouse or accessed through custom portals such as ResidentHub.
Customized websites developed by ResiteIT are marketing driven and come with such features as floor plans, photos, online guest cards, appointment scheduling, and online lease applications.
The impact of the internet
There is no question that technology and the Internet have changed the way business is conducted in property management. Email and corporate intranets have changed internal communication, while advancements in online advertising, internet-based applicant screening, and utility metering have offered improvements in leasing and operations.
Today the typical apartment resident is online and using the Internet in their apartment search. In 2001, according to CEL & Associates, 56 percent of apartment searches involved the Internet. Some users completed their search entirely online. Others started somewhere else, print guide, newspaper ad, or banner ad, and moved online at a later point in their search.
This means the majority of apartment residents have access to the Internet somewhere, primarily at work, home, or school, that permits an online search.
How do you know if your residents are included in that 56 percent searching online? If you use Internet advertising, then you have seen leads arrive and leases signed from your Internet prospects. How many residents at apartment communities have Internet access and what they do while they are online? Studies show that the US Internet population is looking more like the nation's real population all the time, bringing their offline consumer behavior online.
Across the nation, usage rates differ based on the region and demographics. Technology savvy cities like Washington D.C., Denver, Boston, and cities all along the west coast have the highest Internet usage rates. Portland tops the list at 70 percent, but even cities like Detroit, St. Louis, and Orlando where technology companies are less prevalent are in the top 20 with penetration rates above 55 percent. Chances are good the Internet has made an impact in your area locale.
Depending on your location and property grade, you may have a guess as to the number of individuals with Internet access. Surprisingly, the gap between region, income, and age has narrowed incredibly fast in the last two years, at a rate higher than anyone predicted. Regions slower to adapt are catching up to the early adapters. Those with lower income are rapidly getting online due to declining computer costs, job requirements, and for family needs.
Seniors above the age of 55 are expanding their use of the Internet and using it to keep in touch with family and friends. Growth in this demographic is growing at a rate of 33 percent a year. With more free time, seniors have interest in the Internet is growing at a rapid pace.
A fact worth noting is that studies have found that Internet usage among apartment residents is seen trending ahead of the population as a whole. A CEL Associates study in April of 2001 indicates that 77 percent of all US apartment residents are connected to the Internet at home or at work, and that the majority of US apartment residents have a desktop and/or a laptop computer in their homes. This is significantly higher than the national average. The study also indicated that these residents spend one to four hours each day on their computers. A year ago, 23 percent had high-speed Internet access, and 45 percent indicated they planned on moving to a high-speed connection within the year. Among community amenities offered, CEL Associates ranks Internet usage as one of the most used amenities by residents.
What are people doing online?
Another study on general Internet usage in the United States by the Pew Internet & American Life Project has shown that the Internet has gone from novelty to utility for many Americans. Bill payment, travel planning, email, and other tasks are the most common activities. The focus has moved away from "surfing" and recreational activities, and users are focused on "life activities" and conveniences. Despite the focus on the dot.-com downfall, shopping and e-commerce continues to grow. Morgan Stanley reported that each quarter "E-commerce appears to becoming increasingly mainstream and that over 90 million people are estimated to have logged onto retail sites in July 2002."
Another popular online function is customer service. People are logging on to access product manuals, phone and cable bills, order tracking, and other conveniences. For many, it is more efficient to go online rather than pick up the phone or search for a product manual to learn how to change the time on the VCR. Consumers respond positively to companies offering instant online resources to service their needs.
For apartment managers, this means residents are interested in accessing the Web for functions at their apartment community. Residents can benefit from the conveniences of online rent and utility payments, service requests, policies and enhanced communication. Many people work long hours or travel frequently and are not home when the leasing office is open. Others simply want to save a trip to the office. Today, statistics repeatedly show that the single largest controllable factor in lease renewal is the perceived service that a resident received from the community staff and whether that service met their expectations.
Putting the internet to work
Today more prospective residents are coming online when it is time to look for an apartment than ever before. Apartment communities can strengthens their relationships with residents by using the web to offer additional services throughout the lease cycle, from move-in, ongoing resident communication, and as part of to lease renewal.
Online services are not intended to replace personal relationships, they should be used to enhance the service residents receive in person. These services are becoming increasingly critical to meet the high expectations of service that lead to a long-term resident relationship. While implementing these services often seems like a daunting task, firms such as ResiteIT can ease the transition to online deployment of essential operations and processes.
Many of the technologies and concepts have already been refined in other markets, such as hotel and lodging, and deployed successfully for property management. Online resident services are available and ready to be rolled out on your properties. The best news is that the process is much simpler and takes less effort than ever before. Technology has become an integral part of apartment industry operations and those companies who use technology to enhance their customer service will have a competitive advantage in the multifamily marketplace.
Time to upgrade your web site?
With 2004 fast approaching, year's end is a good time to take a look at your current website and see what how you can upgrade your site for greater impact this coming year. This may mean a total redesign, or it may simply mean adding new features to your existing site. Much like a customer shopping at a website like Macys.com, or a driver logging on to a state's website to renew their car registration, visitors come to your website with a purpose, and your business will benefits when if you fulfill their needs. If not, it may actually be turning off prospects and existing residents.
Here are four questions to ask when evaluating your current site and considering an upgrade:
1. Has it been more than two years since it was created?
The rule of thumb in web development is that a site should undergo a significant upgrade, or re-design every two years. Technology changes at rapid pace, and Internet browser upgrades open the door to create new design opportunities. Faster Internet connections permit more images, virtual tours and streaming media.
If you are unsure about your overall design, take a look at what other companies, especially your direct competitors, are doing, and imagine how prospects would react if when they viewed both sites during their apartment search. Are your graphics outdated? Is the look and feel of your website consistent with the rest of your marketing materials? Too many graphics can make your site look dated and cluttered.
In property management, the website has moved beyond a posting of floor plans and photos, and has become a functional part of leasing and customer service. Even if you lack the resources for a total redesign, adding new features and content will pays off. Such additions will result in a significant return in investment, and will help identify brand your company as technology-savvy, an important factor for many apartment renters.
2. Does your website move the process forward?
What tools are you offering online to facilitate the leasing process? Your website should be prepared to offer valuable content for all stages of the leasing process.
Does your website call visitors to action? Many visitors to your website will already have a purpose in mind. If they can't find what they are looking for quickly, they will probably leave the site, and they are unlikely to return. All visitors are more likely to click on links which appear to trigger an action, rather than simply display more static information.
Here are a few examples of calls to action:
Take a virtual tour!
Schedule an appointment!
Find your new home now!
Contact a leasing consultant!
Print a brochure!
Check out our move in specials!
Apply online!
Most prospects must make an additional trip to the property to drop off their application or fees. Have you considered allowing this to be done doing this electronically, as an added convenience? This is especially valuable for out-of-towners. Allowing prospects to take the next step from any location will helps you close more leases. Reducing the number of trips a prospect must make to the property will helps you do it faster.
3. Are you serving your current residents' needs?
Have you considered the many ways that the web can provide customer service around the clock? The office may be closed when your residents arrive home at night, but they can still reach many of the same resources online at their convenience, instead of calling or visiting the office. Sending service requests, paying rent, and finding community resources are a few examples of resident-centered content.
Many residents would prefer communicating with management online, or finding resources on their own, saving a call or visit. Additionally, the staff can enhance their relationships through better communication, without the extra time requirements. Email communication reduces the need for posting notices and repetitive phone calls. Have you considered how to make lease renewal easier using the Internet? Is the content fresh, and updated with current information? Prospective residents may visit your site for various reasons.
They may see your web address on a banner outside the community, or in a print guide, and visit you online first. In that case, it may be is their first impression of your community. Other future residents may visit the site at the suggestion of a leasing consultant after visiting or speaking on the phone. In either case, the impression the website makes is critical.
Property managers frequently repaint buildings or update landscaping to improve "curb appeal". It is equally important to maintain "web appeal". Prospects who aren't turned on by your website may never see your property in person.
Outdated information is an instant turnoff. If a special is posted from months earlier, a prospect may not feel their time is well used on the site. Broken links that lead to blank pages may mean an early exit from the site. Current information is critical. Is your website consistent with your other marketing and customer service materials?
If information is outdated because it is too complicated to administer, it is probably time for a new site incorporating user-friendly administrative tools.
4. What else can you add to your website?
Leasing and customer service are integral functions of property management, but there are many other aspects of your business that can be enhanced through your website. Employee recruiting can be improved by posting job opportunities and descriptions on your site. Owner/Investor Centers can offer many of the same benefits. Local resources can help acclimate residents who are new to the area.
Corporate Intranets can be integrated to increase communication, and create new efficiencies. Internal message boards can improve training and help employees share ideas. Document sharing can allows regional managers to distribute new materials to community managers instantaneously and save you a bundle on postage and shipping costs.
Creating an effective website is a process, not a one-time event. It is often recommended that a business should pause and evaluate the a site's effectiveness of their site every six months. This, of course, does not mean that you head back to the drawing board and start fresh twice a year. A great benefit of the web is that unlike printed materials it can be changed constantly and instantly.
At any time, you can add new features, change images, add fresh content, and find ways to better serve your audience. In many cases, it is fairly easy to add new features and drastically change the impact of the page. A semiannual evaluation is also a good time to see if you are using the website effectively in your marketing and retention strategies, and see what you can do to create more value.
With 2004 on the horizon, now is a good time to take a moment to see what you can do to boost your online presence. It doesn't take much time or money, but the payoff in terms of leasing and retention can be exciting.