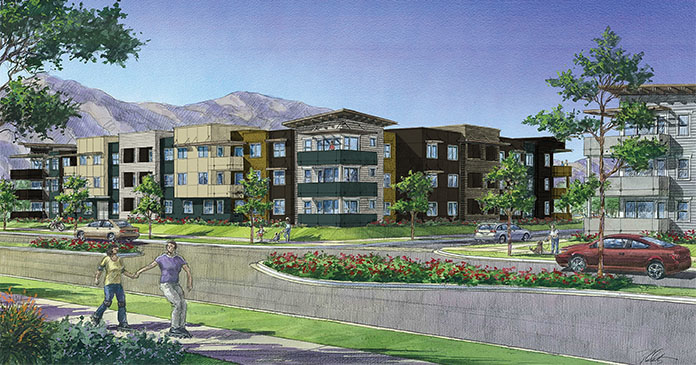 Not only is Daybreak the first fully master-planned community to rise in the Beehive State, last year it was the sixth best-selling MPC in the nation, based on the number of housing units sold, according to sales data gathered from 400 such communities by RCLCO (Robert Charles Lesser & Co.), an independent real estate advisory firm.
While the majority of the nation's top 20 best-selling MPCs saw their net sales fall in 2009 from the previous year, home sales within Daybreak increased seven percent during the same period.
The MPC that began rising in 2004 owes its success to nimble master-plan developer Kennecott Land Company and the South Jordan City's flexible zoning policy and commitment to infrastructure upgrades that enabled Kennecott to make timely tweaks to its development plans and schedule in response to the market downturn.
Single ownership of the land also gave the developer control over execution. Kennecott Land Company is a subsidiary of London-based Rio Tinto, the world's third largest mining company and owner of a total of 93,000 acres; a 144-square-mile, contiguous piece of Utah real estate, the largest piece of land, controlled by a single owner, that is next to a major city anywhere in the country. Daybreak will occupy 4,200 acres of that mega-parcel.
Instead of waiting for a tanked economy to recover, the master-plan developer responded to market changes with smaller lots and smaller Energy Star-rated homes that incorporate solar or wind energy, water conserving features and storm-water retention and re-filtration systems.
From a $2 million bridge, made almost entirely of recycled material, that connects the MPC with a park-and-ride for a TRAX light-rail system to be completed in spring 2011, to a group of solar-powered single-family residences priced with first-time home buyers in mind, the entire Daybreak community is dedicated to sustainability. Every home there is within a five-minute walk of a park, along 37 miles of interconnecting trails, some lined with channel streams. Home builders in the MPC recycle more than 75 percent of construction waste.
Those sustainable features and focus on affordability have resonated with home buyers. One of every five new homes sold in Salt Lake County last year was in Daybreak. Price points started at $130,000, low enough to attract the most recession-wary. Large-lot single-family-homes accounted for just 13 percent of total sales, while single-family homes on small lots accounted for 33 percent and town homes and condos 27 percent.
"I'm proud of the success we experienced in 2009, despite a difficult housing market," said Ty McCutcheon, Kennecott Land Company VP of Community Development. "The economic downturn has heightened buyers' interest in Daybreak. We have found that the decisions we made early to construct homes that save energy and water, offer transportation choices, and provide homes and yards that free up time to enjoy nearby parks are all things that resonate with home buyers in the current economic environment, where we are defining a fullness to life, while living within our means," he said.
At completion, Daybreak will include an estimated 20,000 homes, 60,000 residents and approximately 14 million sq. ft. of commercial space. The MPC will be further enhanced by development of two convenient public transit stations and the future Mountain View Corridor, a planned 10-lane freeway that will run through the community's center. Meanwhile, Daybreak has been the catalyst for development of a number of other master-planned communities in various stages of planning in Utah today.
Enter multifamily

Multifamily rentals are the latest residential ingredient added to Kennecott Land Company's master-planned community at the foot of the Oquirrh Mountains west of Salt Lake City. Entry-level to luxury detached single-family homes, town homes, condos, mansion homes with three units in one building, live-work spaces and a number of civic, recreational and commercial components already exist there.
Scott Kaufmann, Kennecott Land Co. VP of commercial development, who oversees the company's commercial development activities, explained that the idea of Daybreak is to provide homes for every stage of life. "People can move in to a rental apartment then move up to a for-sale town home and then maybe a single-family house and, later in life, when they are an empty nester, our garden park village. We have homes for all stages of life within walking distance of each other so you don't have to leave the community to get a different size or style of residence," he said.
The 315-unit Crossing at Daybreak, the first rental community within the MPC, broke ground in August 2009 on 14 acres in the east quadrant called SoDa Row, one of five villages in the MPC. JSA Architects designed the community in a contemporary style that reflects the Row's existing retail and commercial components.
Following on its heels, a senior rental community by Kisco Senior Living that combines independent and assisted living options is just getting underway on a six-acre site adjacent to SoDa Row, close to the future TRAX light-rail station and an under-construction 208,000 sq. ft. first phase of the University of Utah medical center.
With the clubhouse for Crossing at Daybreak now open and fully staffed, Western National Property Management, the multifamily property division of Irvine, Calif.-based Western National Group, is welcoming new residents to the apartment community that has been on the drawing board since 2005. The first buildings became available for occupancy in September 2010 with final units expected to be completed in the summer of 2011.
The garden-style community is owned 50/50 by a joint venture of Kennecott Land Co. and Western National Realty Fund II, LP, the investment vehicle of Western National Group, which has approximately $230 million of equity commitment focused solely on multifamily acquisitions and development. Construction financing for the project was provided by Zions Bank, which recently opened a new branch in the Daybreak MPC.
Horizontal infrastructure for the apartments was completed by the master-plan developer, while Western National serves as lead developer and contractor and will lease up and manage the completed property.
The project represents Western National's entry into Utah, the company's first new market since opening an office in Phoenix in summer of 2009, but the developer signed on to the Crossing at Daybreak back in 2005. Based on the company's experience working on MPCs and specifically The Irvine Ranch in Orange County, a former member of the Kennecott Advisory Board recommended Western National to serve as developer and manager for the Crossing at Daybreak.
"Western National has a very strong affiliation with Donald Bren and the Irvine Company, developing their projects, so we viewed them as a well-capitalized, well-experienced and long-term-commitment owner and developer," said Kaufmann.
A new standard

Western National Property Management will face plenty of competition in its lease-up of Crossing at Daybreak. Approximately 2,900 apartments are scheduled to come online in the Salt Lake City metro this year, with many concentrated on the west side in the South Jordan area, and most will begin delivering first units in the second half of the year.
Much of that competing new product comes from California-based developer and property manager Wasatch Advantage Group, which began assembling land in the area years ago. Last year, Wasatch delivered two market-rate assets and one affordable community in neighboring Midvale and will lease up a couple more apartment communities in South Jordan this year.
With the flurry of multifamily development activity in the South Jordan market, Marcus & Millichap real estate associate Daniel Shin has seen apartment vacancies in the sub market rise to between nine and 10 percent, compared to six or seven percent in downtown Salt Lake City and an average of eight percent in the state.
"We are seeing slightly higher vacancy in the west, in the South Jordan area, but the good news is that the new product coming online is setting a higher standard for apartment living on the west side of the Salt Lake City MSA," said Shin.
"In the past there has been a lot of attention to development on the east side, but developers there are limited by the Rockies. The west side typically offered cheaper rent than the east, but Daybreak came in and created a whole new type of project for South Jordan City," said Shin of the area that boasts some of the highest property values and median incomes in the state and was named this year by CNN Money one of America's 100 best small cities, coming in at number 18 on the list.
Right timing

Although it's been five years since the idea for Crossing at Daybreak was conceived, and near-term fundamentals are difficult to predict today, Kaufmann is confident in the project's long-term success.
"We always said when the time was right we would move forward with the apartments. In 2005, it was a little green for including a project this ambitious. There is a hierarchy with master-planned developments. You start with a neighborhood center, things like parks, schools and churches, and then take on a civic focus that complements the immediate adjacent residences. Now, with SoDa Row open and TRAX opening in a year, the Mountain View Corridor under construction and the medical center going up, the pieces of the puzzle are falling into place. This project is one of the key pieces and it's the appropriate time," he said.
Quality and lifestyle

Crossing at Daybreak will offer amenities that include a swimming pool and spa, barbecue area, fitness center, tot lot, theater room, game room and business center. Rents will average slightly more than $1.05 per sq. ft. for the mix of 83 one-bedroom units that average 810 sq. ft., 197 two-bedroom units that average 1,200 sq. ft and 35 three-bedroom units that average 1,340 sq. ft., a bit higher than the average rent for new product in the South Jordan area, according to Shin.
But interest from potential renters has been strong enough that Western National Property Management President Laura Khouri speculates that the quality of the project and the allure of the Daybreak lifestyle will help the apartment community attain stabilization before schedule, possibly without the rent concessions of one month free, amortized over 12 months, that were written into the project budget.
"The property was originally planned for an 18-month lease-up, but I think it will lease up much more quickly. In the first two weeks of opening the pre-leasing office on SoDa Row, we had 100 people on the interest list," said Khouri, who joined Western National in 1985 and, before taking the helm of the property management company, held positions as president of Western National Group's Multifamily Ancillary Group and senior VP for Western National Group, overseeing all aspects of human resources, training and development, risk management and investor relations.
Rex DeLong, president of Western National Realty Advisors, the investment arm of Western National Group, sees the new asset as an excellent opportunity for his company to gain a foothold in a premier location that could lead to economies of scale in the MPC.
"We hope this development will be the first of many projects with Kennecott Land," said the executive, who heads up the company's development, acquisition, dispositions and asset management activities.
Western National Group, a 45-year-old, fully integrated multifamily acquisition, development, construction and property management firm, is the umbrella over five separate entities, including Western National Properties, the development and acquisition arm; Western National Property Management, the property management arm, with more than 21,500 units under management, mostly in Orange County and Los Angeles counties in California; Western National Contractors, the construction arm; Multifamily Ancillary Group, which specializes in optimizing ancillary income for owners; and Resident Group Services, the landscaping and appliance services and rental arm.
---
Author Wendy Broffman