From the minute you meet Natalie, you know she is meant for greatness. She exudes poise and strength, well beyond her years. And she is determined.
Jeff Stack, managing director of Sares-Regis, is a multifamily owner, manager and developer in Irvine, Calif., and long-standing pillar of the industry. He and his wife, Nancy, have launched a private seige on this rare disease for which there is yet a cure. But the future looks bright.
On the eve of her 12th birthday in 2003, Natalie made a birthday wish that no child should ever have to make.
After leaving a doctor's appointment, Natalie and her mom stopped to have lunch at a local restaurant.
While discussing plans for her birthday party, Nancy asked her daughter if she had thought about making a birthday wish. Natalie said she did not have a wish because she wasn't sure what type of wish she should make. She then asked if her wish had to be one that could come true. Natalie then picked up a napkin and scribbled something on it. She folded the napkin and put it in her pocket.
As they were walking to the car after lunch, Nancy asked to see the napkin. Natalie was hesitant. She finally reached into her pocket and handed her mom the napkin. Nancy unfolded it and read what she had scribbled in purple crayon: "to have my disease go away forever." Nancy's eyes began to tear up. Natalie whispered, "It's okay Mom—I'll be alright."
Natalie's wish was the catalyst in Nancy and Jeff's quest to find a cure. Those seven words provided the motivation to establish the foundation. They knew at that moment that they needed to make every effort to make Natalie's wish—and the wish of others with cystinosis—a reality.
Cystinosis, a rare, metabolic and fatal disease, afflicts about 2,000 people worldwide. Today, Natalie's wish has also become a powerful rallying cry for friends and supporters of the Cystinosis Research Foundation (CRF) from around the world.
Natalie's wish, now known as the "wish heard round the world" resonated loud and clear at this year's Natalie's Wish event on Saturday, May 21 at the Balboa Bay Club in Newport Beach, Calif. CRF founders Jeff and Nancy Stack welcomed more than 335 guests including 32 cystinosis families and 18 renowned doctors and scientists from around the world who gathered to celebrate the foundation's most recent successes. While those accomplishments have already dramatically improved the lives of many cystinosis patients, guests also heard about developments—extraordinary life-saving developments—that hold the promise of becoming reality in the near future.
"CRF-funded research at The Scripps Research Institute has resulted in extraordinary progress moving us closer to a cure," Nancy told guests. "Researchers have been able to reverse cystinosis in mice using bone marrow stem-cell transplantation. After mice were transplanted, every single organ in the mouse saw a reversal of cystinosis."
No less impressive, some of the discoveries made by CRF-funded researchers are also being tested as treatments for Huntington's disease, Parkinson's disease and NASH, a progressive liver disease.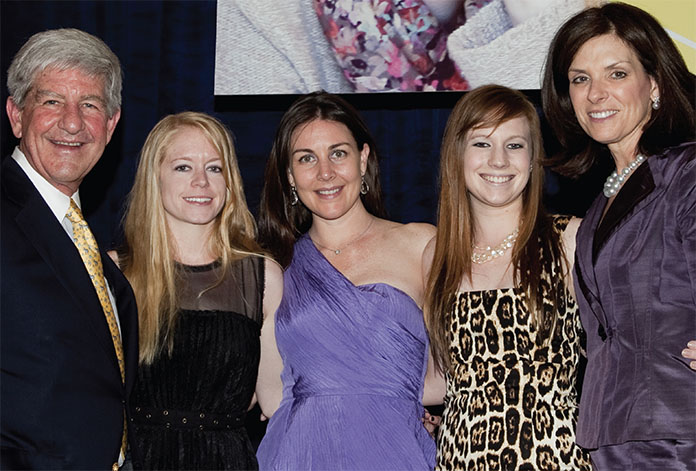 Of course, most of the research that is bringing so much hope to the cystinosis community and others would not be possible without the generosity of friends and supporters who contributed $1.6 million at this year's event. Their gifts bring CRF's 9-year total to almost $16.4 million, making the CRF the leading funding source for bench and clinical investigations for cystinosis. CRF has awarded research grants in eight countries and funded 78 multi-year studies and 13 research fellows worldwide. Because the foundation's administrative costs are privately underwritten all donated funds are dedicated to research.
Three leading CRF-funded researchers and a pharmaceutical company were honored on May 21:
Corinne Antignac, MD, PhD, of Necker Children's Hospital in Paris, whose pioneering work led to the identification of the cystinosis CTNS gene.
Ranjan Dohil, MD, professor of pediatrics at the University of Calif., San Diego, who with Dr. Jerry Schneider, developed a delayed-release form of cysteamine, which is the only cystinosis medication used to treat the disease.
Stephanie Cherqui, Ph.D., assistant professor at The Scripps Research Institute in San Diego, Calif., who established proof of concept for bone marrow stem-cell transplantation in the mouse model for cystinosis, in essence reversing cystinosis in cystinotic mice.
Raptor Pharmaceuticals Corp. of Novato, Calif., led by President Ted Daley, for guiding a new delayed-release medication through the grueling FDA approval process.
Finally, guests were mesmerized as they listened as a strong but almost tearful Denice Flerchinger told how her daughter Tina faces life with the joy, excitement and anticipation of a typical 7-year-old despite enduring a harrowing 24/7, 365 days a year, medical regimen.
Near the end of the evening the audience exploded with ovation when young cystinosis patients joined master of ceremonies Tony Award-winner Tim Kashani and the sensational pop band, Overtone on stage as they all sang the evening's theme song, When You Wish Upon a Star.