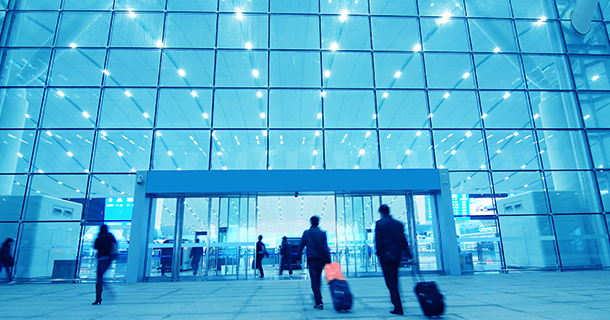 As more and more employees embark on business travel, the opportunities for trouble- whether it's overpaying for a flight or something far more serious-increases commensurately.
Still, new research by American Express Global Business Travel shows that less than one-third of companies have updated their travel policies within the last year.
"It's a new year, and with any good business practice, corporate travel departments are setting goals, including bringing their programs in line with the competition and external marketplace dynamics," said Christa Degnan Manning, director of expert insights research, American Express Global Business Travel.
"However, like many improvement resolutions, reviewing and revising travel policy tends to get neglected."
An analysis of the travel policies of nearly 100 companies found:
Only 12 percent of the policies address traveler security.
80 percent do not address reimbursement of ancillary fees such as checked bags, reservation- change fees or other for-purchase services offered at hotels and car rentals.
Only 35 percent of companies require an agency to book hotels.
None of the travel policies address the use of mobile applications or referenced tools that might be available for travelers to use on the road or when working remotely.
70 percent of companies do not provide specific guidelines to travelers on when it makes sense to book airfares through a nonpreferred supplier if the ticket price is less expensive.
An up-to-date travel policy "can help companies achieve long-term success," Manning asserted.
"Policies can support business-critical goals such as risk mitigation and employee engagement, as they touch on issues from traveler safety and security to corporate social responsibility," she added.
A new report by American Express outlines gaps and opportunities for companies to strengthen managed travel programs:
Security Companies should provide guidance such as how to prepare for a trip and what to do during and after travel, particularly when traveling to high-risk destinations. Also, don't overlook guidance on what to do during a travel emergency or disruption, as well as information on security around company assets.
Fees Addressing the travel fees remains a policy opportunity. Make it easier for travelers to understand what is reimbursable as waived fees and other benefits associated with booking with preferred suppliers- such as free checked baggage on airlines or complimentary Wi-Fi as part of a hotel rate.
Hotel compliance Safety and security rank at the top of the list of reasons that business travelers need to comply with company hotel policy. Knowing the city to which a traveler is headed is only half of the equation, particularly when locating travelers in an emergency. This area also poses the greatest area of leakage in travel policy, compromising negotiated rates when booking hotels outside of policy. Companies should communicate to travelers the reasons for booking hotels at the same time as air reservations.
Mobile technology There have been advancements in travel technology that can help business travelers manage trip details before, during and after traveling. Company-supported mobile applications can be used to facilitate communication, both during critical issues like travel emergencies and for day-to-day support, including policy and traveler-benefits notifications. A successful travel policy should include rules for these resources, and help travelers find and take advantage of them to save time and increase compliance.
Addressing lowest logical airfare Companies increasingly have introduced language instructing employees to find the lowest fare possible, regardless of whether or not a flight is with a preferred supplier. The reality of this practice is that the individual trip savings by booking cheaper fares with non-preferred airlines can jeopardize negotiated rates, unintentionally driving up overall travel costs over time. Establish guidelines indicating when this practice should be used. Recent capacity constraints, merger and acquisition activity, and even lowcost carrier dynamics require that travel managers revisit this concept and communicate it appropriately in policy.
How to engage employees
It's not enough to develop a travel policy and assume that employees know how to comply, according to Brough.
Try these strategies to engage employees in travel-policy compliance:
Make it accessible There are many ways a company can address communicating to travelers and encouraging compliance, including using pre-trip tools and policy messages integrated at the point of sale and even prior to booking. Intranets and other portals also can provide a channel to communicate policy to help travelers make the right decisions.
Appeal to the traveler If travelers don't understand their travel policy or know where to find it, they likely won't adhere to it. Most employees want to do the right thing by the business, so businesses need to let employees know what is in it for the company and for them.
Eliminate uncertainty It has been reported that one in four expense reports is typically sent back to the traveler for clarification or additional documentation support. Travel policy should take into consideration the process for expense reimbursement. The better a traveler understands the reimbursement process, the less time will be spent on re-doing these reports.
Author: Josh Cable