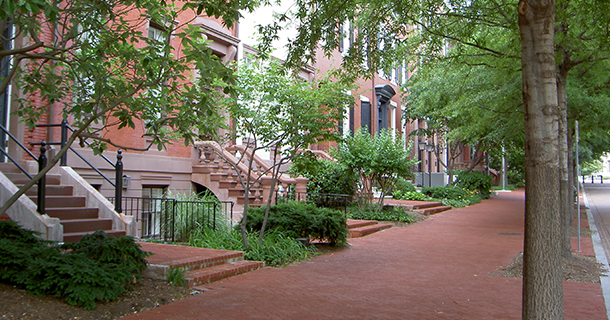 "Our spring market has taken off quite early," said Schwartz. "We've reached that stable point where we're out of a buyer's market."
The nation's capital has been a leader when it comes to real estate.
While much of the country's housing market continues to languish, Washington and the surrounding area have seen tight inventory and price growth in recent months. For particularly competitive listings, even bidding wars have returned.
The D.C. Metro Area, defined as the city of Washington and seven surrounding counties, saw the average sales price rise five percent to $406,555 in December, compared to the previous year, according to research firm RealEstate Business Intelligence LLC (RBI).
Sales totaled 3,169 in December, up 89 percent compared to the previous year, and the total value of homes sold was $1.28 billion, up 12 percent from the previous year.
The federal government's mass of workers has been a stabilizing factor for the region, providing a base of high-paying jobs. Related industries, such as government contractors, have also kept unemployment down. Tech firms have been growing, as well.
The Washington area had an unemployment rate of 5.5 percent in December 2011, the 36th lowest among 372 metro areas, according to the Bureau of Labor Statistics.
Federal budget cuts could slow further price growth later in the year, but for now, the recovery continues.
Communities inside the Capital Beltway, such as Arlington and Fairfax County have done particularly well, said Lisa Sturtevant, an assistant research professor at George Mason University's Center for Regional Analysis.
"They didn't experience the downturn that we saw in the rest of the country," she said. "Prices are back to the peak."
But in outlying areas, such as Stafford County and Prince William County, overdevelopment has led to weaker markets. "Those places are still struggling," said Sturtevant.
Still, distressed sales have made up around 10 percent of the market, below most of the country. Washington saw a wave of defaults due to subprime mortgages, but the second, largely triggered by job losses, hasn't really materialized, said Sturtevant.
Construction is far from booming, but there have been positive signs.
The last two months have been good for builders, said James Perry, a regional partner and VP of Elm Street Development Corp., which develops a range of rental and for-sale housing in the Washington area.
Around 4,000 units are under construction in Washington, but most new developments are rentals. The real estate investment trust UDR is building a 255-unit rental property in the Columbia Heights. Last summer, Forest City Enterprises, the Cleveland-based developer, began leasing Foundry Lofts, a converted industrial building.
The strength of rental housing has drawn investors to the region. Multifamily sales in the D.C. metro area totaled $4.7 billion 2011, up from $1.24 billion in 2009, according to commercial real estate brokerage CBRE Group. Residential rents are projected to rise 5 to 7 percent this year, compared to 2 percent to 5 percent growth in the area.
"The rental market has certainly been stronger than the for-sale market," said Perry.
Construction financing has been more available, but underwriting standards remain difficult, he said. He remains "cautiously optimistic" for the industry.
The local luxury market-defined as properties over $1 million-has rebounded with two prominent sales.
His firm represented biotech entrepreneurs Ruiji Ueno and Sachiko Kuno, who bought not only the $22 million Evermay Estate—last year's most expensive sale—and also the $11 million Halcyon House.
Both properties were historic homes. The Evermay was built in 1801 and sits on three acres of land, while the Halcyon House was built in 1787. The buyers plan to live in the Evermay and use it as a base for their charitable organization, while preserving the buildings.
"In times of caution, there's a flight to quality," said Tom Anderson, president of brokerage Washington Fine Properties.
He said that while the region still draws many of its jobs from the government, it has moved to a broader identity, with various corporations and trade groups diversifying the economy.
"The dynamics of the city have changed," he said. That diversity is reflected in the area's neighborhoods, said Anderson. Georgetown, home of the university, is regarded as one of the strongest local markets. Dupont Circle, Logan Circle and the U Street Corridor form a vibrant cultural district, while Kalorama is a more established suburban community.
"It's seen a complete resurgence," said Anderson, who called the city, with its stately marble monuments, the "Paris of America."
---
Author: Roland Li, ibtimes.com