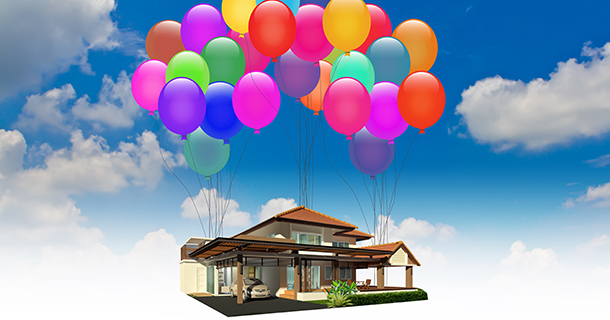 In fact, the percentage of departing renters opting for homeownership also reached some historic lows in Q4 2011 and multifamily REITS like Camden Property Trust are reaping the rewards.
"We continue to benefit from incredibly low move-outs to purchase homes, which was 11.2 percent for the fourth quarter and, for the full year, move-outs to purchase homes was 10.9 percent, the lowest annual level we've ever had," reported Camden Property Trust CEO Ric Campo in his introduction to the apartment REIT's Q4 2011 earnings call.
The percentage of move-outs to homeownership does vary widely across the company's coast-to-coast portfolio that, as of February 2012, included 66,990 rental units in 196 apartment communities, said Camden President Keith Oden during that earnings call.
At the high end of the range were Denver and Atlanta, where Camden saw almost 17 percent of departing residents move to homes of their own in Q4.
"But, at the other end of the range, you've got California, still at 5.9 percent. Las Vegas and Austin are at 7.4 percent and most of the Houston markets were in the 10 percent to 11 percent range. So, it's not that we don't have markets that are higher, it's just that, even the markets that are higher are below the average rate that we've seen in our portfolio for the last 20 years, which is somewhere around 18 to 18.5 percent for a long-term average," Oden said.
"So, even in an outlier market, where you see 16 percent or 17 percent, relative to 12 percent or 11 percent that seems like a lot, but relative to historical averages, it's still extraordinarily low," he added.
In early February, Equity Residential CEO David Neithercut reported same-store net operating income growth for the full year of 7.7 percent-almost at the top end of the guidance range the company provided a year ago. He said he expects the REIT's above average performance that was driven, in part, by that low level of renters moving into homes of their own, to continue for several more years.
"I'm sure we've got people interested in buying a single-family home in our portfolio, but they either don't have a down payment, they've got too much school debt or other debt and they can't get financing," he said.
But, even if those Equity Residential renters who covet homes of their own do manage to scrape up the cash to buy them, there are plenty of people in their 20s still living with Mom and Dad who want to create households as soon as possible, said Neithercut, who expects those new renters will backfill the apartments the new homeowners vacate.
Equity Residential's EVP of Property Management Fred Tuomi agreed that there is pent-up demand for home buying, but said he wouldn't be surprised if takes a long time for a paradigm shift to take hold.
"Eventually, it's going to happen… but it may never in a generation get back to the way it was," he said, adding that the REIT watches the move-out to homeownership number closely. "In Q4, we finished at 13.3 percent move-outs for home buying, which is exactly equal to what it was a year ago."
He said Phoenix was the only market in Equity Residential's portfolio where moveouts to home purchase moved up a bit, with around 21 percent of residents moving out to homes of their own.
"In the heyday, Phoenix probably would have been 35 percent or 40 percent moveouts for home buying, but it's kind of remarkable that Phoenix is the first market to get back up with the two-handle," he said.
Other markets where the number ticked up a bit were Orange County and the Inland Empire, where 17 percent of Equity Residential's departing residents moved out to homes of their own in Q4.
Tuomi predicted that the markets where single-family homes are the cheapest likely will be the first to see home buying increase. "I think those are going to be the first ones you might see people eventually get tempted because the pricing is just so low-well under $100,000."
He sees no indication home buying is picking up nationwide to any meaningful extent, with Phoenix and the Inland Empire the only exceptions. In the core markets like New York, move-outs to home purchase actually decreased toward the end of 2011.
"It almost got cut in half. Only four percent, 4.5 percent of our people moved out to buy homes in New York, which was down significantly," said Tuomi, adding that Denver and D.C. also saw significant reductions in move-outs to home purchase.
Neithercut agreed, adding, "Even at the lowest down payments required to get into a single-family home, you're still talking about thousands of dollars that I don't think a lot of people might have."
The 7.7 percent increase in same-store net operating income Equity Residential saw for all of 2011 was driven, he said, "by a huge demographic of our population that is not just simply in their prime rental years, but one that's currently shunning the commitment and financial risk of single-family ownership and is, instead, embracing the optionality and flexibility of the lifestyle provided by rental housing."
He said it's important to keep an eye on the millions of potential renters in their 20s, who are still living with their parents. He firmly believes that, if and when the confidence of the consumer and the strength of the economy allow people to leave Equity Residential's apartments to buy single-family homes, there will be ample backfilling by those renters-to-be, who currently are living with Mom and Dad.
AvalonBay Executive VP of Operations Leo Horey told analysts at the beginning of February that the apartment REIT has been watching the move-out to home purchase percentage closely. "Last quarter, that was about 13 percent and moved up to about 15 percent, still below the historical average that has run in excess of 20 percent," he said.
Tim Naughton, CEO of the apartment REIT that owns 199 apartment communities consisting of 57,426 units in eight metropolitan statistical areas that include New England, Metro New York/New Jersey, the Mid-Atlantic, Midwest, Pacific Northwest and Northern and Southern California as of mid-December, added that AvalonBay has started to see a small increase in move-outs to home purchase, kept muted by the discipline the mortgage business is displaying regarding required down payments.
"In terms of the markets where we've started to see a little heightened increase in moveouts related to home purchase, it's been mostly in the Northeast, actually. In Boston and Long Island we've seen it start to creep back up towards longer-term trends, even though, for the portfolio overall, it's quite a bit below. The markets where it appears to be most affordable are the Mid-Atlantic and Midwest, which generally has always been the case, but increasingly in some of the other Northeastern markets, Boston and Long Island and Fairfield," he said.
Naughton added that he and other execs at AvalonBay believe that, if the housing market recovers, the factors that would have to be in place for that to happen would be good for the entire economy.
"It's hard to imagine it's going to happen without a decent increase in consumer confidence, without a decent increase in job growth, without household growth in general," he said, adding that the factors that benefit the economy also will benefit the multihousing industry.
Recalling those times when the national homeownership rates increased, he said, "We went from the mid-90s to the mid- 2000s, where homeownership rates went from 64 percent to 69 percent and the (apartment) industry did pretty well, particularly in the 90s, where we had a sustained period of economic growth. So, it's not a scenario we necessarily fear for the apartment industry, particularly when we think the impact is going to largely be absorbed by the single-family rental business, not necessarily multifamily rental."
In Q3 and Q4, UDR Inc.'s percentage of move-outs for home purchase remained well below historical averages at 12 percent of departing tenants, said Senior VP of Operations Jerry Davis. "There remains an aversion to home ownership, as evidenced by still downward trending home ownership rates. This phenomenon continues to stimulate demand by depressing turnover," he said. The turnover rate at UDR communities for all of 2011 was flat, year-over-year, at 53 percent, Davis reported.
At AvalonBay's communities, turnover was around 52 percent in 2010, rising to 53 percent in 2011. As the REIT has been pushing renewal rents aggressively, some 16 percent of departing residents cited financial reasons for leaving their AvalonBay apartments. That number is above the historical average, but has actually come down from 19 percent in Q3, Horey said.
"One of the benefits we've seen from this renter nation phenomenon is structurally lower turnover, and this has been evident since late 2008 and 2009," Neithercut said in February, when he reported that the turnover rate at Equity Residential communities for all of 2011 was 57.8 percent.
---
Author Peggy Shaw