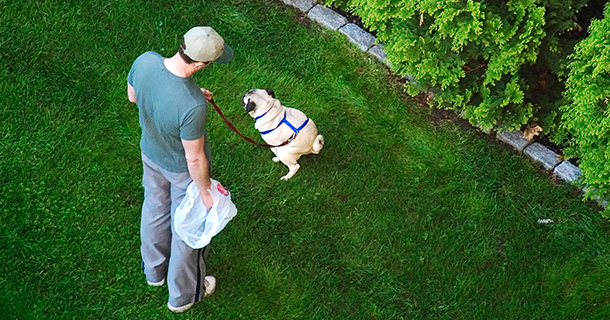 "It's kind of like the 'CSI' of dog ownership," said Trongard, marketing director of the company that manages Rosedale Estates North, a 180-unit apartment community in Roseville, Minn.
Most are familiar with DNA testing from the popular "CSI" TV show, in which the genetic material at a crime scene identifies the bad guys. In real life, DNA evidence is sweeping the world of law enforcement and has been used to exonerate a number of death-row convicts.
But a Tennessee company is putting the technology to a more down-to-earth use.
Jim Simpson, owner of BioPets Vet Lab in Knoxville, said the company started offering the dog-DNA service called PooPrints in 2008.
He said that in apartment communities around the world, managers wrestle with the same disgusting problem-dog droppings where they don't belong.
Owners walk their dogs, ignoring dog parks and exercise areas, and let the dogs use public spaces as their toilets. It's a major annoyance and difficult to combat.
Simpson offers a solution: tracking down dogs the way cops track down murderers.
Apartment managers start by sending in a DNA sample from every dog in the community, usually on a swab that has been swiped in the dog's mouth. The DNA is recorded on a PooPrints registry.
Then, when an errant stool is discovered, a sample is sent in and matched with the DNA in the database. The renegade pooch and owner are identified.
Simpson charges $30 for each DNA sample to be registered and $50 for each stool sample that is tested later.
The service arrived in the Twin Cities two months ago and is managed through Rent 411, an apartment-finding company. The company has about seven PooPrint customers statewide, according to Rent 411 owner Nick Boosalis.
The doggie-DNA technique strikes some people as too sneaky, using cloak-and-dagger methods for a minor problem.
"Some people say this is going over the top," Boosalis said. "A handful object by saying it's invading a dog's privacy."
Seth Pasch, the company's sales and marketing manager, is learning how to sell the services of professional poop detectives.
"Yeah, when I mention it, it usually produces a chuckle or two," he said.
Already cleaner
PooPrints is tempting for neighborhoods wrestling with the problem of poop.
"This has been a real crabby issue for us," said Karen Erickson, who lives in the Pine Hollow neighborhood of Liberty, Minn.
The 51-townhome area has had a problem with misplaced number 2 for years.
"I have a great view out of my window, and I always see dog owners who never carry a bag," said Erickson.
The homeowners' association board recently discussed starting the PooPrints program but turned it down when a volunteer came forward to pick up the poop herself, every week.
Rosedale Estate's Trongard decided several years ago to make the apartments more accessible for people who had lost their homes in the recession.
But many would-be residents insisted on bringing their pets. "They said, 'Would you leave behind your kids?'" said manager Cheryl Gallo.
The management liberalized its pet-ownership policy and opened 50 units to dog owners. Soon after, droppings began to appear, not just outside but in hallways and on floors, but on stairs and landings.
Residents, even dog owners, were stinking mad, Trongard said.
When manager Gallo started explaining the PooPrints program in April, it made some residents nervous. "Initially they laughed, she recalled.
The first offending sample was picked up May 15. "I'm not sure what to call it-dog poop, dog feces or leave-behinds," she said.
Whatever you call it, there's already less of it around Rosedale Estates North. Just the threat of detection has been enough to deter many former purveyors of poop. Or maybe it's the fines: $100 for a first offense, another $100 for the second and an order to get rid of the pet.
Residents seem to like the program
Resident David Allen knows that if an accident were discovered, his new puppy, Creed, would be a prime suspect. The tiny dog needs to be taken outside every 90 minutes starting at 5 a.m.
But Allen has noticed the building is cleaner, and he supports PooPrints.
"If we get lazy, we pay a fine," said Allen, as the little dog licked his hands.
"It's only right to take responsibility."
Author: Bob Shaw, pioneerpress.com