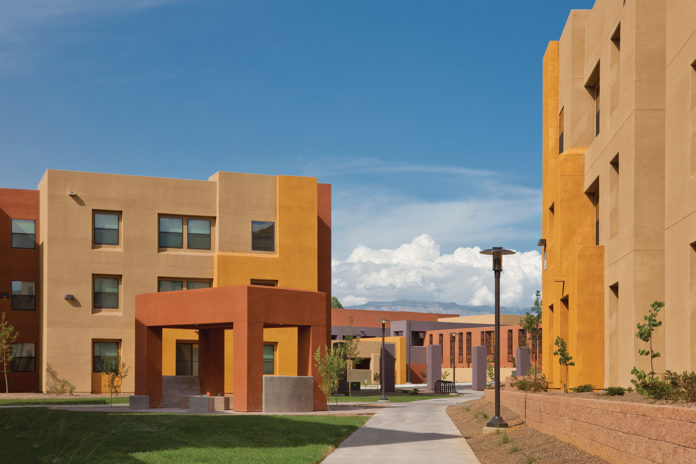 A significant number of the entries submitted by the award-seekers recognized demand for these car-free amenities.
The 192-unit Santa Barbara in Rancho Cucamonga, Calif., a finalist in the Best Garden Apartment Community of four stories or less category, enhances its neighborhood by creating walkable connections to local retail. Project architect TCA Architects turned the 11.6-acre site's challenging long, linear shape into an attribute by developing a strong main street that strings together the various elements of the community that was completed last March.
The multifamily asset's "State Street" provides residents of the community's one-, two-, three- and four-bedroom apartments and three-story townhomes that range in size from 980 sq. ft. to 2,141 sq. ft. and rent for an average of $2,249 with a pedestrian-friendly environment that is anchored on one end by a park and on the other by community gardens. The walk along State Street also ties together the various residential courtyard buildings in the community.
The architecture at the property that was developed by Lewis Apartment Communities, a subsidiary of California-based Lewis Group of Companies, and opened last March echoes the city of Santa Barbara's traditional mission architectural style with white stucco buildings, red tile roofs and splashes of colorful accents. Wood balconies at the upper levels, wrought iron details and painted ceramic tiles add to the character of the buildings, reinforcing the overall design intent: the creation of luxury, resort lifestyle living.
Apartment finishes at the community that was 43.8 percent occupied barely three months after it opened include washers and dryers, maple cabinets, granite countertops and brushed nickel finishes in baths. Community features include a clubhouse with an entertainment room, an outdoor kitchen with adjacent barbecues, a theater and gaming room, a conference room, a fitness center and a multi-use pool with play areas and lanes for lap swimming.
The Pillars judges commented favorably on the community's unusual design and landscaping.
Lyon Place Apartments at Clarendon Center The judges also praised the design of the pedestrian-friendly, 244-unit Lyon Place Apartments at Clarendon Center in Arlington, Va., a finalist in the category for Best High-Rise Apartment Community of nine or more stories. They deemed the design "interesting" and well-integrated into the surrounding neighborhood and were impressed by the quick lease-up at the property that was completed by developer B.F. Saul in March, 2010 and was 93 percent leased within four months. The community currently boasts occupancy of 98 percent.
The transit-oriented Lyon Place Apartments, which is located on a 2.2-acre site adjacent to a Metro station, is home to a running club that invites residents to jog the area's tree-lined streets and a lively bike culture that promotes exploration of the DC area via a bike path that starts right outside the community's front door.
Designed by architect Torti Gallas and Partners, Lyon Place apartments average 979 sq. ft. and rent for an average of $2,600. Nearly 122,000 sq. ft. of retail and office space and green public spaces create an active, lively community.
Apartments in the LEED-certified community feature natural maple hardwood flooring and maple cabinets in kitchens and bathrooms, spa soaker tubs, stacked washers and dryers and balconies and terraces in many of the units. Community amenities include a courtyard plaza with a fountain and a restaurant with patio seating, a 50-foot indoor lap pool with access to an outdoor sundeck, an art deco-inspired lobby with gas fireplace and alcove seating areas, original artwork by local and internationally known artists throughout the common area and a rich collection of ground floor retail and restaurants.
Fusion 1560
The 325-unit Fusion 1560 is located in St. Petersburg, FL, adjacent to the Pinellas Bike Trail that runs along the eastern border of the property and includes more than 38 miles of biking, hiking and rollerblading pathways from Tarpon Springs to downtown St. Pete.
The community that was completed in May 2011, just two years after its groundbreaking, spans nearly two city blocks and just under 3.5 acres and reflects the eclectic, funky nature of the downtown district.
Developed by Zaremba Residential with architectural design by Humphreys and Partners Architects and CSJM Architects, the community that is a finalist in Pillars' Best Mid-Rise Apartment category was 92 percent leased as of the end of May this year.
The Pillars judges commented favorably on the quick lease-up as well as the use of exterior color that, they said, is "memorable, but not overdone." They loved the quartz countertops in the open-concept kitchens in the apartments that average 834 sq. ft. and rent for $985 to $1,885.
The asset that is designed to appeal to an urban-oriented population of younger professionals seeking condo-quality finishes and amenities with the professional management of an apartment community includes a two-level fitness center, wine storage room, rooftop amenity deck, fullservice spa, a distinctively designed club room, billiards room and demonstration kitchen.
Fusion 1560's building finishes include a mix of stucco, brick, Hardi siding, corrugated metal and metal panels that create the impression of several different buildings along each elevation. At the pedestrian level, a large "glass box" fitness center and clubhouse, walk-up porches and stoops on first floor units and ground-level retail welcome those passing by on the sidewalks or the bike trail.
Lobo Village
The 216-unit Lobo Village in Albuquerque, N.M., a finalist in the Best Student Housing Rental Apartment Community category was developed by American Campus Communities (ACC) and designed by architect Todd & Associates to promote biking and hiking and to improve the quality of housing at the University of New Mexico (UNM).
Completed just 14 months after its groundbreaking in late May 2010, the asset was built in response to the July 2009 Princeton Review that included UNM's residence halls in a Dorms like Dungeons survey. That unflattering inclusion prompted university officials to hire ACC to spruce up the institution's residential component.
The result is a colorful, pueblo-style community on almost 18 acres in the university's South Campus district that adds a residential component to the area that historically consisted of athletic and academic facilities.
The Pillars judges were impressed by the wood plank flooring in the apartments, the community's curvaceous pool and rectangular buildings and the "cool mix of modern and urban and more traditional regional style."
The four-bedroom, four-bath apartments that were 99.5 percent occupied as of Sept. 30, 2011, average 1,193 sq. ft., with each of the four residents paying an average rent of $519 a month for a private bedroom and bath. The furnished units feature Internet connectivity, fully equipped kitchens, washers and dryers.
Community amenities include a number that specifically target a youthful population, like arcade games, a video game console, a poker table, air hockey and ping pong.
Development of a pedestrian-oriented site plan was one of the guiding principles in the creation of Lobo Village, which is situated amidst an extensive mass transit route. Lobo Village residents use public transportation or the UNM shuttle or bike or hike to the nearby university campus.
The Varsity at College Park Also among the student housing finalists is The Varsity at College Park, which features a pedestrian bridge that links the apartment community to the University of Maryland (UM) campus. The six-story privatized mixed use that was developed by Potomac Holdings, designed by architect Grimm + Parker and built by Clark Builders Group includes 258 units with 901 beds with an average rent of $970 and is just a short walk to public transportation.
The community that is located on four acres just north of the entrance to UM not only helps to reduce the housing shortage at the university, but also improves the walkability and overall streetscape appearance of the Route One corridor, which serves as Main Street for both the university and the city of College Park.
A private shuttle operated by UM provides transportation to the campus for residents of The Varsity, which is situated along the public UM shuttle route, as well. And, the College Park METRO/MARC station is within walking distance of the community that achieved an occupancy of 91.9 percent in just one academic year.
Amenities at The Varsity include a twostory fitness center, a computer center, Wi-Fi hot spots, free tanning beds and 20,100 sq. ft. of on-site retail and restaurants.
Interior finishes in The Varsity's fully furnished apartments include hardwood-style floors, flat screen TVs and full-sized refrigerators, dish washers and microwaves in the kitchens.
The judges praised The Varsity for its "great curb appeal," its attractive signage and the vibrant colors that enhance the common spaces. They liked fact that the apartments that average 1,253 sq. ft. include a private bath for each resident.
"The project has most of the features you'd expect, but each one is done so well that the end result is a terrific community," they said.
Venue at Cool Springs
A walking trail winds through the 428-unit Venue at Cool Springs in Franklin, Tenn., a finalist in the Best Rental Apartment Community of four stories or less category. The pedestrian path connects the community's playground, dog park, car care center, saltwater pool, fire pit, grilling station and spa to a central lawn with grilling patios. The clubhouse opened last December and the community is 43 percent occupied as of last May. Venue at Cool Springs is located on 10.7 acres just 17 minutes from downtown Nashville and minutes from the Cool Springs Galleria.
Developed by Crescent Resources and owned and operated by MAA, the community's one-, two- and three-bedroom flats that average 1,369 sq. ft. and rent for an average of $1,405 were designed by The Housing Studio with open floor plans, using classic elements of American Craftsman style architecture. Native building materials blend with the surrounding environment.
Decorative brackets, low-pitched gableand- hip roofs, deep eaves, extensive porches with tapered columns, natural veneer, lapand-shake siding were used to create the 14 three-story, garden-style wood-frame buildings that house the apartments.
Community amenities include a cyber cafe with iMac stations, a saltwater pool, shuffleboard tables, a gourmet demonstration kitchen with video camera, a fitness facility that features a separate yoga and cycle area, a covered terrace with an outdoor kitchen and a fireplace, a pool side fire pit, a whirlpool spa, a playground area and a dog park.
Interior unit features include washers and dryers and stainless steel appliances, designer countertops, side-by-side refrigerators and wood cabinets in the kitchens.
Alta Aspen Grove
Direct access to the 660-acre Carson Nature Preserve that connects with 120 miles of recreational trails is one of the most attractive aspects of Alta Aspen Grove, a finalist in the Best Garden Apartment of four stories or less category.
Completed in June 2011, the 280-unit garden style TOD that encompasses 17.5 acres in Littleton, Colo., is nestled among the nature preserve, a bicycle greenway path and a light rail station and just steps away from Aspen Grove Shopping Center.
The community's 17 two- and three-story buildings house one-, two- and three-bedroom apartments, which currently are 93 percent leased. Units range from 695 sq. ft. to 1,491 sq. ft. and rent for an average of $1,552.
Developed by Wood Partners and designed by Womack Hampton, Alta Aspen Grove is the first stick-built, LEED for Homes certified, market rate apartment community in Colorado.
Also striving for a luxurious appeal, Wood Partners included some special perks for Alta Aspen Grove's residents, including complimentary in-home consultations with Pottery Barn and Williams-Sonoma design specialists and a room-service delivery program with local restaurants.
In-unit finishes at the community include granite countertops, double-sided gas fireplaces and washers and dryers. Community amenities include an onsite dog wash and dog park, a pool with waterfall and Jacuzzi and a television sitting area with Wi-Fi and a large outdoor fireplace.
Abundant natural lighting and a special ventilation system enhance the property's eco-friendly design.
Harrison Station 300 Somerset Street
The 275-unit Harrison Station 300 Somerset Street is a modern, pedestrianfriendly development that transformed a down-on-its-luck, former industrial site into a vibrant, walkable, transit-oriented community. A finalist in the category for Best Non-Garden Rental Apartment Community of five stories or less, the Pillars judges praised the asset's urban aesthetic.
Developed by Ironstate Development and the Pegasus Group, the property that occupies just over two-and-a-half acres of a 10.5- acre parcel slated for redevelopment into a new town center in Harrison, N.J., has a long industrial history that includes the manufacture of roller bearings for use in automobiles.
The first phase of the multi-phase revitalization and brownfield remediation effort, Harrison Station is a four-story, mixed-use property with two building components connected by a two-story lobby and exterior courtyard.
The buildings, designed by Minno & Wasko Architects and Planners, provide a nod to the brick skeletons of the area's industrial past, while showcasing contemporary architecture. They house studios, one- and two-bedroom apartments that average 783 sq. ft., rent for an average of $1,765 and were 95 percent occupied as of mid-May 2012.
The allure for many of Harrison Station's residents is the ability to get up in the morning and walk to the Harrison PATH station for a two- to three-minute ride to Newark, a 10-minute trip to Jersey City, a 15-minute trip to Hoboken or 20 minutes to Manhattan. It is also a short walk from the new Red Bulls soccer stadium.
The apartments feature open layouts with high ceilings and oversized windows, abundant closets and red birch cabinetry and stone countertops in the kitchens. Community amenities include 15,000 sq. ft. of ground floor retail, an outdoor pool, a beach volleyball court, a 3,000 sq. ft. fitness center and free Wi-Fi.
Cevallos Lofts
Cevallos Lofts includes the community's proximity to hike-bike connections to river trails among the luxury amenities that make the project exceptional. A finalist in the category for Best Garden Apartment Community of four stories or less, Cevallos Lofts won the judges' praise as a "great urban product."
The 252-unit apartment community that is located on just over 10 acres in Southtown, San Antonio's premier arts and cultural district, was designed by Alamo Architects and developed by The NRP Group. Completed at the end of 2011, the community is expected to encourage other developers to join the resilient retail/arts renaissance that has been transforming the neighborhood for several years.
The pedestrian-friendly community that was 95 percent leased by mid-May includes one- and two-bedroom loft-style apartments and two-story townhomes that average 902 sq. ft. and rent for an average of $968.98. Community amenities include a courtyard with a swimming pool, tanning shelves, fountains and a cabana surrounded by tropical landscaping, three fitness centers, a first-floor lounge with a pool table, gaming area, televisions, free Wi-Fi access and a full-sized kitchen.
Other amenities include a third-floor lounge with a wet bar and entertainment area and a fenced-in dog park.
Apartment features include stunning views of San Antonio's skyline, private street-level entrances for the community's townhomes and washer and dryer hook-ups in every unit.
The units have three levels of design options from which residents may choose, making them affordable to the young urban professionals, artists and musicians that are the community's target tenants.
Pillars' virtual awards presentation will take place on Oct. 4 at 2 p.m. Eastern time on the NAHB website.