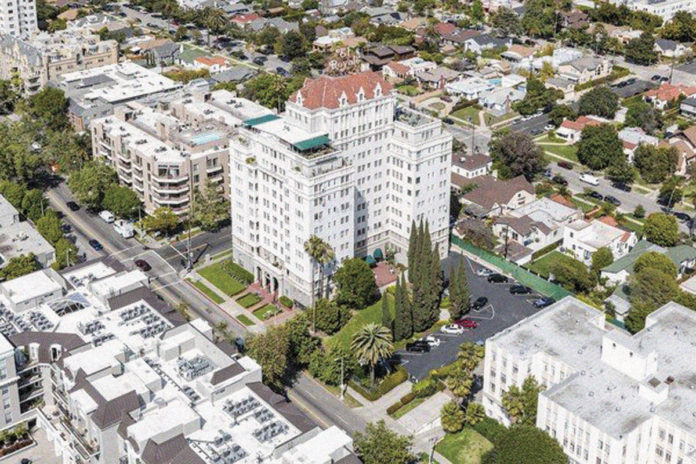 The 12-story building at 450 N. Rossmore Ave. was built in 1929 for the Hollywood crowd and early residents included Clark Gable, William Faulkner and Loretta Young. It was designed in a mix of Spanish and French Renaissance styles by the same architect who created the famous Chateau Marmont hotel in West Hollywood.
El Royale was purchased by Kamran Hakim, one of the largest private landlords in New York, and Santa Monica real estate attorney Farhad Eshaghpour. They paid $29.5 million ($526,786 per unit), real estate broker Ron Harris of Marcus & Millichap/Institutional Property Advisors said.
That's the highest price per unit paid for a Southern California apartment building, according to Marcus & Millichap.
"El Royale is one of the most iconic and celebrated apartment communities in all of Los Angeles County," Harris said.
The seller was a Los Angeles family trust that had controlled the building for more than 50 years. El Royale's original finishes include marble and hardwood floors, mahogany woodwork, tiles and iron chandeliers. Some of the building's 56 units have five bedrooms.
The new owners plan to own the building for a long time and perhaps acquire other "similar rare, marquee assets" in the region, Eshaghpour said. "We look forward to improving and preserving this asset and continuing its tradition of excellence."
Among the more recent residents of the El Royale were actors Jack Black, Ellen Page, Katie Holmes and Josh Brolin.
Author: Roger Vincent, Los Angeles Times