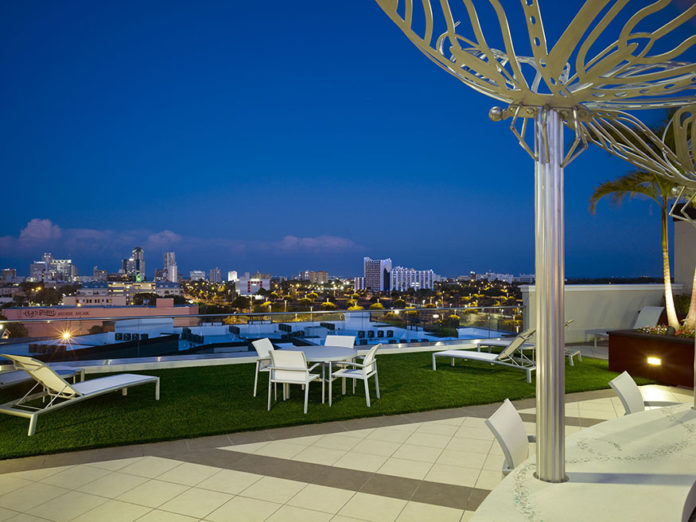 The vast majority of those recognized for excellence in multifamily development in the contest many consider the Oscars of the apartment industry are located in markets that are among the top 25 metro areas forecast to see the largest gains in employment and population growth over the next four or five years.
And most, like the 325-unit Fusion 1560, winner of both Community of the Year and Best Mid-Rise Apartment community awards, offer amenities and features that appeal to the 25- to 34-year-olds who make up a huge population bulge that is expected to keep apartment communities full for years to come.
Completed in May 2011, the community spans nearly two city blocks and just under 3.5 acres in the heart of downtown St. Petersburg, Fla., just minutes away from Tampa Bay, in a market where industry experts predict a 1.3 percent increase in employment this year and local employers put 24,000 new workers on payrolls in 2011.
Fusion 1560 features modern architecture that blends seamlessly with the artsy surrounding neighborhood and offers the cosmopolitan living experience many young professionals desire.
Created in a contemporary loft style, the cutting-edge community's exterior features a combination of urban, industrial and contemporary elements. A mix of stucco, brick, Hardi siding and corrugated metal panels adorns the community.
Developed by Zaremba Residential with architectural design by Humphreys and Partners Architects and CSJM Architects, Fusion 1560 fulfills its tag line-"Expect the Unexpected"-by offering seldom-seen amenities like restaurant-sponsored cooking demonstrations.
The community's clubroom, designed to please the urban sophisticate, features a news/juice bar with a streaming overhead ticker-tape and TVs that provide the day's latest news. The clubhouse also includes a Wi-Fi cafe that offers indoor and outdoor seating, a billiards room, and a demonstration kitchen, providing ideal places for gathering with friends.
Other community amenities include a clubhouse wine "closet" with spaces that resident oenophiles may rent for keeping their favorite beverages, two courtyards with a swimming pool and spa in one and a sculpture garden in the other, a rooftop deck with an outdoor kitchen and sunning area and a two-level fitness center with a group fitness room, locker rooms and saunas.
Unit interiors feature brick accent walls, porcelain tile flooring in baths, quartz countertops with tile backsplashes, glass inserts in kitchen cabinets, fixed kitchen islands, stainless steel appliances and wood floors in entries and polished concrete flooring in kitchens and living rooms and double shower heads and garden tubs in select units.
Apartment amenities also include built-in computer desks and bicycle racks in utility rooms, dishwashers and washers and dryers.
The five-story community that includes 13,500 sq. ft. of ground-floor retail space and a 480-space parking garage is located very close to a major sports arena. In fact, many of the residents of the one- and two-bedroom apartments that average 834 sq. ft. and rent for $985 to $1,885 are right across the street from the 1.1 million sq. ft. Tropicana Field, the home of major league baseball's Tampa Bay Rays.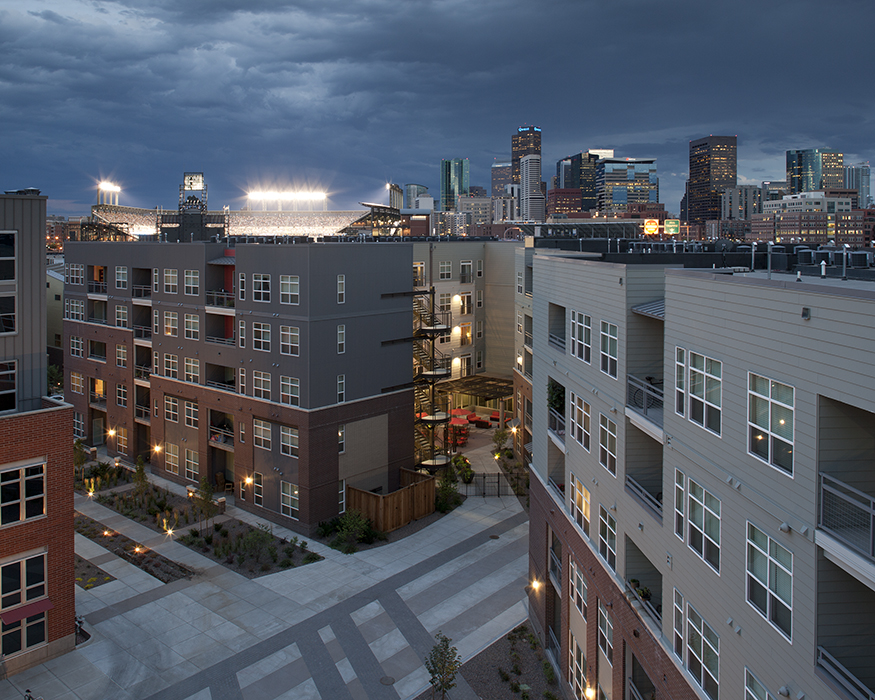 Skye 2905 Urban Flats
The 400-unit Skye 2905 Urban Flats, winner of the Pillars award for the best non-garden apartment community of five stories or less, also is within a couple of blocks of a major league park. Residents of the community that was completed in April 2011 in downtown Denver are within walking distance of Coors Field, home of major league baseball's Colorado Rockies.
The contemporary multifamily community, which also is within walking distance of LoDo, Larimer Square, 16th Street Mall and Union Station, is located on a 4.85-acre infill site in the city where job growth and in-migration are benefitting apartment operations and payroll growth is escalating at the fastest annual pace since 2000. The availability of employment is attracting job seekers to the region, where the population is expanding at an estimated rate of 33,000 people annually and creation of more than 34,000 jobs is expected this year.
In Q3 of this year, the vacancy rate in Downtown Denver apartment communities was just 2.3 percent.
Designed by KEPHART architects and developed by Trammell Crow Residential, Skye 2905 Urban Flats transformed a lot that was a local eyesore into a property that ties existing assets together to create a more cohesive neighborhood. The apartment community offers open, loft-style floor plans that appeal to the young professional crowd and includes some 550 spaces of structured parking and 3,000 sq. ft. of ground-floor retail.
The development of the urban enclave was not without challenges. Special consideration was paid to the creation of an asset that fit the scale and urban-warehouse style of its surroundings while overcoming the challenges of a site that is bordered by a busy auto viaduct, active railroad tracks and an existing for-sale condo community.
The solution required surrounding the condo community, which created opposition by the neighbors and presented the additional challenge of creating emergency access to both the condos and apartments. That obstacle was successfully overcome with the creation of a linear park that serves as a shared amenity for and provides emergency access to both properties.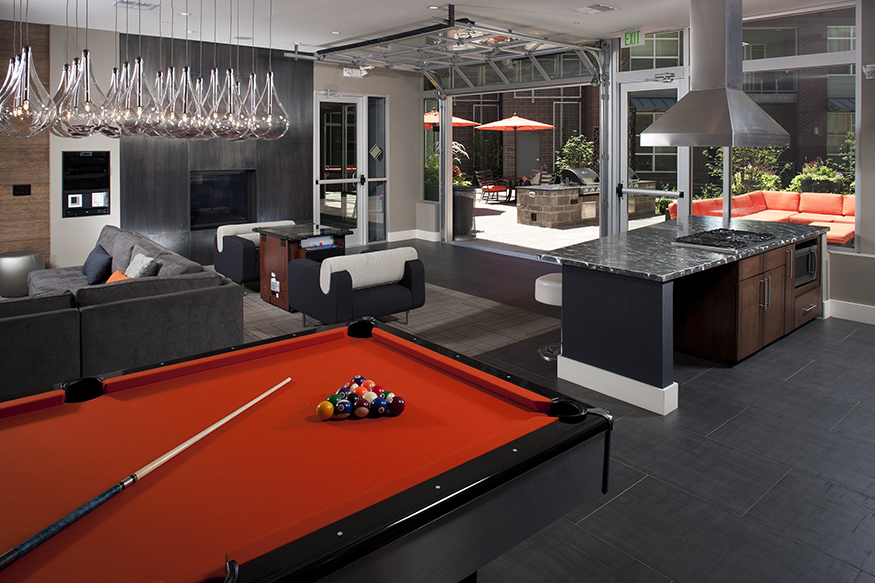 The community's creators also were faced with the urban realities of noise and obstructed or unappealing views. Upgraded windows, drywall and insulation were used to reduce exterior noise and Skye 2905's multi-level, limited access parking garage was located near the railroad tracks. 3D modeling and sound studies were conducted to maximize unit views and reduce the impact of the site's obstacles.
The community that consists of 56 percent one-bedroom apartments and 44 percent twos, with an average unit size of 919 sq. ft., includes a business center, a solar-powered clubhouse, a pool with sunning deck, a poker room, an outdoor entertainment lounge with HD TV, barbecue grilling stations, a fitness center, a dog run and park and a pet bathing station.
Apartments feature full-size kitchens with granite countertops, walk-in closets, two-tone designer paint, front-loading washers and dryers, Roman soaking tubs, separate dining rooms, high-speed Internet access and wood plank or polished concrete flooring in select units.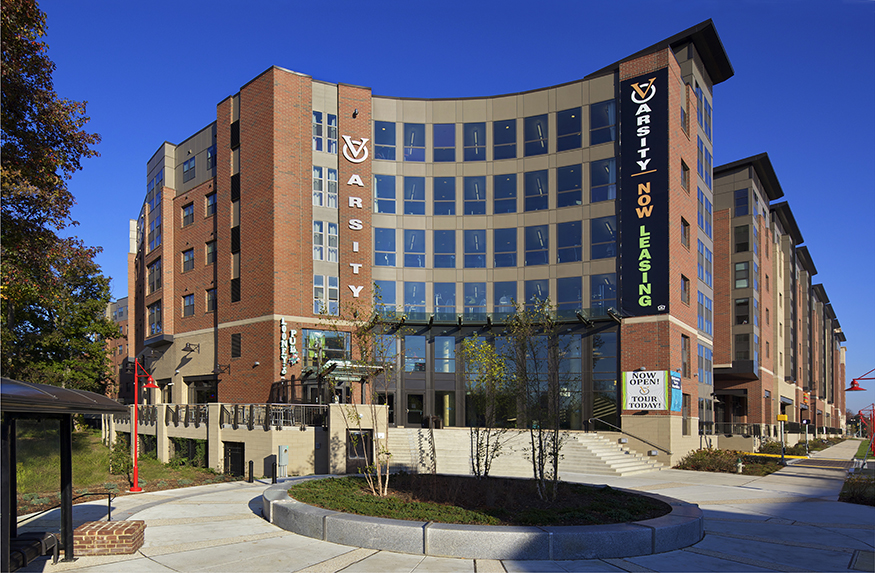 The Varsity at College Park
The 258-unit, 901-bed The Varsity at College Park is located just half a mile from two major sports arenas. The winner in the Best Student Housing category is within walking distance of both Comcast Center, where the University of Maryland's Terrapins basketball team plays, and Capital One Field at Byrd Stadium, home to the university's football and lacrosse teams, where Queen Elizabeth II and Prince Philip saw their first football game during their first trip to the U.S. in the 1950s.
More than 37,000 students were enrolled at the university in 2011, 26,826 of whom were undergraduates and 10,805 were graduate students. Area employers added 25,200 workers in the first six months of the year in the Washington, D.C. metro area, where forecasters predict total employment will increase by 1.5 percent, or 44,000 jobs, this year.
The student housing community that was completed in mid-August 2011 is located on four acres north of the entrance to the university, connected to the campus via a land bridge and within walking distance of the College Park METRO/MARC station.
The six-story privatized mixed-use apartment community that was developed by Potomac Holdings, designed by architect Grimm + Parker and built by Clark Builders Group includes 20,100 sq. ft. of onsite retail and restaurant space.
In addition to addressing the student housing shortage in the College Park community, The Varsity brings a long-awaited facelift to the Route 1 corridor and ties into other planned developments in the area, where the apartment vacancy rate was just 5.6 percent in Q3 of this year. The Varsity was 93 percent occupied as of mid-September.
All of the one- to four-bedroom apartments at The Varsity at College Park are fully furnished and each bedroom has a private bath, which impressed the judges for the Pillars of the Industry competition.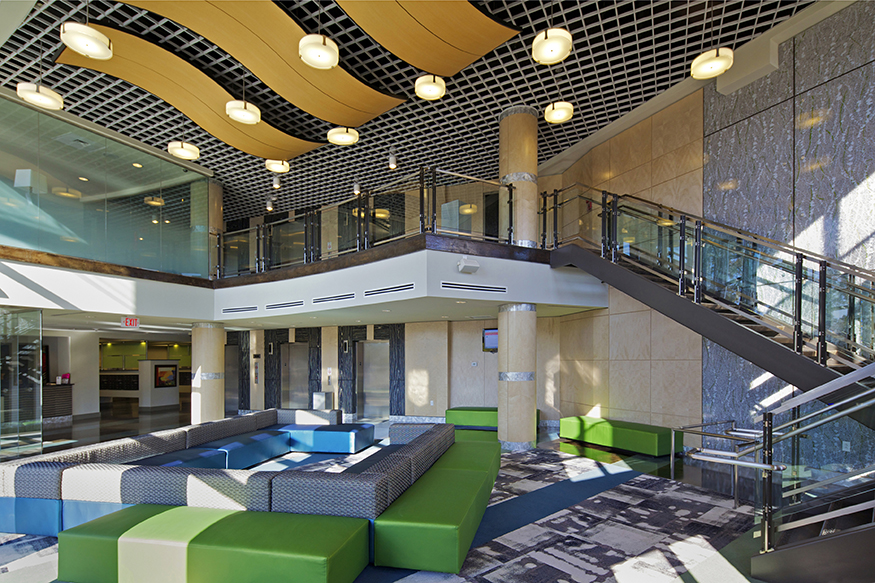 Community amenities include covered parking, a large clubhouse complete with a two-story fitness center, computer center, Wi-Fi hot spots, tanning beds and a recreation center that offers billiards, shuffle board and a video gaming media area and onsite shopping and dining venues that include Bobby's Burger Palace and Royal Farms, a 24-hour "fresh fast" restaurant.
A private shuttle to the university campus, outdoor gathering pavilions, bike storage and garage parking add to the convenience of life at The Varsity, where cable TV and Internet access are included in the rents that average $970, as are sewer, water and trash pickup costs.
Apartment interior finishes include hardwood-style floors, full-size kitchens and builtin dining areas with chairs. Amenities include flat-screen TVs, granite countertops and black appliances in the kitchens that are outfitted with dishwashers and microwaves and apartment furnishings that include sofas, loveseats, coffee and end tables, full-sized beds, dressers, nightstands, study desks and chairs and individually locking bedroom doors.
The Varsity at College Park also includes sustainable features that reduce the heat island effect at the property. A majority of the community's flat roof is covered in Thermoplastic Polyolefin (TPO) that reflects heat and the north courtyard includes light-colored, open-grid pavers and landscaping.
Apartments average 1,253 sq. ft., ranging from 497 sq. ft. to 1,584 sq. ft., with rents that range from $939 to $1,479.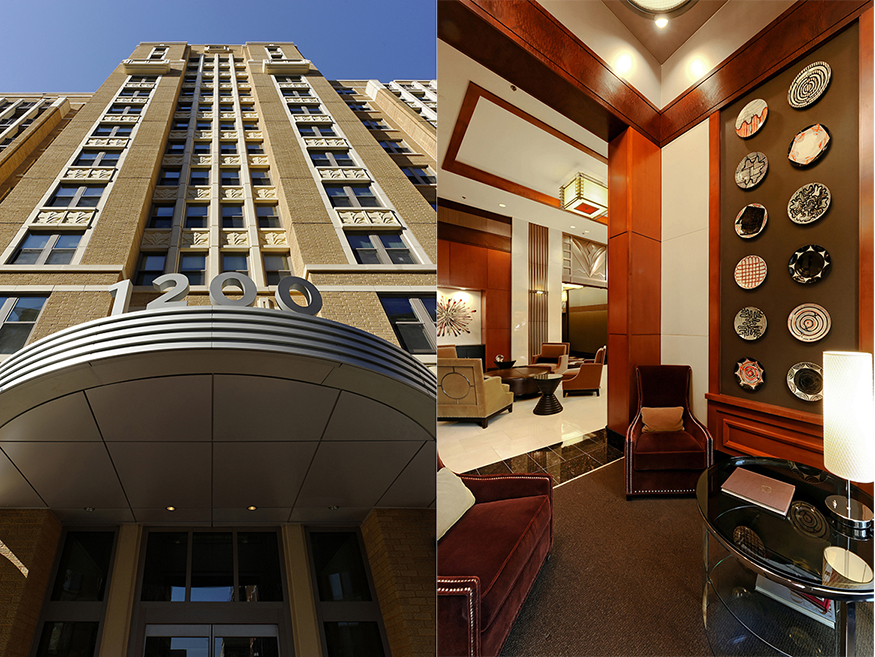 Lyon Place Apartments at Clarendon Center
The 244-unit Lyon Place Apartments at Clarendon Center, winner of the Pillars award for best high rise apartment community of nine stories or more, also is located in the Mid-Atlantic region, in Arlington, Va. The transit-oriented community, designed by Torti Gallas and Partners and developed by B.F. Saul, was completed in March 2010.
Featuring a vibrant, urban lifestyle, Lyon Place is located in the heart of Arlington County's renowned chain of Urban Villages, neighborhoods that stand out as particularly convenient for car-free living. These villages include shopping, restaurants, recreation opportunities, office and residential, all within a few blocks of each other, and are well-served by transit options.
Often considered the laid-back, cool kid among those urban villages, the Clarendon area is a place where one expects to see t-shirts, baseball caps, flip-flops and Volvos and the full-service community isn't just a place to hang out after work.
Lyon Place, which contributes some 38,000 sq. ft. of retail and 83,579 sq. ft. of office space to the mix, is within walking distance of seven quick-serve eateries like Baja Fresh and Starbucks, 25 casual dining restaurants ranging from the India Curry House to Mexicali Blues, three banks, two large health and fitness facilities and a couple of spas and 26 specialty shops that range from shoe stores to cigar vendors.
The apartment community's studio and one- and two-bedroom units that range from 485 sq. ft. to 1,247 sq. ft., with average rent of $2,600, feature natural maple hardwood flooring in kitchens, foyers and living and dining spaces. Designer kitchens include maple cabinets with "soft close" features on drawers and brushed metal door pulls, recessed lighting with pendant accents and granite countertops and glass mosaic backsplashes in select units.
Baths include maple cabinets with marble vanity tops, porcelain tile floors and spa-style soaker tubs in some apartments.
A LEED-certified community, Lyon Place apartments include Green Label Plus-certified carpet in bedrooms, eco-friendly paint, individual air temperature control via water-cooled heat pump units, operable energy-efficient windows and Energy Star appliances.
Community amenities include Crescent Plaza, an area that features a fountain and restaurant with patio seating that is adorned by a bronze sculpture from McKay-Sheer Studios, and an art deco-inspired lobby with a gas fireplace and alcove seating areas and original artwork by internationally celebrated artists displayed throughout Lyon Place's common areas.
A private residents' club includes a landscaped courtyard with a fountain, seating areas, patio space and grills, a 50-ft. indoor lap pool with access to an outdoor sundeck, a fitness center with a cardio theater and free weights and a party room with HD flatscreen TV, gaming consoles, wet bar and free wireless Internet access.
The community is located just 2.8 miles from Verizon Center, a 20,000-seat, multi-purpose sports and entertainment venue in the Penn Quarter neighborhood in downtown Washington D.C. that is home to the National Basketball Association's Washington Wizards, the National Hockey League's Washington Capitals, the Women's National Basketball Association's Washington Mystics and the National Collegiate Athletic Association's Georgetown Hoyas Men's basketball team.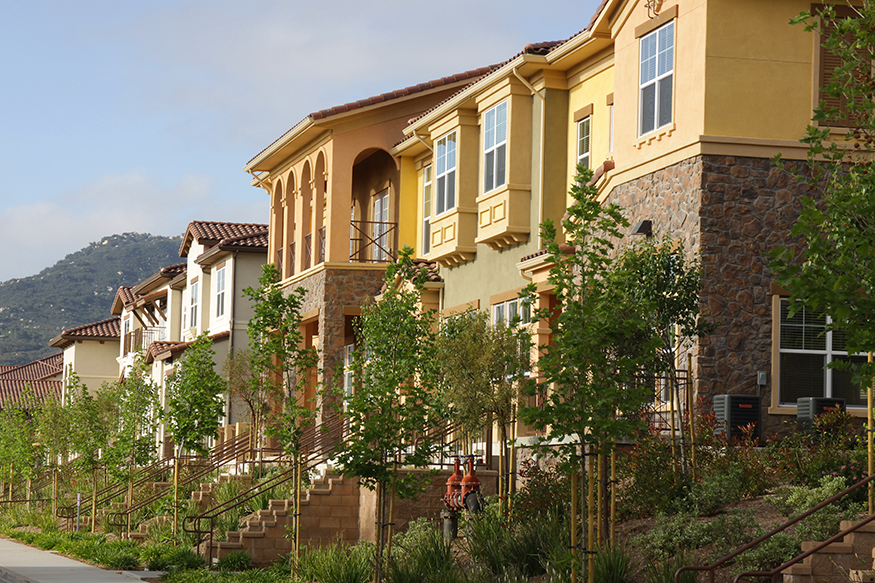 The Vineyards at Old Town
Nestled in the Santa Rosa Mountains, just yards from several wineries and a couple of miles from Old Town Temecula, the 274-unit The Vineyards at Old Town includes one-, two- and three-bedroom apartments and two-bedroom, two-and-a-half-bath walk-up townhomes that are reminiscent of brownstones and include direct access garage parking.
The upscale multifamily community that Pillars judges selected as the best garden apartment community of four stories or less is located on 13.5 acres in Temecula, Calif., an urban retreat locale that boasts an abundance of sports parks, tot lots, skate parks and dog parks. The apartment community is located within a few blocks of the I-15 Freeway, providing easy access to both San Diego and Riverside Counties.
Completed in March 2011, the Tuscan-style community that was designed by Meeks + Partners and developed by The Dinerstein Companies includes features especially designed to appeal to discerning oenophiles, including an onsite wine-tasting room, private wine lockers and an opulent clubroom that is available to residents for entertaining.
Each floor plan at The Vineyards is named for a type of wine, ranging from the one-bedroom, one-bath, 747 sq. ft. Reisling to the two-bedroom, two-and-a-half bath, 1,939 sq. ft. Cabernet townhouse, with an average unit size of 1,116 sq. ft.
Apartment amenities include private courtyard entries, nine to 14 ft. vaulted ceilings decorated with crown molding, air conditioning, broadband Internet access, ceiling fans, walk-in closets, built-in desks, faux wood floors, deco pendant lighting, programmable thermostats, full-size washers and dryers, extra storage space and patios or balconies and select units include 42-inch flat screen TVs.
Kitchens feature dishwashers, granite counter tops, stainless steel refrigerators and gas ranges and double stainless steel sinks with kitchen islands in select units. Wood cabinets enhance both kitchens and baths.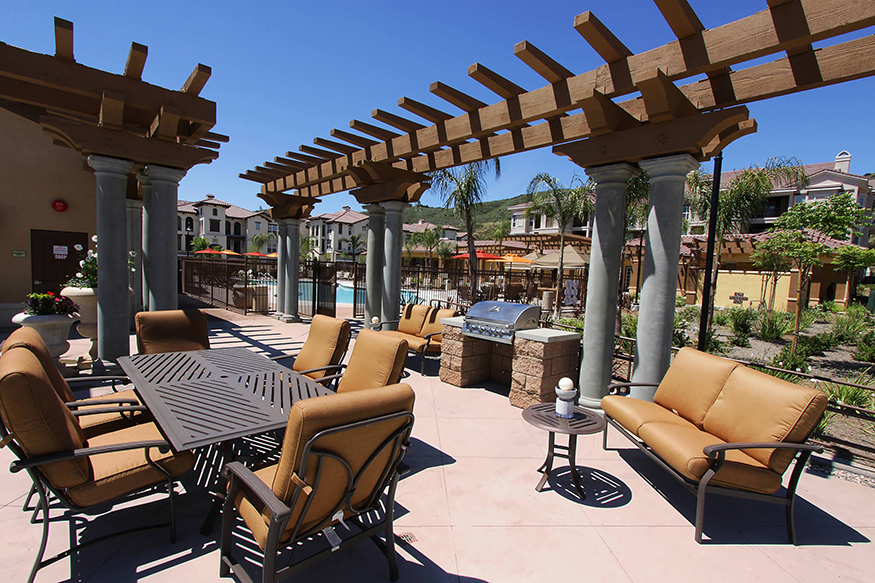 Community amenities include lots of social activities organized by management, a swimming pool and spa adjacent to an outdoor entertainment plaza, a four-station business center, a tanning dome, a cyber cafe with wireless connectivity, recreation areas for children, outdoor barbecue grills and picnic tables and a fitness center complete with spin bikes, weights and strength-training machines.
The winners were announced during an Oct. 4 virtual Pillars awards ceremony hosted by Multihousing Professional editor Bruce Carlson, which may be viewed at the NAHB website.