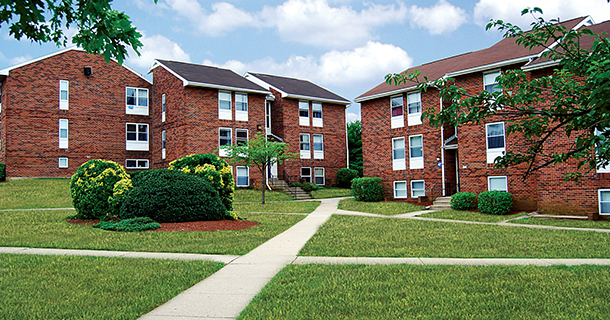 "This is a unique time to invest in the multifamily sector. The wind is at our back. We are above 95 percent occupied across our portfolio and we are seeing tremendous growth," said Morgan, director of acquisitions for Morgan Properties, which owns and operates a portfolio of more than 30,000 units in the Northeast and Mid-Atlantic.
"Morgan Properties has experienced 7.8 percent in NOI growth over the last twelve months and we expect to see continued growth in 2013, given the strong fundamentals and economic drivers in our core markets of suburban Philadelphia, New York, New Jersey and the Maryland-D.C. corridor," he said recently.
Morgan returned to Morgan Properties, a company founded by his father, Mitchell L. Morgan, in 1985 that is headquartered in King of Prussia, Pa., in May 2011, after he attained an MBA from Columbia Business School.
"I stayed actively involved in the business while in school and came back to re-launch our acquisition front and we have been doing some exciting things there. Morgan Properties has acquired over 2,000 units in 2012 and seems well positioned for continued growth as a best-in-class multifamily owner and operator," he said.
He spent the second half of 2011 considering the possible transformation of the privately held company into an apartment REIT. In July, company founder Mitchell Morgan filed an S11 with the Securities and Exchange Commission that detailed plans to go public. At the time, the elder Morgan said he hoped to become "the next Home Properties or bigger."
But that transformation didn't happen.
"Any great company needs to evolve and needs to explore its opportunities for growth," Jonathan Morgan said in January. He explained that the Morgan team originally thought that becoming a REIT might facilitate the multifamily owner-operator's expansion plans.
But, after further consideration, they decided against taking the public path. "Given all the public market volatility, we decided that there was more of an advantageous investment opportunity to staying a private company and taking a contrarian approach to the REITs," he said.
Growth from within

In the fourth quarter of 2010, Morgan Properties bought out its institutional partner AIG Global Real Estate Investment Corp.'s interests in 55 apartment communities consisting of around 10,000 units of the 16,784-unit portfolio that had doubled Morgan Properties' apartment portfolio in 2007 when Morgan acquired it from the Kushner Companies after the ill-fated then-CEO Charles Kushner was sentenced to 18 months in jail for filing false tax returns and false campaign finance reports in 2005.
"I have had an amazing relationship with my institutional partners for the past 15 years," Mitchell Morgan said in his buyout announcement in January 2011. "They provided me with capital to grow my company from an owner of five communities in the Philadelphia suburbs to one of the largest multifamily owners in the mid-Atlantic region," said Morgan, who founded his company with the acquisition of three of those assets.
"We continued to manage the rest of the portfolio for AIG, as an accommodation, as a third-party manager, and we've had a great relationship with them, as we do with all of our partners," Karen McAlonen, Morgan Properties' senior VP of operations, said in January.
"We are not looking to sell. We're only looking to grow," Jonathan Morgan said. Morgan Properties was focused on internal growth In 2011.
Expansion through acquisition

The following year, Morgan felt the timing and opportunities were right to expand through acquisitions.
As he and his acquisitions team scour the company's target core markets for apartment acquisition opportunities, with a particular focus on the Northeast, Morgan is seeing a clear bifurcation between what apartment REITs and a number of the local players are targeting and the value-add deals he is looking to buy.
"We saw a market bifurcation, given the continued flight to quality among the REITs and institutional owners, who are focused on Class A, core investments, and we have taken a contrarian approach by acquiring Class B, value-add and distressed investments.
"We have also been targeting large oneoff transactions and portfolio acquisitions of Class B communities that require larger equity commitments to limit competition from most local buyers and private owners. We feel that our investment strategy capitalizes on this inefficient pricing in the marketplace," he said.
"We don't feel that we're competing against a lot of the REITs and local players by targeting some of the deals that we have an interest in," he said. Morgan Properties is focusing on portfolios of Class B apartments and large one-offs in high-barrier suburban markets, assets most apartment REITs are not interested in. "But, it has to be compelling, where we feel the Morgan Properties ownership would take it to the next level, like a value-add repositioning opportunity," he said.
Morgan's $27.4 million acquisition last July of the 45-year-old, 588-unit Garden View Apartments, a garden style apartment community located in Randallstown, Md., just outside of Baltimore, represents just such an opportunity. The community that Morgan has renamed Northwest Crossing was purchased via an REO deal.
"Prudential was the lender and had taken it over, so it was a fee-interest purchase," Morgan explained. The deal had already fallen out of contract with other buyers, giving Morgan the opportunity to step in. "They were looking for someone who could give them execution certainty and had the wherewithal to understand what the valuation would be."
There had been no operating statement for the community since 2006. "So, most other operators would have looked at this and said, 'There's no way for us to really determine the value. This is a mess. There are down units. It's too much work for us to really step in and take it over.'"
But, Morgan saw the deal as a great opportunity to grow Morgan Properties' business, given his company's strong management expertise and penchant for taking on new challenges.
When Morgan took over, 50 units were down at the community and occupancy was in the low 70 percent range.
"It was in a transitional state when we acquired it, so just to stabilize occupancy and bring some of the down units back online so that they were market-ready and bring it up to Morgan standards required some work," he said. The eventual price tag for upgrades at the community, where available units are now around 90 percent occupied, was close to $9 million.
The bulk of work at Northwest Crossing was contracted, started and, in some cases, completed prior to Thanksgiving. "Everything was done on or under budget, ahead of schedule. That's a dream come true," said McAlonen, whose team took a multi-level approach to turning Northwest Crossing around, starting with correcting deferred maintenance and improving hallways, signage and curb appeal by sprucing up roofs, windows, paving and asphalt.
"What we also do is aggressively go in and market the community for all the services it has to provide," said McAlonen, who joined Morgan Properties as a leasing consultant in 1994 and "fell in love with the industry from day one."
Northwest Crossing includes one-, two-and three-bedroom apartments that range in size from 550 sq. ft. to 1,250 sq. ft. and rent for $710 to $1,265. The property is located in the Liberty Road Corridor on the western edge of Northwest Baltimore County. Situated outside the Highway 695 beltway, the community benefits from proximity to major employment options like Northwest Hospital Center, which recently invested more than $100 million in renovation and expansion, and the $9 million, 160,000 sq. ft. Super Center that Walmart is building right across the street.
Residents at the community enjoy picnic areas with grills, a fitness center, tot play areas, pet-friendly exercise areas, laundry facilities in each building and proximity to the MTA bus line. Apartments feature dishwashers, wall-to-wall carpeting, walk-in closets, private balconies and washers and dryers and washer-dryer connections in select units.
"We own 15 other apartment communities in suburban Maryland with a little over 5,000 units and even own a couple of properties that are located down the street from Northwest Crossing. So, by having that strong market presence and that concept of what the cost to operate would be and how to manage it efficiently has allowed us to have tremendous success there," said Morgan.
Buying close to home

He also is pleased with the success at the 192-unit Abrams Run Apartments that Morgan Properties purchased from developer The Gambone Group for $31.4 million last February.
Morgan Properties acquired the 17-year-old community in partnership with a family office investor and has upgraded the kitchens and bathrooms and added washers and dryers and water-saving features like low-flow shower heads. The garden style asset includes one- and two-bedroom apartments that range in size from 815 sq. ft. to 1,140 sq. ft. and rent for $1,285 to $1,830.
Apartment features include washers and dryers, stainless steel appliances in the newly upgraded kitchens, gas fireplaces and private patios and balconies. Community amenities include a fitness center, tennis and basketball courts, courtyards, a dog park and proximity to SEPTA bus and train stations that are within walking distance of the community.
"Abrams is a great fit for us. It is located within a mile of our headquarters in a terrific location in King of Prussia, Pa., right by the King of Prussia Mall, which is the second largest in the country. It was a newer vintage, so it was an interesting deal for us," said Morgan.
Morgan Properties works to establish economies of scale "especially in this area in suburban Philadelphia, where we have over 8,000 apartment homes," McAlonen said. Within six miles of Abrams Run, Morgan Properties owns two mid-rise communities and an 800-unit garden-style community.
Abrams Run is located right down the street from the 772-unit Kingswood Apartments, which was one of the first three properties Mitchell Morgan bought when he founded the company. The other two, the 417-unit Brookside and the 205-unit Forge Gate, are located in Lansdale, and Silk Factory Lofts, Morgan Properties' most recent acquisition, is situated between those two properties, just under 15 miles northeast of Abrams Run.
Silk Factory Lofts

Morgan Properties bought the 116-unit Silk Factory Lofts last December for an undisclosed amount. Although he couldn't reveal the exact price paid for the community he did say that Morgan Properties, which bought the property directly from lender GE Capital with institutional partner CBRE Capital Investors, paid slightly below 60 percent of the outstanding principal balance of the non-performing loan on the property.
Silk Factory Lofts started life as Interstate Hosiery Mill in 1922 and, during the golden era before nylon overtook the silk industry, more than five percent of all the silk stockings in the world were produced there.
The apartment community embraces that industrial heritage by retaining some of the original hosiery factory's equipment that adorns the community's lobby and original hardwood floors in some of the community's loft-style apartments.
Morgan has more than half a million dollars in its capital plan for the property that was added to the National Registry of Historic Places in 2004, when it was transformed into apartments. Planned community upgrades include "adding warmth and personality to the lobbies, the fitness area, the resident lounge, courtyard, business center and common areas," McAlonen said.
Upgrading the appointments in the apartment homes with new faucets and fixtures and kitchen and bathroom countertops will "bring it to the next level of urban chic decor that will fit nicely with that product style," McAlonen said.
Silk Factory Lofts' community features include a fitness center, two courtyards, onsite laundry rooms and parking and easy access to the Lansdale and Pennbrook train stations that are within walking distance of the community.
The community includes one-and twobedroom lofts and two- and three-bedroom two-story apartments that range from 812 sq. ft. to 1,732 sq. ft. and rent for $1,099 to $1,895. Apartment features include 10-foot ceilings, six-foot to eight-foot windows, recessed lighting, abundant closet space, stainless steel appliances in the kitchens and washers and dryers.
Early in 2012, Morgan purchased the 1,026-unit Creekside Apartments in a distressed debt deal in partnership with investment partner Davidson Kempner, a fund based in New York City.
The community is located along the banks of Poquessing Creek in Bensalem, Pa., just a short drove from Philadelphia. Creekside's one- and two-bedroom apartments that feature tile in the kitchens and baths, wall-to-wall carpeting and spacious closets range from 647 sq. ft. to 761 sq. ft. and rent for $699 to $939. Community amenities include four playground areas, two basketball courts, picnic areas, an onsite YWCA Family Center, easy access to public transportation and local shopping malls and onsite parking.
Having purchased more than 2.000 apartments this year with another 800 units under contract, Morgan hopes to almost double that number next year. "We're looking to grow substantially in 2013," said Morgan, who would like to acquire a portfolio of apartments this year and has an acquisition target of 4,000 to 5,000 units.
He also hopes to expand the company's geographic footprint that currently encompasses 10 states including Pennsylvania, New York, New Jersey, Maryland, Virginia, Delaware, Ohio, Indiana, South Carolina and Nebraska by perhaps moving into Southeast Florida, where Morgan Properties plans to continue targeting large one-off deals and portfolio opportunities.