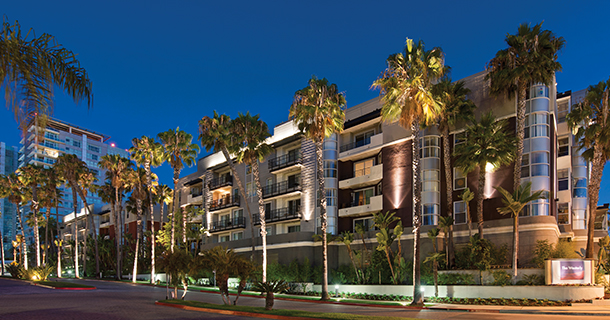 The Galaxy Apartments, which was completed at the end of March 2012, is a key player in the revitalization of a derelict city block in an overlooked area in South Silver Spring, Md.
The 241-unit community, one of the dual winners of the Best Affordable Apartment Community award, is located within walking distance of public transportation, shops and restaurants in what once was considered an undesirable neighborhood and combines affordable rental with conventional rental housing.
Designed by AR + Associates Architects, Inc. AIA of Silver Spring, Md. and developed by RST Development LLC, which is headquartered in Rockville, Md., The Galaxy consists of two buildings that cover a full city block. Building I is a five-story, 195-unit wood-framed structure over four stories of municipal and private parking. Building II is a four-story, 46-unit wood-framed structure over a one-story parking garage. The site is developed around a plaza that integrates both buildings.
The product of complicated and creative financing that included local funds in support of affordable housing, state allocation of low-income housing tax credits and a Montgomery County Housing Commission bond issue, the asset that was started July 6, 2010 and completed on March 31, 2012 was completely leased up within six months of opening.
Community amenities include a 24-hour concierge, a lobby, cyber lounge, fitness center, club room and courtyard designed to appeal to both the conventional and affordable renter.
The one- and two-bedroom units that average 874 sq. ft. include granite countertops, custom cabinetry and ceramic tile in the kitchens, private patios and balconies, large walk-in closets and full-size washers and dryers.
Foundry Lofts
The 177-unit Foundry Lofts in Washington, D. C., is located on a site that originally was part of the Navy Yard that was integral in the development of the Anacostia Riverfront. After World War II, the U.S. Navy consolidated its operations, which slowed growth in the area and led to the riverfront neighborhoods becoming neglected and overrun with crime.
Foundry Lofts, which won the title of Best Adaptive Reuse (from non-residential product to rental apartments), features townhouse loft and penthouse units housed in one of the first buildings to be restored in the 40-acre redevelopment project and is expected to be a catalyst to spur the revitalization.
The existing four-story building that houses the new apartments features reinforced concrete columns with mushroom-type capitals, an exposed concrete frame with brick panels in the facade and an internal courtyard. The renovation includes the complete restoration of the facade, the addition of a two-story, light-gauge metal and glass structure on top of the existing building, the reconstruction of the internal courtyard and an internal garage.
Community amenities include a game room with billiard and foosball tables and TVs, a sculpture terrace and outdoor fireplace, outdoor hammocks for lounging and Wi-Fi in community areas.
Amenities in the units that average 719 sq. ft. for the one-bedroom apartments and 958 sq. ft. for the two-bedrooms include exposed brick walls, concrete columns and ductwork, industrial-size windows, open kitchens and 12- to 14-foot ceilings.
Less than a year after pre-leasing began, the community that was designed by SK&I Architectural Design Group, developed by Forest City and completed last December was 100 percent occupied.
East Village at Avondale Meadows
The other winner of the Best Affordable Apartment Community award, which requires that 40 percent of the units be affordable to households earning 60 percent or less of area median income, East Village at Avondale Meadows has fulfilled the goal of developer The Sterling Group to bring quality housing to a blighted neighborhood.
East Village, which was designed by Atlanta-based SGN+A, Inc., broke ground at the beginning of 2011 and was completed about 18 months later. It was just over 95 percent occupied as of May 30 of this year.
The 248-unit community, in which apartments average 1,157 sq. ft., is the cornerstone of a multi-phase redevelopment plan designed to revitalize the 100-acre Avondale Meadows neighborhood on the northeast side of downtown Indianapolis, Ind. The asset, crafted to appeal to both market rate and affordable renters in the urban core of the city, is part of a plan that eventually will encompass more than 800 mixed-income apartments, townhomes and single-family dwellings.
Made possible by creative financing through public/private partnerships including the Indiana Housing Community Development Authority, neighborhood stabilization funds, HOME funds and other private funding sources, East Village at Avondale Meadows continues to experience an overwhelming response from prospective residents with approximately 4,200 phone inquiries and 4,500 walk-in prospects by the end of May.
Community amenities include a swimming pool with sundeck, a playground, a resident gardening area, an outdoor gazebo and a fitness center. In-unit amenities include washers and dryers, kitchen pantries, wood-grain plank flooring and linen closets.
Icis
The 186-unit Icis that is located on a two-acre site at the western gateway to the city of Glendale, Calif., is the first large-scale property to be built in the San Fernando Gateway Specific Plan area. Winner of the award for Best Mid-Rise Apartment, the community is a key element of the city's plan to revitalize a tired neighborhood that had fallen into a malaise of closed or underperforming retail and industrial uses.
The mixed-use project that was designed by TCA Architects and developed by Alliance Residential was started in May of 2007, then put on hold during the recession and completed last March. It was 40 percent occupied as of May 16.
The design intent for Icis was to create an urban boutique resort catering to GenY and creative professional types. The community that includes 8,282 sq. ft. of ground floor retail space is enhanced by hotel-like touches and upscale amenities aimed at setting it apart from the competition.
Amenities in the apartments that average 853 sq. ft. include stainless steel appliances, wood-plank flooring, granite countertops, walk-in closets and washers and dryers. Many of the apartments also include wine fridges, fireplaces, wireless surround-sound music systems, smartphone-controlled thermostats and custom lighting.
The units also are exceptionally soundproofed to muffle the busy street noise and the ambient music played within the community's two main courtyards.
ICIS's community amenities package includes a resident lounge, a fully digital game room with an espresso machine, a business center, a pool and spa, a Zen garden courtyard with cabanas, a "body salon" with personal training available, a dog run along the perimeter of the property and a roof-top "woof deck" with a dog washing station.
The Can Plant Residences at Pearl Apartments
The Can Plant Residences at Pearl Apartments, a key element in the transformation of the 22-acre historic Pearl Brewery in San Antonio, Texas, into a 750,000 sq. ft. mixed-use village, has become a catalyst for nearby urban redevelopment.
The apartment community that won the Pillars award for the best non-garden apartment community of five stories or less was designed by WGW Architects and developed by San Antonio-based BSA Can Plant. The community that broke ground in mid-February 2011 was completed at the end of January 2013 and was 86 percent leased and 74 percent occupied as of May 9.
Can Plant Apartments consists of 293 residential units housed in four three- to five-story buildings that feature brick, steel, stucco and metal panel finishes and include studios, one- and two-bedroom apartments that range from 550 sq. ft. studios to 1,360 sq. ft. two-bath, two-bedroom units.
Community amenities include landscaped courtyards, a fitness center with free weights, a cardio theater with individual TVs, a resident lounge that includes a gaming area, a full-size catering kitchen and complimentary WiFi.
An onsite pet park, bicycle storage, private storage units, a cyber cafe, door-to-door pickup of trash and recyclable materials, elevators and a heated pool also are included in Can Plant's amenities package.
The apartments feature track lighting, washer-dryer connections, ceilings that range from nine feet to 17 feet, pendant lighting, two-inch blinds, pre-wiring for individual alarm systems and, in select units, polished concrete and faux wood flooring, brushed nickel hardware, stainless steel and black-on-black appliances, private balconies and patios, large walk-in closets and custom quartz and granite countertops.
Meridian at Mt. Vernon Triangle
Winner of the award for the best high rise of nine stories or more, the 390-unit Meridian at Mount Vernon Triangle in Washington, D.C., is located in the heart of its revitalized neighborhood and within walking distance of public transportation, dining and retail opportunities.
The goal of architect Hartman Design Group and developer Paradigm Companies was to transform a one-acre parcel of land in a decrepit area of the nation's capital that had been owned by the same family for many generations into a Class A, amenity-rich apartment community that would appeal to young professional urban dwellers.
The developer timed the opening of the community for post-recession, but prior to 2012, in order to capitalize on the scarcity of high rise apartments in the area at the time. The community that started in mid-October of 2010 and was completed at the end of August 2012 was 97 percent occupied as of May 2013 thanks to its entry into the market at the right time to meet the expanding demand for rental units in the District of Columbia.
Community amenities at Meridian at Mt. Vernon Triangle include preferred Zipcar membership, underground parking, a clubroom with WiFi, luxuriant landscaping, electric car charging stations, storage units, a fitness center with cardio theater, valet dry cleaning service, concierge services and proximity to upscale dining and retail.
The apartments that average 859 sq. ft. feature full-size washers and dryers, granite countertops, cherry wood cabinetry, laminate hardwood floors in living and dining areas and private balconies and glass enclosed sunrooms in select units.
The Foundry Lofts & Apartments at Eddy Street Commons
The Foundry Lofts & Apartments at Eddy Street Commons in South Bend, Ind., which won the title of Best Student Community, is not focused exclusively on the student population.
The 266-unit community that representsthe residential rental component of a 42.9-acre mixed-use development was developed by Kite Realty Group and designed by Looney Ricks Kiss Architects to attract professors and other professionals, in addition to students.
Located within walking distance of the University of Notre Dame and a mile from downtown South Bend, the overall development also includes 90,000 sq. ft. of retail, 82,000 sq. ft. of office space, 100 for-sale condos, 63 city home residences and a 150-unit hotel and extended-stay lodge.
The Foundry Lofts & Apartments is the result of a creative deal structure involving the city, the university and the developer that facilitated the development of an apartment community that serves both the city and university and is helping to stabilize the surrounding neighborhood.
Designed to reflect the existing architecture of South Bend, the pedestrian-oriented community features storefronts located directly on the street, residential-scale front stoops, trees, benches and ample sidewalks. A five-story parking garage was stylistically disguised as one of the buildings so that it could be successfully incorporated into the streetscape.
By mid-May, the retail storefronts were 93.8 percent leased, the apartments were 96 percent leased and 100 percent of the office space was rented out. All but one of the city homes have sold and rooms at the hotel are in high demand all year round.
The Foundry's one-, two-, and three-bedroom apartments and lofts feature views of the University of Notre Dame campus, exposed brick walls and hardwood floors. Community amenities include a fitness center, a game room with billiards and foosball, a clubroom with Wii and Xbox, a gourmet kitchen and rooftop deck.
Domain San Diego
The ultra-modern, high-density, 379-unit Domain San Diego, winner of the award for the best garden apartment community of four stories or less, was designed by TCA Architects to meet the needs of young professionals and students of San Diego's growing Millennial population.
Developed by Wood Partners, the community that was started in August 2010 and completed in February 2013 and 60 percent occupied as of May 16 after just four months in lease-up includes studios, one- and two-bedroom apartments that range from 598 sq. ft. to 1,309 sq. ft.
The community includes a public park within its open space, created to foster a sense of community within the neighborhood it enhances.
The inspirations for the project, according to the architect, were the sea, the sun and the expanding sky, resulting in a natural, authentic take on modern design. Air, light and water are evoked at the community by features like spacious floor plans, abundant windows and large soaking tubs. A bright, airy, 5,500-sq.ft. recreation and leasing center adorns the community that also features a pool and spa, a waterfall and trellises, a playground, an outdoor fireplace, barbecue stations and gated underground parking. Other community amenities include a parking garage and elevator access.
In-unit amenities include private patios, stainless steel appliances, granite countertops and floor-to-ceiling windows in select units.
The Westerly on Lincoln
Developer Peak West Development and architect KEPHART took home the grand prize in the Pillars competition, the title of Multifamily Community of the Year, for the 583-unit The Westerly on Lincoln in Marina Del Rey, Calif. The community also earned the award for Best Conversion/Repositioning of a Multifamily Asset.
Built in the mid-1990's, The Westerly was the first multifamily community in the area, but was overshadowed in the years to come by new multifamily buildings surrounding it. To give the community a fresh look, the exterior was updated with a rich color palette with contrasting metal accents.
The community now has a powerful entry sequence and a sleek new exterior that blends with the surrounding architecture while still maintaining a unique identity. The combination clubhouse and leasing center and the apartments were strategically updated to add value in affordable ways. Instead of revamping entire apartments, kitchens were opened up to living spaces and washers and dryers were added. In the clubhouse/leasing center, underutilized spaces were captured to create new amenities. By eliminating a second stairway to the courtyard, the pool, deck and spa were expanded and an outdoor kitchen was added. By relocating the restrooms beneath the upper pool deck, the fitness center was more than doubled in size from 782 sq. ft. to 2,005 sq. ft.
The community that is located minutes from Los Angeles International Airport, close to local colleges and universities and a short distance from public transit, groceries, restaurants and entertainment venues is a "walker's paradise," said the architect. Community amenities include a business center, fitness center, a theater room, storage areas, a laundry facility and a saltwater pool and spa. Apartments that average 853 sq. ft. include granite counter tops, stainless steel appliances, dishwashers, extra storage, microwave ovens and walk-in closets.
As of May 21, The Westerly on Lincoln was 97.1 percent occupied.