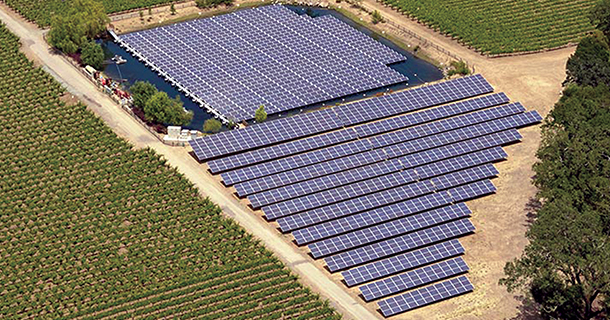 One of the state's highest-profile leadership roles has been on the issue of the environment. For example, California legislators passed and Governor Arnold Schwarzenegger signed the most restrictive greenhouse gas emissions law in the union, the Global Warming Solutions Act of 2006.
Statewide and bipartisan concern for the environment extends now to recent legislation that will support the continuing proliferation of solar panels in California, as well as the reshaping of the utility grid.
The California State Assembly sent a bill to Gov. Jerry Brown that would give regulators the ability to authorize a $10 monthly fee on power bills and, more critically, expand a program requiring utilities to buy excess solar electricity from customers.
The latter component—which is described as "net metering"—provides significant incentive for the installation by homeowners and apartment owners of rooftop solar panels, as any generated power in excess of the building's use can be sold back to the grid.
The long-term impact of AB327 will be determined by how regulators apply it. One advocacy group, Vote Solar, called its passage "a significant win for the future of rooftop solar in the state." The bill ensures that net metering will remain in place until customers of the three large investor-owned utilities have installed over 5,200 megawatts of net metered power generation rather than being suspended by the California Public Utilities Commission (CPUC) before the end of 2014.
AB327 also authorizes regulators to remove an existing cap on the net metering program currently at 5 percent. Advocates have successfully lobbied for increases from 0.5 percent and then 2.5 percent.
Finally, the bill requires California's investor-owned utilities to submit plans by July 2015 to "maximize the locational benefits of distributed solar and other resources on the grid." It also gives the CPUC the authority to require utilities to buy more than 33 percent of their power from renewable sources.
Grounds for the authorization to lay the $10 fixed charge on residential customers and blueprint for implementation of net metering beyond the 5 percent mark aren't spelled out in the legislation, leaving significant fighting space for utilities to grapple with solar advocates before the CPUC.
And that assumes Gov. Brown signs the bill into law; he's yet to comment.
PG&E, Edison and Sempra supported the bill. The Sierra Club has called the $10 fixed charge which can't be offset by solar production, "excessive and unnecessary."
Other legislation recently passed in California—Senate Bill 43—lays the foundation for the most significant community solar program in the U.S. It will allow renters, or those who live in apartments, multifamily developments or those with shaded roofs to buy power from shared arrays.
"SB 43 will allow the millions of Californians who cannot install their own solar unit, windmill, or other renewable power generation system to obtain renewable energy through their utility," said Sen. Lois Wolk, author of the bill. Wolk added that the bill "won't require any state funds or shift costs to consumers who don't participate."
The California program not only would be the largest in the country at 600 megawatts, but it would be larger than all other states' efforts combined."
Customers of California's investor-owned utilities PG&E, Southern California Edison and San Diego Gas & Electric—including local governments, businesses, schools, homeowners, municipal customers and renters, would be able to "purchase up to 100 percent of their electricity from a renewable energy facility," according to Wolk. The program would sunset in 2019.
According to solar panel supplier SunPower Corp, six of the 10 largest U.S. homebuilders are now including solar panels in new construction projects. Two California towns have mandated such installations, only a small part of the drive that will push demand for systems that generate electricity at home by jump 56 percent in 2013, according to the Solar Energy Industries Association (SEIA).
Solar is becoming the standard in California and in other states where energy is expensive. And solar panels are becoming a feature of new construction.
The declining costs of distributed power represent a significant threat to the business model that's supported U.S. electric utilities for more than a century.
Residential solar systems cost approximately $4.93 a watt in the first quarter, down 16 percent from a year earlier, according to the SEIA, made possible by an 18 percent decline in prices for solar panels and related hardware in the same period.
Installation of a system big enough to power a mid-size home costs about $15,000; if this cost is rolled into a mortgage it's offset within a month. The household is generating its own power and, in California, is getting paid for whatever excess it feeds back to the grid.
According to the SEIA, approximately 494 megawatts of panels were installed on new and existing U.S. rooftops in 2012. The SEIA expects a total of 770 megawatts in 2013 and as much as 2,175 megawatts by 2016.
SunPower has provided panels for 10,000 U.S. homes, including 4,000 built in California in 2012, where as many as one in five 2013 new builds will have solar generating systems.
The City of Lancaster in March 2013 passed legislation that requires the equivalent of at least 1 kilowatt of solar power on all new homes beginning in 2014. And Sebastopol, California, passed a similar measure in May that applies to new residential and commercial buildings.
PG&E has warned that distributed solar power is a threat to infrastructure investment. The more customers who generate their own power, the lower investor-owned utilities' revenue. It essentially forces utilities to raise rates on non-solar customers so they can maintain grid reliability and safety.
Higher utility rates make distributed power—the installation of rooftop solar panels—look more attractive to remaining customers. This is the key factor in a potential spiral for utilities.
That's the main point of a January 2013 report from utilities trade group the Edison Electric Institute (EEI).
The EEI warned that distributed power puts electric utilities in the same position as airlines and the telecommunications industry occupied in the late 1970s.
"U.S. carriers that were in existence prior to deregulation in 1978 faced bankruptcy," noted the EEI report, Disruptive Challenges: Financial Implications and Strategic Responses to a Changing Retail Electric Business. "The telecommunication businesses of 1978, meanwhile, are not recognizable today."
We are in the early stages of a process that is likely to unfold more slowly than the revolution of telecommunications where millions of consumers are cutting off from landlines and relying exclusively on mobile devices.
The process is gaining momentum aided by favorable legislation in states such as California.
But power generators across the country, including Dominion Resources Inc in Virginia and Southern Company in the Southeast, are taking significant steps to boost their solar capacity.
The innovator among the existing investor-owned utilities will be the one that takes the initiative to install solar panels on customers' rooftops and builds the cost into rate base. It's probably too late for this to happen in California, but utilities in other states can learn from PG&E's, Edison's and Sempra's omission.
The major inflection point—probably years off—will be, according to Sanford C. Bernstein's energy industry black book, the achievement of parity in the cost of unsubsidized solar and conventional electricity.
At that point, according to Sanford C. Bernstein, "The technology and energy sectors will no longer simply be one another's suppliers and customers."
Rather, "They will be competing directly. For the technology sector, the first rule is: Costs always go down. For the energy sector and for all extractive industries, costs almost always go up. Given those trajectories, counter-intuitively, the coming tussle between solar and conventional energy is not going to be a fair fight."
Author: David Dittman