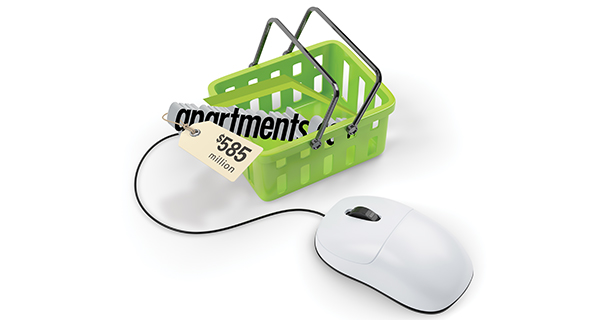 Classified Ventures is a joint venture among five media companies including Chicago, Ill.-based Tribune Company, McLean, Va.-based Gannett Co.; Sacramento, Calif.-based McClatchy Co.; Washington-based Graham Holdings Co., (whose owners formerly owned the Washington Post); and Dallas-based A.H. Belo Corp. Its other well-known holding is Cars.com.
Apartments.com is an online apartment rentals resource for renters, property managers and owners. Its acquisition is a logical move for CoStar, which made a name for itself as a repository of commercial real estate information and saw sales climb 26 percent last year to $441 million. The company is hoping to cross-pollinate its multifamily property information with the more than 100 million visitors that came to Apartments.com and its two sister sites, ApartmentHomeLiving.com and RentalHomesPlus.com, last year. Apartments had unaudited revenue of approximately $86 million in 2013, CoStar said in announcing the acquisition.
CoStar has received commitments of $625 million in financing from JPMorgan Chase Bank NA, Bank of America, Merrill Lynch, SunTrust Bank and Wells Fargo Bank National Association to help fund the acquisition, refinance the existing debt and finance the company's ongoing working capital needs following the transaction.
The transaction, which is subject to early termination of the waiting period under the Hart-Scott-Rodino Antitrust Improvements Act, has been approved by the boards of both companies and is expected to close in the second quarter. If it does not close, CoStar may be required to pay a cash termination fee of $17.55 million.
Gannett owns a 26.9 percent interest in Classified Ventures and expects to receive approximately $155 million at closing. Graham Holdings owns 16.5 percent of Classified Ventures. It expects to receive about $95 million at closing.
The other three media companies in Classified Ventures are A.H. Belo Corp., due to receive $18.9 million from the sale; The McClatchy Co., which is expecting $147 million; and Tribune Co., which is anticipating proceeds of approximately $160 million.
The end of Classified Ventures
Classified Ventures is also auctioning off Cars.com. So what will be left of one of Chicago's earliest and biggest digital companies? Not much.
Classified Ventures probably will vanish following the sale of the two sites.
Whether employees of its two operating units also disappear depends on the buyers. For now, a spokeswoman for Apartments.com says its local staff of 166 will be kept on. But its new owner, Washington-based Costar Group Inc., declines to comment on what it will do once its $585 million acquisition is completed, probably by mid-year.
As for its bigger moneymaking sibling Cars.com, its Chicago workforce, which numbers as many as 850, would be most imperiled if the top bidder turns out to be a competitor. That's because the merged companies would have redundancies from the executive suite—who needs two chief financial officers—to support staff.
Purposeful disintegration
Regardless of the purchasers, the one-two sales will be the end of Classified Ventures, a unique experiment by a group of newspapers, including Chicago Tribune, that created it 17 years ago to protect their classified advertising business from Internet upstarts.
"What you're seeing is the purposeful disintegration of Classified Ventures by its owners," said Chuck DelGrande, a Boston-based investment banker at C.W. Downer & Co. who worked with the original Classified Ventures team at Chicago Tribune.
As the newspaper business has foundered over the past 15 years with the loss of classified and other advertising to web alternatives, the value of Classified Ventures, which sells ads online in partnership with some 150 newspaper and other media outlets across the country, has increased. Now the cash-strapped newspapers are looking to cash in on Classified Ventures, which posted $502 million in revenue last year.
Costar is a strategic buyer, which means it has operations in the same industry as Apartments.com and will look to boost profits by integrating Apartments.com with its current businesses.
Possible buyers
Cars.com could attract a strategic buyer, such as AutoTrader Group Inc., but it also might appeal to financial bidders, such as private-equity firms, which sometimes don't own existing businesses in the industry but invest in acquisitions to boost profits through restructuring and expansion.
"Growth is not just the expectation of the new owners—it's the demand," said DelGrande, who also is CEO of Smith Corp., a Seattle-based digital marketing and electronic commerce company.
More than a dozen bidders lined up for Apartments.com, and Cars.com is expected to attract just as much attention. In addition to AutoTrader, which was acquired by privately held Cox Enterprises Inc. in January, possible bidders for Cars.com could include Roseland, N.J.-based Automatic Data Processing Inc., which owns Digital Motorworks Inc., and Lake Success, N.Y.-based Dealertrack Inc.
Financial buyers might include Chicago private equity firm GTCR LLC, which previously expressed an interest in Tribune's online businesses, and New York's Kohlberg Kravis Roberts & Co. LP, which last year bid for German online marketplace Scout24 Holding GmbH.
The price for Cars.com could reach $2.5 billion to $3 billion, according to early reports.
Print versus digital
If competition gets heated and drives the price to the higher end, it would pressure the winning bidder to boost revenue or cut expenses even faster, putting a larger target on the site's staff.
DelGrande noted Classified Ventures's breakup shows how upside-down the media business has become: The joint venture's assets could be worth more than the value of all eight newspapers owned by Tribune. The highest price floated for Tribune's newspaper group, which Tribune plans to spin off as Tribune Publishing Co. later this year, topped out at about $1 billion when it was on the sales block last year.
Classified Ventures took root at the Chicago Tribune in 1997 and was launched later that year with additional funding from Los Angeles Times' then-parent, Times Mirror Co., and Washington Post Co., as they teamed up to fend off competition from a swarm of online rivals such as Craigslist Inc.
The company's annual revenue climbed steadily over the years, despite the recession. While it allowed the papers to hang onto a portion of the classified business, it didn't stop the broader migration of advertising to online and mobile competitors, draining the newspaper industry's revenue over the past decade as readers also dispersed.
In recent years, the joint newspaper ownership has arguably been an impediment to the growth of Apartments.com and Cars.com, with the newspapers preoccupied with bigger financial challenges and little consensus among the five owners.
As a result, the newspaper companies are looking to hit up Classified Ventures for one last payment, even though they receive revenue from the partnership.
Why Co-Star is buying Apartments.com
CoStar Group Inc.'s planned acquisition of Apartments.com shouldn't come as much surprise to anyone who has followed one of the biggest trends in commercial real estate over the past few years.
Even as office leasing has bumped along in the D.C. region, developers have been on a tear building new apartments and condos across the Washington, D.C. region. On a quieter scale, CoStar, an industry standard for commercial real estate data, has been seeking to increase the amount of data it has on those properties. In buying Apartments.com, an online marketplace for multifamily properties, CoStar is hoping to capitalize on building owners' marketing efforts.
CoStar CEO Andy Florance linked the Apartments.com acquisition to LoopNet, an online commercial real estate marketplace, during a call with analysts. Both acquisitions involved pairing CoStar's analytical data with online marketing companies.
Florance also noted the significant growth in the multifamily sector, which has outpaced that of the office market, which is normally CoStar's bread and butter.
"The apartment, or multifamily, sector of commercial real estate is one of the largest, with a value in excess of $2 trillion in the United States," Florance said. "The multifamily vertical is bigger than the office vertical, which is where we started many years ago."
CoStar has been compiling data on the multifamily sector for some time now, making a major push more than two years ago to increase the depth of information. By picking up Apartments.com's existing revenue stream and by steering more traffic to LoopNet, apartments could be a lucrative business.
Florance drew several other comparisons to LoopNet, noting that it had $83 million in revenue when it was acquired (Apartments.com has $85 million in revenue). He also pointed to similar renewal rates; LoopNet had a renewal rate of 95 percent while Apartments.com has a rate of 98 percent.
In addition, CoStar expects to realize $20 million from synergies, including in cross-selling and cost-cutting, within two years.
Authors: Tucker Echols and Daniel J. Sernovitz, Washington Business Journal, Lynne Marek, Crain's Chicago Business