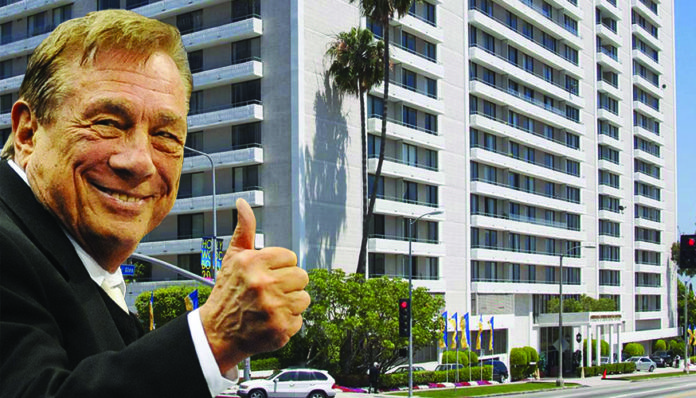 Los Angeles Clippers owner Donald Sterling apologized on CNN for racist remarks that recently got him banned from the NBA for life. It was his first public statement since a tape surfaced of the billionaire telling a female friend not to associate with black people.
"I love my league, I love my partners. Am I entitled to one mistake? It's a terrible mistake and I'll never do it again," Sterling said in the interview just two weeks after NBA Commissioner Adam Silver ordered him to pay $2.5 million in addition to banning him from the sport.
But who is this man and how did he amass the billion dollar-plus fortune that enabled him to become the owner of an NBA basketball team? By using an old and simple tactic that has boosted the fortunes of other real estate speculators in the past: buy cheap assets in desirable areas, avoid hefty investments and wait for the profits to roll in.
A 1989 Forbes article described the now-billionaire as "tanned, and generally swathed in an elegantly tailored Italian suit." He presided over his Sterling Corp. headquarters from behind "an ornate Louis XIV desk" and left his employees working in "windowless cubbyholes" while he worked from an expansive office with wrap-around windows.
While Sterling's wealth has been present for decades, he's struggled with earning respect. In 1982, during a press conference, he shocked Clippers fans by saying the team would attempt to lose games to get the first draft pick. He was fined $10,000 by the NBA.
The son of Jewish immigrants, Donald Tokowitz was born in Chicago but moved to the L.A. suburb of Boyle Heights when he was young. When he was 25, he changed his last name to Sterling. After graduating from California State University in L.A., he got his law degree from Southwestern University School of Law, also in L.A.
He became a trial lawyer in 1961 and switched to real estate two years later after he saw significant returns on an apartment building. He began purchasing various properties in Beverly Hills when the market was soft, refinanced and flipped them, reinvesting the proceeds. By 1989, he was one of Beverly Hills' largest landowners with 22 buildings under his control.
He often spoke of his desire to be the next Donald Trump and his plan to invest up to $15 million in as many as three new magazines.
"He craves, nay, lusts to be a celebrity. In the last year scores of journalists across the country have received personal notes from him praising one of their recent articles and offering them tickets to Clippers games. At one California newspaper, so many reporters received the letters that the office joke became displaying them on the bulletin board. If the reporters won't bite, the advertising departments of the media will oblige. Two-page spreads filled with society photographs of Sterling appeared in a Beverly Hills newspaper in July. 'Mr. and Mrs. Donald T. Sterling greet television star Barbara Eden,' read one caption," Wechsler wrote.
His former press agent Michael Selsman stated in the '89 article, that Sterling's net worth increased by $190 a minute. "While we've been talking on the phone, his properties have probably gone up about $50,000," Selsman said to the reporter.
Since then he has bought up not just thousands of apartments in L.A. but also properties in San Diego, Orange County and Las Vegas. He owns at least 7,500 apartments, and is now worth $1.3 billion net of debt, achieving his much-sought after billionaire status. He also owns Beverly Hills Plaza Hotel and two homes in Malibu and Beverly Hills.
But his business practices have also landed him in hot water. In 2012, he was ordered to pay $17.3 million in damages to actress Robyn Cohen who claimed she lost all her possessions when her West Hollywood apartment, owned by Sterling, caught fire.
Despite his vast wealth, even on the hardwood, Sterling has always shown his thrifty side. He bought the team in 1981 for $12 million and moved the San Diego-based team to L.A. three years later. He wanted the Clippers to compete with the Lakers. But he didn't invest heavily in the Clippers and paid players less than the other teams in the league. During the 1998-99 season labor disputes, he didn't employ a head coach and saved himself a few hundred thousand dollars. But it cost his team their standing in the league and they ended the year in last place with 41 losses and nine wins. The Clippers have yet to see a championship. The Clippers are worth an estimated $575 million after a surge in popularity thanks to players like Chris Paul and Blake Griffin.
While Sterling has been issued his verdict from the NBA Commissioner, his fate and the future of the Clippers remains uncertain. The team remains in a playoff run, but meetings between NBA officials and owners are taking place to try and force Sterling to sell the Clippers.
Out of the frying pan
Sterling made a fortune renting thousands of apartments, but some of his former managers are suing the billionaire for allegedly underpaying them.
Two managers are pursuing the lawsuit as a class action on behalf of more than 150 current and former managers, said Santa Monica attorney Michael Morrison.
The lead plaintiff is John Jung Kim, a Korean immigrant who managed one of Sterling's buildings. Another plaintiff is a woman who immigrated from Russia.
Morrison said building managers were paid for 13 hours of work, but were required to spend 40 hours a week on the premises, in a manager's office or their apartments.
"Hour 14 through 40, or whatever they work in a week, have to be paid in California at least at the minimum wage, and that's not happening here," Morrison said.
Managers were paid a few hundred dollars a month and got to live in the building for free. Giving managers free rent did not relieve the building owner of the requirement to pay for their hours on the job, Morrison said, calling the underpayment "wage theft."
Attorneys or other representatives of Beverly Hills Properties did not respond to requests for comment. Sterling's attorneys responded in court documents saying that the building managers had no grounds to sue because they promised to work fewer than eight hours a day.
Jeffrey Castillo, 30, is an Army veteran who managed one of Sterling's buildings in Koreatown. Castillo said he made only $500 per month, but was required to be present at the building weekdays from 8 a.m. to 4:30 p.m. His apartment would normally rent out for about $1,000, but he got to live there for free.
He's considering signing on as a plaintiff to the lawsuit.
"The cruel part is not the amount of dollars that you're receiving; the thing that puts the burden on you is that they don't want you to work another job," Castillo said.
He found himself relying on welfare payments and food stamps to care for his family. After four years, he quit.
"The taxpayer picks up the burden because then I had to collect welfare and the food stamps and stuff to get by," Castillo said.
Authors: Sharon McNary, Southern California Public Radio; Emily Canal, Forbes