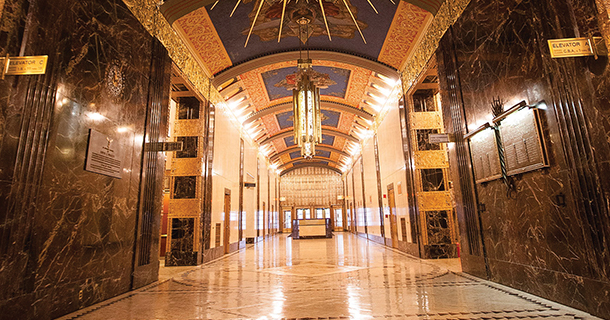 New York has always been a place where people could start over, reinvent, try something new.
Buildings have been no different.
Perhaps from the moment somebody turned a stable in colonial Manhattan into a crash pad, what constitutes a home has been open to interpretation.
Naturally, office towers have been favorite targets of makeovers, as businesses require far fewer desks than they used to, freeing up lots of space. And no high-rise has been too sacred: Even the Cathedral of Commerce itself, the Woolworth Building, is adding condos.
But if anything really speaks to second chances, it may be the conversion of buildings that were hard to imagine ever living in-power plants and parking garages, schools and cinemas, warehouses and banks.
And it is no coincidence that there seem to be more of these quirkier conversions than in the past, according to developers, real estate brokers and city officials.
Land is extremely scarce, they say, and historic districts, which are numerous, make new construction tough. Besides, some old-time structures are far bigger than what zoning would allow on their lots today. Adaptive reuse can also be speedier.
But curb appeal may also have something to do with it. "There's a general movement now that goes beyond real estate, a reaction to a world that's become increasingly electronic," said Toby Moskovits, president of Heritage Equity Partners, which is transforming a church-and-school complex into apartments in Williamsburg, Brooklyn. "People are more comfortable," she added, "with something that feels authentic."
This year the city issued 28 permits for ground-up construction in Manhattan, according to the city's Department of Buildings. During the same time, it also issued 28 "Alt-1" permits, which are required when somebody wants to take a factory, say, and put apartments in it. So, conversions make up half the total of permits, which is in line with 2013, the data show.
In 2007, in contrast, at the height of the last boom, there were 60 conversions out of 181, or about a third of the total, which suggests the share of conversions is growing.
Halstead Property, which projects slightly lower numbers going forward using its own methodology, nevertheless thinks the trend is significant enough to have recently started tracking it. "We are literally in the thick of it," said Robin Schneiderman, the managing director of Halstead Property Development Marketing.
And as a look at some categories of buildings shows, the types of current projects are, in the truest New York sense, all over the map.
Power and phones
Industrial buildings aren't necessarily ugly. And that was especially true around the turn of the last century, when extreme attention was paid to make sure their facades fit in seamlessly with the cityscape.
Who would suspect, for instance, that the beige-brick building with huge arched windows at 39 Jane Street, near Eighth Avenue, was a direct-current substation for Consolidated Edison, like 30 Horatio Street behind it? Since the mid-1960s, the complex has contained apartments.
More recently, 214 Lafayette Street, another direct-current leftover, was converted to a dazzling townhouse with four bedrooms and three-and-a-half baths, and a 40-foot-long indoor swimming pool, said Steve Halpern, the agent with Urban Compass in charge of renting the space for $80,000 a month.
Other buildings once packed with wires have also created interest: namely, phone company buildings used by Verizon. The team of the JDS Development Group and the Property Markets Group converted one in Chelsea in the hugely successful Walker Tower, and another in Hell's Kitchen, Stella Tower, is under construction.
But the 31-story Verizon building at 140 West Street, across from One World Trade Center in the financial district, may be the grandest of the bunch.
The full-block 1927 edifice, which like the other two phone buildings was designed by Ralph Walker, a prominent Art Deco architect, has an exterior lavishly decorated with carvings of vines, flowers and birds; it is a landmark, as is its vividly finished lobby, whose walls are trimmed in gold paint.
Upstairs, the developers the Magnum Real Estate Group and the CIM Group are adding 161 condos, from one- to five-bedrooms, in a project called Barclay Square, which will have the address of 100 Barclay Street, after the developers create a new entrance out of a loading bay.
The units are expected to hit the market in September, for $2,100 to $3,000 a sq. ft., said Ben Shaoul, Magnum's president, although the offering plan for the $500 million project still awaits approval.
Phone companies need less equipment these days, but Verizon isn't leaving completely; it will retain Floors 1 to 10 in a sharing arrangement similar to the Walker and Stella towers.
But to offer 47,000 sq. ft. of amenity space, Magnum will avail itself of about half of that gilded lobby, which will be walled off and turned into a lounge. Residents will be able to enjoy their morning coffee, Shaoul said, under murals of the history of communication. One painting on the condo's side shows a megaphone-carrying Egyptian. "You couldn't build a space like this today," he said.
Parking
As bikes abound and roads grow narrower, New York can seem to be turning its back on cars. The rapid disappearance of gas stations may not be helping things either.
Parking garages are befalling similar fates, which may not be that surprising: Often humdrum, and built for function, they rarely seem to be the focus of preservation efforts, and developers have long eyed their sites for their potential.
But in Greenwich Village, two garages are being incorporated into condo developments, at 12 East 13th Street, with eight units, and 17 East 12th Street, with nine.
On East 13th, near Fifth Avenue, DHA Capital and Continental Properties are at work on a garage once used mainly by Hertz, the rental car company, which also had a ground-floor office. With eight floors, the garage was built in 1930, before modern zoning laws were imposed on the low-slung area, limiting height.
Indeed, had the developers torn down the garage and built new, it is doubtful that a new structure could have been as bulky as what is there now, which meant converting was a better option, said Dan Hollander, DHA's managing principal.
Still, the developers could shift some things around; by shaving off the back of the building and adding that mass to the top, they were able to boost the height to 12 stories.
Other alternations are needed. The windows were not big enough for residential use, so they are being enlarged, as the building also gains a new facade, Hollander said. But starting with a foundation and walls cut some construction costs on the $75 million project, he added; similarly, the condo will take less time to complete, about 16 months, versus 24 months for ground-up construction.
DHA is also keeping a parking area, but for 11 cars, not 100 as before, and just on the second floor. Residents will drive into the original bay, then a robotic lift will pick up the vehicle and stow it.
Starting at $7.5 million for a three-bedroom, the units went on sale in April, although no contracts had been signed by late June.
An almost identical game plan is being followed on East 12th Street, where Rigby Asset Management is removing walls and floors from the back of the eight-story building to allow it to grow to 11 stories, giving apartments more light and air. There, too, a floor will be kept for parking, on the ground floor, for nine cars; and the same automated apparatus as at East 13th Street will serve as attendant. The nine condos, most of which have four bedrooms, are much pricier, however, starting at $14 million. Sales began at the end of June.
"You get column-free space and tall ceilings," said Peter Armstrong, Rigby's managing partner, who previously converted a garage at 73 Wooster Street into a six-unit condo. "You feel like an artist with a blank canvas."
Schools and Churches
Whether from creeping apathy or people going elsewhere to worship, many churches and synagogues in some parts of the city have watched their congregations shrink for years.
Some of those religious buildings went residential long ago, like the columned Greek Revival on 143 West 13th Street in Greenwich Village that is now a co-op. During the last boom, a surge of others followed in Brooklyn, like the condo called Sanctuary, a church-and-rectory combo on Cumberland Street in Fort Greene.
But what Heritage, the development firm, is building at a site on North Sixth Street in Williamsburg, Brooklyn, near bustling Bedford Street, is more ambitious.
On a block-through site that used to contain the St. Vincent de Paul campus-a Roman Catholic rectory, school and church-the firm is creating Spire Lofts, a 104-unit interconnected rental complex that has many original building elements, even though the site is not landmarked. "Maintaining the look was a choice and not an obligation," said Moskovits, Heritage's president.
In the first phase of the project, the 1920 brick rectory, at 167 North Sixth Street, became 10 apartments, all of which are leased. The second phase, which wrapped up this spring, added 39 units to the 19th-century neo-Gothic church next door at 163 North Sixth. To fit them in, several floors had to be constructed in the soaring 70-foot nave.
Heritage has taken pains to make sure tenants know where they are living. Rough-hewed beams that had been up by the church's ceiling now angle through some living spaces and have been left exposed; in one apartment on a recent tour, a lancet window has been fashioned into a door to a terrace.
The building has even added elements to make some details appear older than they are: The walls of many showers are lined with red brick instead of tile, for instance.
In the third and final phase, a 1950s school at 180 North Seventh Street will add two floors, and 55 apartments will be installed there. It is supposed to be finished in the spring of 2015.
For its part, Heritage says converting was far riskier, and more expensive, than razing and building. Though Moskovits declined to discuss the company's development costs, it paid about $14 million for the three buildings, according to city finance records.
But any costs might be easy to recoup. The smallest one-bedrooms in the church section are about $3,900 a month, based on current online listings, while a five-bedroom was $11,000 a month; and 20 leases had been signed in June since the rental office opened, Heritage said.
Theaters
Closed movie theaters, of which there are dozens in New York, can seem to enjoy a peculiar limbo. They are often too oddly shaped to make them good for anything but those events that draw audiences, which is why religious organizations have often been drawn to them.
The Ridgewood Theater, at 55-27 Myrtle Avenue, in the Ridgewood section of Queens, seems to have hung on longer than most, as it showed movies continuously from 1916, when it opened, to March 2008, according to a report by the city's Landmarks Preservation Commission, which declared the building's facade a landmark in 2010. That terra-cotta facade, with garlands, shields and pilasters, was designed by Thomas W. Lamb, the renowned theater architect whose ornate Loews 175th Street Theater in Washington Heights, also known as the United Palace, was itself turned over to a church.
But the current plan for the Myrtle Avenue building, whose marquee boasts the word "Ridgewood," twice, in red letters, calls for housing from Bushburg Properties, which converted a Catholic school at 180 Bainbridge Street in Bedford-Stuyvesant, Brooklyn, to a 46-unit apartment complex.
At the theater, Bushburg hopes to build 50 rentals, from studios to two-bedrooms, in the large rooms where movies were shown; they will be accessed through a new entrance on Madison Street. Interior demolitions have begun-projection equipment will be relocated-even though the project still requires some building permits. A 2016 opening date is expected.
For Bushburg, which paid $7 million for the building and will shell out another $11 million to reconstruct it, the costs were negligible.
"There are not a lot of buildings that have character like this," said Israel Hirsch, a managing principal of Bushburg.
What remains to be seen is what will happen to the ground-floor space not taken up by the apartment lobby-15,000 sq. ft. that includes the theater lobby, which retains plaster medallions and gently curved ceilings. While Hirsch said he hoped some stores could be installed, some community members have other ideas.
Bridgette Vidunas, who helped found We ? Ridgewood Theater two years ago, when the building, under different ownership, was falling into ruin, said an arts space, like a gallery, would be preferable to retail. So would a small movie theater, said Vidunas, who lives nearby in a condo carved out of a former newspaper printing plant. "We hope to keep talking to the developer about it," she said.
Government and Courts
In an era when everybody seems to be screaming for the government to shed a couple of pounds, New York has done its part, by putting several public buildings on the auction block in recent years.
Last year in the Civic Center neighborhood, City Hall sold neighboring 49-51 Chambers Street. A landmark, the 17-story Beaux-Arts building is the former home of the Emigrant Industrial Savings Bank. In recent years, the H-shaped building contained offices, including those for Manhattan Community Board 1 and the Department of Education. City seals still adorn the building.
Its buyer was the Chetrit Group, which paid $92 million, according to city records. Chetrit, which also owns the Sony Building and plans to add condos there, did not return a call seeking comment.
The city also recently unloaded 346 Broadway, a full-block Renaissance-style 1899 building designed by McKim, Mead & White that was the original home of the New York Life Insurance Company, before it moved to Madison Square Park. Purchased by New York City in the 1960s, the landmark building has contained municipal offices in recent decades, including a criminal summons arraignment court and a probation department.
According to signs posted there on a recent afternoon, an asbestos removal project is underway and will continue until next spring.
The buyer was the Peebles Corporation, which paid $130 million, according to city records. Don Peebles, the firm's founder, said through a spokesman that it was too soon to talk about what he might put there.
But last year, he said in an interview that he planned to add several hundred condos to the 400,000-sq.-ft. building, as well as 15,000 sq. ft. of community space.
Michael Tavani, a spokesman for Peebles, said that a hotel originally planned for the site, in addition to the condos, was now off the table; he also said that the building would use its alternate address, 108 Leonard Street, going forward.
The summons arraignment court poses one potential roadblock for the development, because it is unclear where it will move. Angered by the fact that the city planned to move the court to a leased location on Thomas Street in TriBeCa, some neighbors sued, and in a settlement in December, the city agreed to hold off on moving the court there. According to a spokeswoman with the Department of Citywide Administrative Services, the court's lease with Peebles at 346 Broadway runs through October 2015.
Author: C. J. Hughes, NY Times