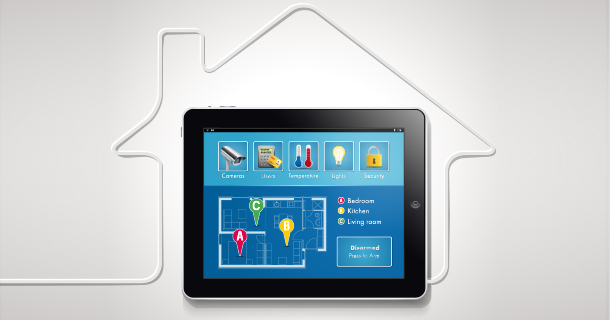 While our industry has often been slow to adopt new technologies, the opposite, of course, is true of the electronics industry. As such, I decided to attend the Consumer Electronics Show (CES) held earlier this year to get a better understanding of what our customer may ultimately desire-perhaps even before they know they want it. My hope is that my company (and others like it in the industry) can become early adopters of new technology, ultimately influencing how our residents' think about living in our product.
Needless to say, the CES was populated not by apartment developers, but instead by people from electronic, car, gadget and appliance companies. This is unfortunate, as what I learned at the show about the far-reaching implications of the "Internet of Everything" (IOE) has not only applicability to our industry but also the potential to radically change our approaches to designing and building the homes our customers choose to live in.
The smart home
While somehow I think people, in the future, will still use the Internet to do simple things like watch videos of cats playing the piano, a new dimension of the World Wide Web is clearly under development. Over the next few years, the Internet will cast a wider and wider web, exponentially expanding and multiplying in its power and utility. This will support an entire universe of things that you can control from anywhere.
The momentum behind IOE is also accelerating the "smart home" trend-another big buzz word at the show-where home automation systems provide residents with increasingly sophisticated monitoring and control over a growing number of in-home devices and systems.
Already we're seeing major advances in home monitoring systems and applications. For example, we all know how devices like Nest's thermostat allow users to control in-home heating and cooling (and fire and carbon monoxide detection) from their iPhones. Similarly, many home security systems also allow users to remotely lock entry doors, close garage doors, control lights or turn off appliances like televisions or coffeemakers.
But now this technology is being introduced to the ever-expanding world of appliances-from the sublime (remote pre-heating ovens or washers with stain troubleshooting capabilities, for example) to the ridiculous (shower heads with Wi-Fi music pumping through them). At the show, companies like LG and Samsung displayed kitchens that had features such as countertops that charged your devices without a plug, integrated stove tops and refrigerators that told you when you were low on inventory of an item.
These new technologies may affect how we design our spaces. Beyond rethinking wiring and outlets, there may be space considerations. For example, at the show, curved (and yes, even bendable) televisions were on display. If consumers adopt them as the new standard, could this ultimately influence our unit layouts? Maybe. Remember, we never really had to worry about where our residents were going to mount their TVs before flat screens became main stream.
The even smarter home
This smart technology is also paving the way for more customizable home technology that not only monitors and collects information but also can adjusted based on those inputs. A good example is the new Philip's Hue light bulb, which is a programmable, color-changing LED light bulb that gives user tremendous flexibility over the color of light emitted, allowing them to set the right mood lighting for an occasion. And that's just the beginning.
Already consumer preference for customization has given rise to the so-called "quantified self" movement, where technology is used to self-monitor. FitBit, a device that tracks your every move, from the number of steps you take to the hours you sleep, is just one example of how technology is taking customization to the next level. Who knows, our residents may soon be wearing clips with pre-set preferences that, as soon as they enter a room in their home, signal the thermostat to go to a preferred room temperature, the lights to adjust and digital artwork to rotate on the wall.
As the unique customization of consumers' individual worlds continues to spill over into their homes, there is a real opportunity for our industry to rethink our product.
Our customers are increasingly accustomed to customizing everything in their lives-from their morning coffee to their Netflix queue at night-and yet we keep giving them almost the same unit layout we did 10 years ago. Our industry has focused on the reduction of space versus the customization of space for a user. And yet, there seems to be tremendous potential for customizable units, allowing the unique individuals that rent from us to better adjust their living spaces to meet their needs.
For me, the Consumer Electronics Show was absolutely fascinating. While it led me to the distinct conclusion that our industry is woefully behind in the adoption of new technology, it also suggested to me that there are tremendous opportunities going forward for those companies that embrace this brave new world.
Author: Toby Bozzuto, President, The Bozzuto Group