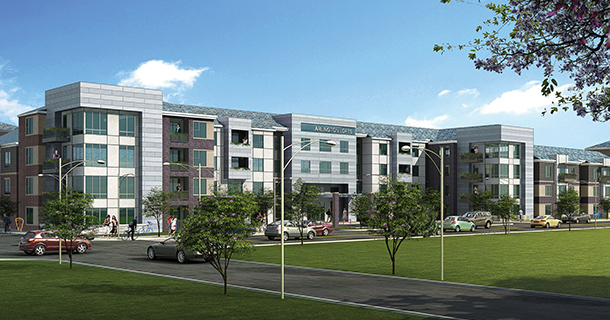 Forecasts suggest that 4.5 million people nationally will join the renter pool over the next five years, while another three million potential renters still live with family or friends.
Greystar—a full service real estate company with acquisition and property management arms—has a development pipeline of projects in 25 markets from coast to coast, including its "gateway" markets on the West Coast, Boston and Washington, D.C., where it often takes years to get entitlements, and the traditional commodity, or Sunbelt markets, where it is easier to bring supply online.
Over the past several years, Greystar has been one of the nation's most prolific builders, starting 4,530 units in 2012 and 4,766 units in 2013.
As of October, the Charlotte-based company broke ground on around 3,747 units, with projects underway in Phoenix, Atlanta, Dallas and Houston; Pasadena, Calif.; Mclean, Va.; Washington, D.C.; Danbury, Conn., and Boca Raton, Fla. Two more projects totaling around 600 units—one in Orlando and another in Dallas—are expected to start by year-end.
"We are tracking another 4,000 units this year," said Greystar executive managing director of development Scott Wise, who heads Greystar's development and construction management team centrally out of the company's Houston office.
Greystar also has regional development offices in San Diego, Irvine and San Francisco, Calif., Dallas and Austin, Texas, Charleston, S.C., Atlanta, Ga., Fort Lauderdale, Fla., and Washington, D.C.
"We have a lot of additional offices in markets that development and construction personnel don't live in on a day-to-day basis, but, with our property management platform, we have people there in the know—they know the operating expenses, the rents and what's the right side of the intersection to be on because they've lived in the markets for a long, long time," he said.
The big deal
Greystar's merger with Riverstone Residential in July enhanced the company's property management presence in a number of markets, providing additional support to its development and investment management teams.
"Any time you have 385,000 units in approximately 1,500 assets under management, it really helps you with your market knowledge and underwriting," said Wise.
While Greystar has had success with conventional suburban and infill developments throughout the country, two of its new development sectors—senior and student housing—have been more challenging, with steeper learning curves.
Greystar Student Living manages 14 student-housing properties for clients at 12 universities around the nation. The company also recently acquired a student-housing portfolio in the U.K. totaling more than 8,000 units.
But breaking into student housing has proven more difficult than anticipated for the firm, however, taking Greystar's development team two-and-a-half years to get its first student development out of the ground.
"We went down this road expecting to be doing four or five projects a year," said Wise.
The company finally broke ground in September on Arlington Lofts, a student project located immediately adjacent to the campus at the University of Texas at Arlington.
Greystar chose the market because surveys suggest that, with current enrollment of 33,000 students, an estimated 4,000 UTA undergrads are interested in living on or near campus, if housing were available.
Student challenges
Wise blames rising construction costs and other headwinds to development, as well as the nature of the student housing business itself, that, unlike traditional multifamily, where units are re-priced every month and rent to people who move in and out, student housing leases up once a year over the summer.
"All the leases start in September or the last week of August and run for a whole year and then you do it again," he said.
"We've seen 20 to 25 percent increases in construction costs and we've been waiting to see what kinds of rent increases we can get to support new development.
"While there have been pretty good rent gains at some of the student housing projects we manage around the country—four, five, six percent—we've really needed a lot more than that to compensate for the increases in construction costs. You can imagine, if you are a student housing operator and you have 300 or 600 beds that you need to lease in a forty-five day period, you probably aren't going to be as aggressive on pushing rents, because you can't be left with vacancy," said Wise, who thinks it will be several years before rent growth catches up for more student development to make sense for his company.
"We still think the student housing market is under-supplied and our student housing division manages 14,000 units nationally, so to finally be on the development side of the business is exciting," said Wise.
Arlington Lofts replaces a 45-year-old, 102-unit apartment complex on the site and will be the second largest student rental project in the city, although it is a scaled down version of the 231-unit apartment building with a seven-level parking garage that Greystar originally proposed.
The approved plan consists of 169 units with four one-bed units, 48 two-bed units, 19 three-bed units and 98 four-bed units, for a total of 549 bedrooms and a three-level parking garage with 475 parking spaces. The fully furnished apartments feature full kitchens, individual bathrooms and a resort-style swimming pool, fitness center, cyber cafe and courtyard for quiet study.
The aging game
Getting into seniors' housing development for its own and its clients' portfolios has presented unique challenges, but Wise is confident Greystar will break ground on a couple of deals over the next 12 months and, eventually, the sector will constitute 10 percent of the company's overall development business.
Greystar is targeting the active adult demographic rather than an aging-in-place model that offers the resident progressing levels of medical and personal care as they grow older and more infirm—a model chosen by many dedicated providers of housing for seniors.
"There is an obvious need and it's been very well publicized that aging baby boomers are going to impact the housing demand for the 65-plus cohort for the next 30 years and we believe that rental housing is going to have to play a part in meeting that demand," said Wise.
But, just like traditional multifamily or student housing, to justify production costs, the product type must be supported by rent levels, which vary by market and even submarket.
"We looked at a site in South Florida that would have been an eight- to 10-story, type-one building, but ultimately we couldn't get the density we needed to get approvals to support the cost, so we passed on that one.
"We've looked at a number of surface parked projects in Texas that would have elevator service because seniors can't easily walk up and down stairs and we've looked at podium project in Georgia," said Wise.
While it has been challenging to find good sites, Wise says that Greystar is getting close to starting on a project in Texas and hopes to have others underway next year.
Defining design
"We are trying to define what senior product looks like, how it will be different from conventional multifamily and what kind of services must be offered," said Wise, noting that coming up with a prototype that can be reproduced in markets around the country has been near impossible.
"It's not like building a typical motel where you can just punch them all out, because every municipality is different and you are working within rent levels," he said.
"In trying to come up with development models for ourselves and our clients, we've had a lot of dialogue and we all have opinions about what people want and usually those opinions are based upon our own experience.
"My mother and father are 75 and 85 and actually live in a senior living apartment owned by a major REIT and I have gone over to their apartment and listened to their likes and dislikes about the project and I believe, we all believe, that some changes in finishes over traditional multifamily are needed," said Wise, listing such items as walk-in showers, taller toilets, more hard-surfaced flooring to avoid tripping hazards and top-loading rather than front-loading washers and dryers, since bending can be an issue as people age, as must-haves. He also thinks more amenity space than found in traditional multifamily is needed.
Moreover, the senior housing project size will be smaller, in the range of 150 to 200 units, because the absorption rate for senior housing is lower than traditional multifamily.
"With traditional multifamily you might absorb 20 to 30 units per month, whereas with seniors you might absorb about eight units per month, so if you go and build a 300-unit deal you may never get there.
"Seniors also take more time to make up their mind about where they choose to live. Their children get involved in making the decision and they might come back two or three, four times.
"We've managed some senior housing projects for a client of ours in Southern California and we've observed this phenomenon that there are many visits sometimes before somebody makes a decision to sign a lease," he said.
Greystar currently manages about 1,300 units of active adult senior housing for clients in various markets around the country.
Balancing supply and demand
Overbuilding banter is beginning to escalate among market watchers as the low national apartment vacancies that the industry has enjoyed for the past several years begin to reverse, rising roughly 30 basis points during the first three quarters of 2014, while CoStar predicts another 50 basis point increase from mid- to year-end.
But Wise thinks fundamentals to support multifamily development remain solid and illustrate the nation's capacity to absorb many more units than in previous cycles.
"We view it as more of a longer flatter expansion recovery curve than in the past because, on the whole, there are still the tailwinds supporting the demand coupled with a lot of headwinds to doing a new development, namely rising construction costs, and that's going to apply to any product type that we target, whether its traditional multifamily or something that is senior or student. Costs are costs," said Wise.
And, despite the strong fundamentals, multifamily starts appear to be leveling off, averaging 342,000 units over the last 12 months, which should help offset the rise in vacancy, says Wise.
"Yields have been compressed and more and more of our capital relationships are seeking ways to invest over a longer hold period. They are being pickier with their allocation strategies, wanting urban infill locations in markets with strong job growth and barriers to new supply. Projects fitting this strategy are inherently more expensive to build and deal sizes have gotten bigger.
"At the same time, construction lenders are holding to more stringent loan sizing covenants. While large sponsors with operating platforms like Greystar have thrived in this environment, smaller less capitalized developers have been unable to return to the volume levels of past cycles," said Wise.
With equity and construction financing more difficult to obtain, he thinks supply will remain in check.
"People might be concerned about the level of supply that they are hearing about in Houston and Dallas, but job growth has been tremendous and the absorption continues to outpace the supply," said Wise.
An example of apartment absorption outstripping supply in a market is Austin, where Greystar is underway on Lamar Union, a large mixed-use project along Lamar Blvd., just south of downtown Austin, that was started in 2013 and will deliver late this year.
Greystar is just one of a number of developers with projects in the market. Others include Post Properties, Ardent Residential, Transwestern, Camden Property Trust and the Hanover Company.
Austin has been at the head of the pack in apartment construction over the past three years. Since late 2012, on South Lamar alone, approximately 2,200 apartments have been delivered or are underway and some analysts are now considering overbuilding in the market a risk.
But, over the same three-year time period, the city added from 22,000 to more than 30,000 jobs annually and has a total employment base that is 30.3 percent larger today than it was 10 years ago, compared to just 4.6 percent for the U.S. total, according to the Bureau of Labor Statistics. Apartments in Austin are still leasing with few, if any, concessions and rents are some of the strongest in Texas.
Mixed-use model
Greystar's one-million-sq.-ft., mixed-use Lamar Union is transforming a former nine-acre strip mall into a vibrant walkable community with 442 apartments (with a 10 percent affordable component) and more than 90,000 sq. ft. of retail and restaurant space. It is one of several large MUDs Greystar is bringing online for its clients.
The design plan by BOKA Powell includes redevelopment and preservation of six theaters of the existing 23,466 sq. ft. Alamo Drafthouse Cinema, adding another 15,684 sq. ft. for three new theaters, a new entry lobby and the adjoining Highball Lounge. It also includes three new multi-story residential buildings, an additional 47,078 sq. ft. of ground-floor retail space, parking garages for 1,354 cars and an urban plaza that increases density while being sympathetic to the neighborhood and local stakeholders by employing curbless streetscapes tailored to the pedestrian with an abundance of street trees, raised planters and rain gardens that are used to separate cars from pedestrians.
Apartments at Lamar Union will range from studios to two-bedroom townhomes that rent from $2,125 to $2,900 and feature large windows that offer an abundance of daylight and views of downtown Austin from the pool deck. Residents will have the use of several clubrooms and top-of-the-line amenities.