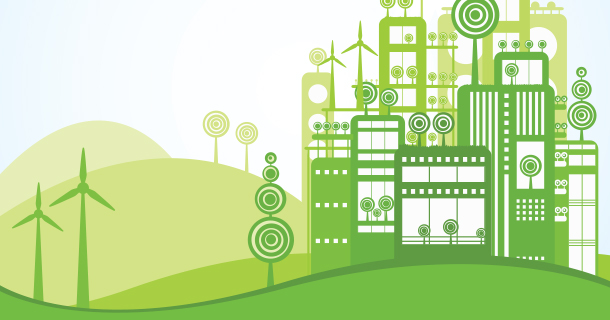 The amount of urban land available for new development is shrinking while construction costs for new apartment buildings keep rising. Just maintaining existing supplies is a losing battle, as owners of aging subsidized housing continue to convert below-market-rate projects into market-rate projects when government subsidy contracts expire.
But there is a strategy that could help provide more affordable housing in the future. Some aging commercial real estate—in particular, office buildings past their prime—could be converted into apartment buildings. One very recent example demonstrating the physical feasibility of converting an office building to an apartment building is the Oronoco in Alexandria, Va. Developer EYA completely transformed a modernist, 1970s-era office building, which now contains spacious two- and three-bedroom condos.
This strategy offers another benefit: Saving and repurposing an existing building is the epitome of architectural sustainability. It preserves and recycles the materials, labor, capital and energy invested in the building when it was constructed and subsequently during its useful life.
Yet converting older buildings from office use to residential use presents economic, design and technical hurdles that can make transformation difficult and sometimes unfeasible.
A favorably-located, fully-leased office building generally yields a higher return on investment than an apartment building. This is why owners often undertake modernizing makeovers of older, substandard office buildings rather than converting such buildings to residential use, especially if the office leasing market is robust.
If an existing office building is substantially smaller than matter-of-right zoning allows, demolition followed by construction of a new, larger office building may, in the long, run prove more financially desirable than saving and transforming the existing structure for residential use.
Moreover, converting an older office building into an apartment building can be very costly. It entails gutting and, often, removing asbestos; reconfiguring and refinishing the building's interior; redoing mechanical, plumbing, electrical and life safety systems; and enhancing the environmental performance of the building's roof and exterior walls, along with their appearance.
Making it viable
For an aging or obsolete office building to be a viable candidate for residential conversion, several factors must come into play.
The building's location must be less than stellar for commercial real estate uses, and the office market must be iffy enough to incentivize conversion to residential use. The size of the existing building must be such that unused, matter-of-right density under applicable zoning regulations is minimal. And the physical form and structural condition of the building must make conversion reasonably practicable.
In the interest of boosting affordable housing supply, public policy also can motivate office-to-housing conversions. Fiscally, the least costly incentive is granting density bonuses enabling a building that is being converted to be enlarged beyond what is permitted by matter-of-right zoning. This involves adding floors, or increasing the building's footprint and mass.
Subsidy through tax incentives—local real estate tax abatement and federal tax credits—can specifically target and motivate conversions that produce affordable housing. And below-market-rate construction and permanent loans, provided or insured by government, can finance building conversions yielding dwelling units priced at below-market rates.
Invoking ingenuity on floor plans
Converting office buildings—especially mid-block, in-fill buildings and buildings with large floor plates—poses design obstacles but also presents opportunities for architectural creativity.
The primary design challenge concerns proportions, the misfit between apartment configurations and office building configurations. Conventional apartments typically are shallow in depth, measuring 30 to 35 ft. from exterior window wall to corridor wall. Because living areas and bedrooms need windows, apartments work best in building wings only 65 to 75 ft. wide, with flats or duplexes lining both sides of a corridor.
However, the distance between an office building's exterior wall and central service core—elevators, fire stairs, restrooms—can be 50 or 60 ft. For an office building whose overall width is 120 ft. or more, deploying conventional apartments around the building perimeter is problematic, as it leaves large amounts of unused floor area in the middle of the building.
To deal with this, architects have designed unconventional apartments. For example, a narrow but deep two-story loft-type unit can allow daylight to penetrate into deep-set, windowless spaces—kitchen, work area, sleeping loft—with bathrooms, mechanical and storage areas beyond. Thus, most of an office building's wide floor plate can become part of a deepened apartment.
Another problem-solving tactic for low- or mid-rise office buildings entails cutting away central portions of the roof and floor plates to create light wells and sky-lit atriums. Although skylights are costly, this greatly enhances views and lighting for apartments surrounding atriums.
Transforming aging office buildings into apartment buildings always will depend on variable economic and technical circumstances justifying conversion. But, if and when there is a surplus of aging office buildings, converting some of those buildings could help ameliorate America's affordable-housing problem.
Author: Roger Lewis is a practicing architect and professor emeritus of architecture at the Univ. of Maryland.