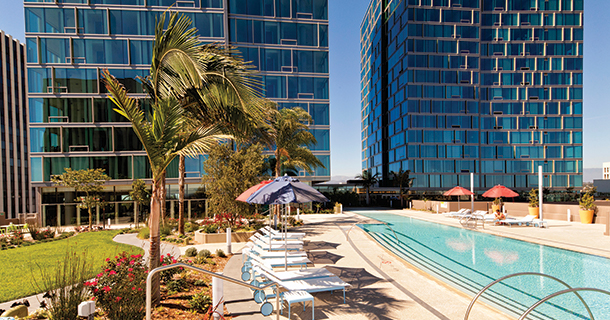 Developers are seeing a diverse group of residents and buyers who want to occupy amenity-rich complexes of varying types—lofts, mid-rises and high-rises—and have worry-free, beautiful urban living in environmentally-conscious, yet luxurious settings.
Although price escalation for ultra-high-end multifamily condo housing is showing signs of slowing in New York City, prices in Los Angeles are still on the upswing. The sought-after Southern California lifestyle, however, is no longer only about staking a claim to oceanfront properties. It's also about the urban environment. From retirees seeking sophisticated arts and entertainment to 20-somethings, many of whom are high-tech and start-up entrepreneurs and employees, more and more Los Angeles residents are choosing to live in the urban core.
As a result, capital is streaming into this market to take advantage of high returns on investment, and multifamily construction is booming in metropolitan Los Angeles. Henry Cisneros, former secretary of the U.S. Department of Housing and Urban Development and executive chairman of CityView, a Los Angeles-based institutional investment firm focused on urban real estate, recently wrote in the Urban Land Magazine: "Massive societal and economic changes are converging to create a new urban reality, a transformation of importance to the millions of Americans in the nation's metropolitan areas. Many surveys show that residents place a higher value on homes within walking distance of stores, public spaces, and employment. Greater demand for core urban sites almost always means higher land prices."
Those higher land prices translate into costlier development of multifamily projects. Adding to costs, developers are responding to increasing demand by building thousands of new apartments and condos of greater quality, with more unique amenities, which, of course, is accompanied by higher rents and asking prices. The new apartments being built—mostly class-A, high-end rentals in the most desirable parts of the city—require new approaches from the builder's point of view, as does the latest generation of condos.
The market is demanding super high-end finishes and amenities. As the project is in the design stage, the savvy construction contractor needs to be able to balance the project's budget with the need to be competitive on the part of developers, architects and interior designers. The developer communicates their vision to the architect and interior designer. In turn, the design team goes to work creating buildings and spaces that respond to the developer's vision and the market demand for extraordinary new amenities such as: large, lush and inviting public spaces equipped for community gatherings and socializing; concierge services and the spaces to accommodate them; fitness centers and yoga rooms; pools, spas and decks with barbecue equipment and party spaces; electronic lockers that notify tenants of package deliveries; high-end appliances; completely built-out, walk-in closets, including additional shoe storage space; and, increasingly, designated dog runs complete with dog wash rooms. Even bicycle maintenance shops are being built in newly designed projects.
For example, Bernards recently completed the construction of several projects that offer a rich variety of amenities. These included rooftop pools with upscale entertainment areas, fitness centers with professional equipment, massage spas, rooftop sundecks with BBQ areas, game rooms, pocket parks, yoga studios, sky lounges and fountains, among other features.
Because it's often the contractor's job to provide progressive budget development to the developers as the designer presents the conceptual and later-stage designs, the builder must have expert knowledge of current labor and material pricing, constructibility and, particularly in California, sustainability and green building methods.
The multifamily construction boom will continue for the foreseeable future, as the Los Angeles metro area occupies a top spot in investor rankings. In a Los Angeles Times article, "Apartment Construction Surges Across the Southland Amid Rising Rents," published in May 2014, Eric Sussman, a real estate lecturer at UCLA's Ziman Center for Real Estate and the head of several real estate firms that own Los Angeles apartment buildings, remarked: "The stuff that's coming on line—it's all class A. And if you're going to build class A, you've got to be in a good market." And in the same article, Steve Wilson, EVP for West Coast operations at AvalonBay, a large REIT, said: "I've got to believe we can get 4 percent to 5 percent rent growth a year over the next 10 years."
Excerpt: Steve Pellegren is the executive vice president of Bernards, a commercial construction and management firm headquartered in Los Angeles.