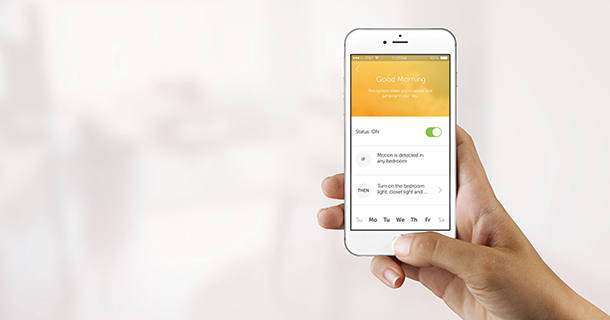 The emerging mechanization promises benefits to property owners and managers of apartment communities, including energy cost savings, possible incentives from insurance companies and housing authorities for development, resident attraction and retention and water and energy conservation.
Residents will enjoy life in an intelligent apartment that becomes an ally, a place where the system's creators believe almost every need eventually will be anticipated, from lights coming on to welcome them home at night to starting the coffee maker when they turn on the bathroom light in the morning.
Iotas' home automation platform integrates pre-installed hardware like light switches, electrical outlets, thermostats and sensors with the company's software to create a unique experience that has the ability to learn from residents' behavior and interact with their homes.
"Iotas is a smart home experience designed specifically for renters," explained Quinn Simpson, Iotas' VP of product experience, who co-founded the company with Sce Pike, CEO and president of the Oregon-based start-up, in April 2014.
"We partner directly with property developers, which allows us to install connected outlets, light switches and various sensors into apartments prior to the resident ever moving in," Simpson explained during a video tour of Grant Park Village Apartments in Portland, Ore., where Capstone and Iotas are test-driving the service in 100 units of the 211-unit urban mixed-use apartment community.
Chris Nelson, who co-founded Capstone Partners in 2002, and Pike, one of Portland's leading technology professionals, also have worked closely with property management giant Greystar on the early adoption of smart home technology in a multifamily format.
"Early on in our discussions with Sce and her team, we engaged Greystar and some of their marketing and regional management folks here to get their view of how this concept of the smart homes would apply to multifamily," Nelson said at the end of October.
"They were very engaged in a lot of the early discussions about what it would look like and how it will work," said Nelson, adding that Greystar not only was very involved in the early incubation of the smart apartment concept, but is typically involved as a pre-development advisor on Capstone's other Portland area developments, providing advice on things like unit mix, amenities, branding and positioning.
The Capstone/Iotas pilot program at Grant Park Village started right after the brand new community's completion of the 100 smart home apartments and formal community grand opening in May.
"We did a pilot with a smaller group of residents and we're in the middle of doing another software update that will actually involve more residents in that pool," Pike explained.
That software update is focused on the rules that guide the smart apartments' behavior and the security protocols that protect apartment residents' personal information.
Iotas has created 10 starter rules to introduce users to the concept and help them get comfortable with the technology. "We found that when we allow users to create rules right out of the gate, it was just too overwhelming," she said.
Sce and her team wanted to create the same kind of experience for new residents of Iotas-enabled apartments that a new iPhone user has. "You take it out of the box and it just works," she said.
"We wanted the same experience for our residents. When they move in, everything should just work. They don't have to buy a lot of hardware, install it, configure it. When they walk into a resident unit, all they have to do is look at all the rules that have been predefined for them, like "good morning, good night, welcome home, out for the day, vacation mode, closet lights," she said.
Users can see on their phone an application that will show them the floor plan of the home and what can be turned on and off. So, they can go to the bedroom and say, "OK, I want this light turned on or turned off, this particular outlet turned on or off," she said.
"We had one resident who turned on their lights remotely for their cat because they were worried about their cat when it got dark," she said, adding that the Millennials the smart apartment owners are targeting are focused on how to automate things for their pets and make life better for the furry critters that share their lives.
Iotas is using machine learning, also known as thinking computers or intelligent retrieval, to understand the routines and patterns of what people are doing to develop more rules for particular residents. If a resident always turns on her radio before she goes into the bathroom in the morning, that might be offered up to her as a rule so when she wakes up in the morning, the radio turns on and the bathroom light turns on at seven o'clock.
Using the insights the machine-learning component has gathered, "smart stories" are generated, which promise to provide information that can be used by managers and utility companies to increase energy efficiency.
"If you can compare and contrast different residents' effectiveness in saving energy, you can potentially create the most efficient patterns into a rule and see if you can roll it out to the rest of the residents and see if they all end up saving a little bit more energy," said Pike.
Iotas has been working on creation of a property dashboard for property owners and managers, like Greystar, that would give them insights about the performance of the building, as well as a better understanding of the community that lives there.
For example, it would be able to provide insights such as when residents typically are at home. If the finding is that most of the residents of an apartment community are there at 7 p.m. on Mondays, a property owner or manager might schedule a social event or happy hour or movie night for that time.
"We actually want to provide detailed, anonymous and aggregated data about how they're living, so that's what these smart stories are about," Pike said.
She said utility companies are very interested in what Iotas is doing because energy efficiency is a huge byproduct of smart home automation. "If we turn off everything when people leave and, let's say, that includes the water heater, that's a huge savings," she said, adding that Iotas is negotiating a potential pilot program with a utility company in San Diego to further explore possible savings opportunities.
Meanwhile, the company is expanding its service areas exponentially. "We're in San Francisco now and we're going into Denver. Chicago is probably the next one we're going to be launching," she said.
She recently attended a National Apartment Association conference at which around 80 percent of the attendees were apartment developers and property managers.
"Most of the conversation at the conference was around technology, IoT and smart home automation and there were several different panels on that," she said. Most of the attendees were interested not just in how all that attracts tech-hungry Millennials, but also the longer-term potential for revenue.
Iotas plans to give 10 percent of the gross revenue earned from the service platform they install back to the owners of the apartment buildings they enhance, including "anything we generate as additional income off the building in terms of the digital revenue that we create," Pike explained.
Iotas decided against a resident subscription-based model for generation of revenue, deciding instead to employ a service fee model to the property managers or the ownership group based on volume. "So, a monthly service fee could be as low as $6 or as high as $10 per unit," she said, adding that the hardware cost and service fee cover Iotas' cost of staying in business.
"We're not making very much margin off of our service fee or our hardware costs because we do not want to be a cost center. The way we generate revenue is if we're ubiquitous," she said.
And, she reported, the price for the hardware that connects to the system, including most of the outlets and light switches in the unit, as well as open/closed door sensors, motion detectors and thermostats has dropped recently. "It's getting lower and lower. Right now we're looking at an average of about $650 a unit."
Early adopters, who will lead the way in the proliferation of smart apartments, likely will be regional developers like Capstone, Pike predicted. "I think we'll see smaller regional developers investing starting next year and I think we'll see the bigger guys like the Greystars and the top 10 developers probably investing in a serious way by early or mid-2017, which means that the buildings will go live in 2018 or 2019, so, the next five years."
Companies like Greystar and Prudential Real Estate Investors already have begun serious investigation into the smart apartment trend to make certain that the concept is sound before they make that call, said Pike, who has ongoing meetings with the executives of Greystar to make sure Iotas is fulfilling the requirements of what they would want to see deployed in the smart apartment scene.
Ron Reed, president and CEO of NWP Services Corporation, a leading provider of utility cost recovery and management solutions for the multifamily housing industry, believes "the introduction of the smart apartment is impending and we intend to drive it," he said during an Orange County, Calif., radio broadcast in May.
He's starting to see a lot of apartment owners, like the innovative William Lyon Property Management Co., very intrigued by the new trend. "We're looking to people like that, who have been very interested in helping us, to kind of think about it and we're pretty excited about what will be a quick adoption over the next three to five years," he said in October.
Why does he believe in that rapid adoption of the intelligent apartment concept?
"I'm a very simple Midwest guy when it comes to metrics. I went to Best Buy a year ago and there was a half of an aisle with smart stuff for buildings. A few weeks ago, there were three aisles," he said.
But there's a lot to be done before NWP dives into the business, starting with creating a business model for involvement in the smart home industry, and he and his team are meeting with owners of properties ranging from the A to C level to start figuring that out.
"The first thing we're working on—and we expect to know by the end of this year—is the value proposition for an owner and we've discovered it really depends on the community. There is no specific answer," said Reed.
For instance, an apartment community owner is not likely to get a material premium for a smart phone app that controls apartments at a low-income community. But, he might receive subsidies from an insurance company to put in smart devices that lower the risk of fire damage and he may be able to more effectively control utility consumption by a resident, encouraging subsidy by the local housing authority.
"So, a smart thermostat and a smart fire alarm might make a lot of sense in that apartment," he said.
For the Class A apartment, premium features like window blinds and lighting automatically set on a phone app might be attractive add-ons for the more affluent and tech-savvy resident.
"We're working through all those incentives and trying to figure all that out," he said, but those solutions remain elusive because some of the answers are coming from people who are also still thinking about it. "How much Prudential Insurance will provide is still being sorted out," he said, adding that how much the utility companies will contribute is different in Detroit than in Southern California or Atlanta, Georgia.
"For owners of more parochial or smaller companies it may be easier, but our customers are some of the biggest in the country, so we have to come up with all those answers. So, that's part of figuring out the business model," he said.
Another business issue relates to infrastructure lifespan. "What's the infrastructure that we could put in that will last the longest because we expect what will happen is devices will change a lot. We expect that it'll be this thermostat this year and there'll be a better version next year and so the question is going to be, whatever we put in, whatever that infrastructure, that technology needs to survive and be backward compatible with PMS systems, for instance."
And, when residents have a problem with the technology, they should be able to contact a central office or call center that knows what services they have and how to support them so the property staff doesn't have to worry about it because there's always going to be someone who can't get their app to work, he explained.
An additional challenge is connection of all the smart devices, through some kind of central hub, to the Internet, he said.
NWP has a 900 megahertz mesh network in place today at apartment communities across the country for its utility submetering system. "We have to slightly upgrade that because what will have to happen is all those devices in those apartments are going to have to connect to some kind of network," he said.
An industrial-strength network that is more reliable than Wi-Fi will be required, in addition to a fail-over system connected to a dedicated telephone line that can dial out and call the fire department if the Internet is down and there's an emergency situation.
"So, those are some of the infrastructure business problems that we see. They're part technical, but they're also just, 'Hey, let's make sure we think this all through," said Reed, adding, "There's not going to be a return if we don't do this right because we're talking about thin margins.
"The more we dig in, the more we know we need to solve, so we're really stepping back and saying there's a lot of trial and error going on here and a lot of people trying to figure it out," he said.
"And, we need to come in with a comprehensive plan, which we don't expect will happen very fast," he said, explaining that the last thing NWP wants to see is a false start, to put in a bunch of technology and then find out that the light bulb that they need for their new smart lighting system isn't available anymore and a bunch of light fixtures must be ripped out because the light bulbs need to be more standard.
Or the hub doesn't work anymore and now a whole lot of infrastructure must be replaced.
"So, we're being a little patient about this, making sure that the entire infrastructure works," he said, explaining that NWP's interest in smart apartment technology couples naturally with the firm's focus on reducing consumption of utilities nationwide.
There are only three material things in the world that really matter, he believes—food, energy and water supply. "The world population can survive without a lot of things, but not those three," he said.
"I tell the associates here, your career is focused on two of the most important things for the world population—lowering the water consumption and lowering energy consumption. There couldn't be more noble things to be doing for your fellow human beings than those two things," said Reed.