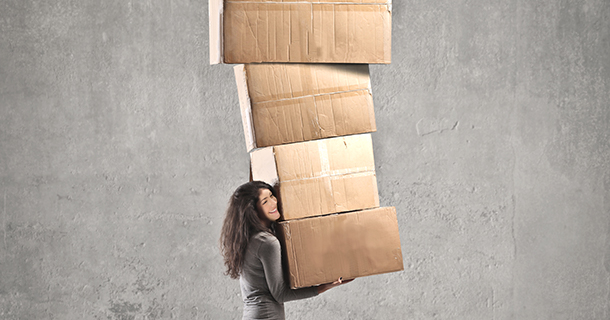 Many apartment owners and managers are adopting digital electronic locker systems and the software that operates them to address that predicament.
Lori Torres, founder and CEO of Parcel Pending, credits her property management experience with the inspiration for the company she launched in mid-2013 to address the rapidly growing problem.
A 30-year apartment industry veteran, Torres has served in leadership roles with companies like BRE Properties and most recently The Irvine Company, where she worked for 13 years prior to launching Parcel Pending.
Toward the end of her tenure with The Irvine Company, where she oversaw the operations of 44,000 multifamily units and about 1,200 associates, she became aware of the package dilemma.
Whenever she visited The Irvine Company's multifamily communities, she'd ask the property managers, "What's your biggest challenge?" For many years, Torres said, the answer was, "We don't have enough money in the budget," or "We have staffing challenges."
"And, then, it started to become, 'We have a package problem.' They would take me into these back rooms and show me piles and piles of packages and they started to ask for bigger rooms and head count increases and I thought, 'There has to be a way to marry some kind of a box with technology, so that it could be self-service for residents to get their packages and I could take my staff out of the business of managing packages because I needed them leasing apartments and giving great customer service," she recalled.
Her solution, like others in the industry, involves digital electronic lockers her company has installed in multifamily communities in 21 states and Canada. Her clients represent some of the largest apartment companies in the country, including UDR, Inc., AvalonBay Communities, Inc., Essex Property Trust, The Irvine Company and fee management firms Greystar, Alliance Residential Co., Pinnacle and Lincoln Property Company.
Parcel Pending has three pricing models. The property owner/manager can buy lockers from the company, which Torres said range from $6,900 to thousands of dollars, depending on how many systems a property installs. For a 300-unit community, for instance, the average cost of the lockers would be around $18,000.
Or, they might lease the lockers from Parcel Pending or opt for the subscription model whereby community residents pay Parcel Pending a monthly fee for use of the lockers.
"The beauty of our lockers is that it's not a one-for-one," she said. Torres recommends one locker for every three or four apartment homes, emphasizing that her company offers more than lockers.
"We are a full service company," she said. We provide the monthly software and support for those lockers," she said.
Removing package management from the onsite office
When packages arrive, residents receive an email or text or phone message that includes Parcel Pending's phone number and email address alerting them of the parcel's arrival. Residents then call Parcel Pending instead of the management office to ask if their packages have arrived or other delivery-related queries.
When the resident signs up for the Parcel Pending, they select the notification method they prefer, said Torres, explaining that all courier companies, including UPS, FedEx, DHL and OnTrac, have access to the lockers, as well as the U.S. Post Office.
"In March, I met with the chief marketing and sales officer, chief information officer, EVP of the U.S. Post Office. We received approval, nationwide, that any of their couriers could use our lockers. That was fantastic news for us," she said.
When a courier arrives with a package for a resident, the courier might first attempt delivery at a resident's apartment door, if that's what the property prefers, Torres said. "Some properties say, 'No, we want 100 percent lockers."
The courier comes to the lockers, enters a six-digit code and selects the resident's apartment number. Then they determine whether they need a small, medium, large, extra-large or supersize locker and the chosen size door pops open.
Once the package is in the locker and the door is closed, the recipient is notified within 30 seconds.
"The resident gets a daily reminder that they have a parcel pending and, after so many days—typically it's three—we can charge a fee to the resident if they haven't picked up their package," Torres said. The fee is not designed to create revenue, but, rather, to encourage quick pickups.
The Internet of package delivery
Package Concierge has developed a digital locker with a different focus.
"People think they're buying lockers, but they're really buying software," said Georgianna Oliver, CEO and founder of the three-year-old company, at the end of December.
"There's a lot of technology that has to work and be secure for the actual lockers to operate in compliance with ADA (Americans With Disabilities Act) and other requirements of the property management software," she said.
The lockers won't work without accurate resident data or if software licenses aren't updated on the equipment that's inside of the kiosks.
They also won't work if they're not connected to the Internet, said Oliver. Her company charges between $10,000 and $40,000 for a typical locker installation, but that outlay, she said, can be recovered through the return on investment (ROI) that Package Concierge can deliver.
"In addition to allowing your staff to focus on marketing, selling, resident services and other revenue-generating activities, you may earn ROI by implementing fees and generating revenue that will more than offset system operating costs," she promises.
Package Concierge can charge a one-time registration fee directly to the residents and share that revenue with the property. Residents might be charged storage fees for leaving packages in the locker system beyond a certain number of days—$2.50 per day after five days, for example—that could be shared by the company and community.
The company recently began installing oversized lockers in client communities and lockers specifically designed for dry cleaning that come in two sizes—short and long—with hooks for hanging the dry cleaned items, which also have potential for revenue generation.
"These lockers are designated for dry cleaning delivery only. Many of our clients plan to lease the lockers on an exclusive basis to a local dry cleaner," said Oliver.
Package Concierge also plans to launch a returns feature in 2016 so that residents can use the system to return packages conveniently.
"We plan to charge a $2 to $3 fee per package transaction for returns that go through our system. We will also share that revenue with the property," said Oliver, who recently announced her company's latest initiative—the roll-out of an outbound package service for apartment community residents.
"We're rolling it out this quarter. It's very sophisticated. We're working in partnership with the carriers on their different codes," said Oliver, whose Boston-based company is now active in 25 states, with the addition of Birmingham, Ala., in December.
The company specializes in larger properties like the 913-unit student housing community The Lorenzo in Los Angeles and the 842-unit Avalon Arlington Square in South Arlington, Va., said Oliver.
The first installation of Package Concierge lockers to go live was at Federal Realty's Chelsea Place, which was completed in Chelsea, Mass., just outside of Boston in July, 2013.
She's also excited about the release of a new mobile app that will alert residents, when they're not home, that a package has been delivered.
"It's in beta release right now. It's going very well," she said.
Oliver, who filed a patent application for her locker system just five days before Torres filed for a patent for hers at the end of December 2014, believes the quality of Package Concierge lockers, which are customized for every client community, sets her company apart from the competition. Package Concierge's lockers are built to last for 30 years. "They are not plug-n-play. They're sleeker and the paint finish is better. We're seeing the competition's lockers out there with a lot of damage already," she said.
Her biggest challenge in the creation of Package Concierge was building a company from ground zero. Oliver says her biggest triumph was when she visited The Lorenzo in early December and saw hundreds of packages moving in and out of the lockers in a single day. "To see that many packages going in and out of our system was just amazing to me," she said, adding, "But, I know we built a quality product, so I'm not surprised that it works so well."
Some 500,000 packages passed through Package Concierge's lockers in June and increased to 1.25 million in December, she said. "One community gets 650 packages a day and we're running 27,500 packages a week," a number she expects to double in 2016.
Package Concierge, like Parcel Pending, was one of the first package handling companies to target apartment communities, and the idea has been copied and replicated by many others. "That's fine because there is plenty of interest and business out there," said Oliver, who has created a couple of other businesses in her career—a budgeting tool dubbed APT Budget and a technology consulting company called Evergreen Solutions, both of which were sold to RealPage, where she worked as a consultant for a couple of years before founding Package Concierge.
Hatching The EGG
"It's hard to do business in multifamily without coming across RealPage," said Kobi Bensimon, creator of the resident portal solution ActiveBuilding and VP of Resident Portals at RealPage since 2013, when RealPage acquired the platform for improving the online living experience of apartment residents.
"ActiveBuilding gives your property a life of its own by enabling residents to be active participants in the daily activities of the property and connect with their neighbors," said Bensimon, when ActiveBuilding was purchased by RealPage.
The resident portal also offered package tracking and delivery. ActiveBuilding allowed staff to log packages, send an email notification to the resident and enabled receipt authorization via eSignature, making the entire process efficient and secure.
RealPage recently introduced an enhancement to that system with The EGG, the latest addition to ActiveBuilding's repertoire of resident services. The EGG's modular package system is comprised of individual columns of lockers that allow apartment communities to create their own arrangements and accommodate space restrictions.
A delivery company chooses the locker size that fits the package, scans a bar code and places the package in the locker. The resident then gets a text, email or voice message with a PIN code to be used to access the package.
"For our clients, it doesn't seem like we're rolling out a brand new system. It's tied to their current IT infrastructure. Residents do everything that they need from the same interfaces and mobile apps that they use with ActiveBuilding," Bensimon said in December.
"It's a similar experience for both the property managers and residents," he said.
Bensimon was inspired to create ActiveBuilding when he moved to Seattle from Boston in 2007 and rented an apartment in a downtown community. "I was surprised at how old-school everything was," he said.
"Everything was paper-based and I had to walk to the office to submit a service request, to book the residents' lounge and every time I had a package delivered, someone would put a sticky note on my door.
"Back when I was living in Boston, when I was a student at MIT, we had all those tools on campus to send us a notification when we had a delivery or anything like that. I thought, 'Why not bring some of those tools to the building I live in.' That's how ActiveBuilding came about," he said.
The package delivery system was the first feature introduced in ActiveBuilding and, back in the days when the volume of packages was relatively small, software tools were adequate to handle the deliveries. While those tools saved apartment managers a lot of time, management of packages still required property staff involvement.
They had to store packages somewhere and fetch them for residents during business hours and the volumes started creeping up as more people began shopping online.
"The smart locker was just an expansion of working with our clients and realizing they needed more help to handle this flood of packages they were starting to experience," said Bensimon, whose RealPage team started working on The EGG technology in 2014, when it was announced as one of the company's R&D projects at RealPage's RealWorld conference.
Toward the end of 2014, ActiveBuilding conducted a pilot of The EGG in Seattle to make sure it could handle holiday loads and was ready for market introduction. It became available in September when RealPage started selling it nationwide.
The EGG was the project's R&D nickname. "Every project that we work on has a nickname that we use internally until it makes it to be a product. During RealWorld 2014, when we announced it as an R&D project, we conducted a survey and asked our customers to help us choose a name. One of the options was The EGG, which received the most votes by far. The concept was that the delivery system was like a real egg—a delicate shell to keep precious cargo and our customers related to the idea, so we decided to keep it," he explained.
He believes The EGG's feature set differentiates it from the competition. It allows managers to incentivize residents to pick up their packages faster, give residents credits for using The EGG, or charge late fees if people don't pick up their packages after a certain number of hours.
Every community has residents who work from home or run a business on eBay and often get dozens of packages a week. With a locker, it's really important to police it and make sure it's fair and that all the residents can use it, said Bensimon.
Because The EGG is an integral part of the ActiveBuilding resident services tool, not a separate product, most installs so far have been at communities that already have ActiveBuilding. Multifamily communities that aren't already clients, usually purchase ActiveBuilding and the locker system at the same time.
RealPage doesn't charge apartment renters for use of The EGG and, while the software allows property managers to levy a monthly fee or a per-use charge, most property managers don't take advantage of that option.
"They just want a system that takes care of packages and make sure their residents are happy," he said.
ActiveBuilding's 2014 pilot program in Seattle included a model that involved residents paying a fee for use of The EGG.
"The problem with that is, when you ask for a fee, some residents will say, 'Hey, I'm not paying this. I don't want to participate.' Even if it's a very small percentage of residents that don't participate in the locker, the whole program kind of fails because then where do you put the packages for those guys? It's very confusing for the couriers to distinguish the packages that are supposed to be delivered to the locker versus directly to the resident or to the office," he said.
"Although it's a very compelling idea because, if RealPage were to charge residents directly, it would make the lockers cheaper for the property managers, in practice, it really didn't work very well," Bensimon said.