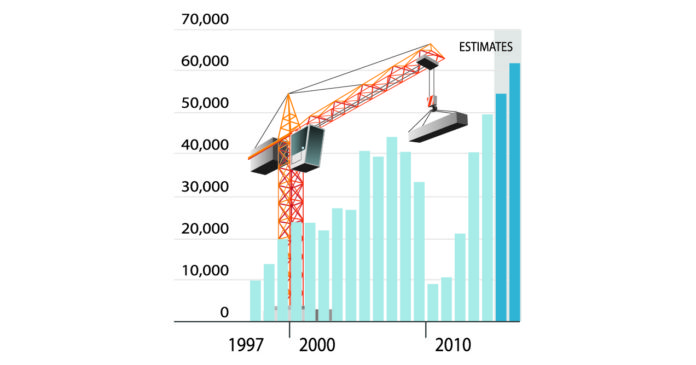 After six years of rising apartment rents, investors from all corners of the real estate industry are piling into new projects in a bet the boom still has a long way to run.
Over the next three years, developers expect to build almost 1 million apartments in the U.S., more than the nearly 900,000 constructed over the previous three, according to researcher Axiometrics Inc.
In 2014, multifamily rental construction reached 328,000 units, its highest in nearly 30 years, according to an analysis of U.S. Census data by Jed Kolko, a senior fellow at the Terner Center for Housing Innovation at the University of California, Berkeley.
The main lure for investors: rising rents. Average rents nationwide rose 4.6 percent in 2015, the biggest gain since before the recession, according to real estate researcher Reis Inc. Rents have increased by more than 20 percent since the beginning of 2010. Most economists expect 2016 to be another strong year. The average monthly U.S. apartment rent now stands at nearly $1,180, up from about $1,125 a year ago, according to Reis.
"I sound to myself like a broken record because I've been saying the same thing for quite a few years now," said Mark Obrinsky, chief economist at the National Multifamily Housing Council. "Demand remains high for apartments."
Sales of U.S. multifamily apartment properties clocked in at a record $138.7 billion in 2015, up 30 percent from a year earlier, according to JLL, a commercial real services firm. Last year, 4,915 multifamily projects were sold, up from 4,570 in 2014.
But some real estate analysts worry that most of the new construction has been aimed at the top 20 percent of the market. In all, 82 percent of the units built from 2012 to 2014 in 54 major U.S. metropolitan areas are classified as luxury developments, according to CoStar Group Inc.
"What concerns me is not so much the volume of construction but that there's an intense focus on building the same thing—luxury properties in urban locations," said Jay Parsons, director of analytics for MPF Research, a division of RealPage Inc., who has been advising clients to look more at vibrant suburban markets.
The shift toward luxury is putting renters near the limit of what they can afford.
In downtown Los Angeles, new one-bedroom properties are commanding rents in the range of $3,000 a month. According to CoStar, a tenant would need a gross income of $128,000 to afford one of those units, four times the median household income in the area of just over $29,000 a year.
In Boston's trendy Leather District, renters would need to make nearly $142,000 to afford average rents for newly built one-bedroom apartments of more than $3,500 a month, according to CoStar. The median income in the area is closer to $60,000.
Despite the affordability issues, apartments are drawing interest from a broad swath of real estate companies, including home builders that haven't traditionally built multifamily housing. Toll Brothers Inc., primarily a single-family home builder, has 7,400 apartment units planned or under development, and company executives say that could double over the next couple of years.
"All these trends supporting apartment demand are going to be with us for the foreseeable future," said Charles Elliott, managing director of Toll Brothers Apartment Living.
Major office landlords, such as Mack-Cali Realty Corp. also are focusing more on apartments. The company, which was solely an office landlord before 2010, through acquisition and development has amassed 7,000 units and plans by 2019 to more than double that to 15,000 units.
"Most people forming households today are not buying," said Michael DeMarco, president of Mack-Cali.
Urban markets are especially hot. The number of apartments completed in 30 major downtown city centers hit more than 54,000 for 2015, according to an estimate by Axiometrics, a 20-year high.
Toby Bozzuto, president and chief executive of the Bozzuto Group, a Washington, D.C.-area builder, said he has seen an influx in the past few years of newcomers that once specialized only in office or retail but now are dabbling in apartments. He remains bullish on the apartment market, but has concerns that investors are piling on and driving up land prices beyond what rents can support.
Los Angeles-based Jamison, one of the city's largest office landlords, is taking its first plunge into residential property. For two decades the company specialized in owning no-frills office buildings in the Koreatown neighborhood. Now its Jamison Properties LP unit is diving headlong into apartments, with 27 projects under development or in the planning stages.
About a third of the new units are conversions of the company's existing buildings, while the rest are new construction, including Jamison's most ambitious project, two 35-story towers in downtown Los Angeles with 648 luxury units.
Jaime Lee, chief executive of Jamison Realty Inc., expects the market will start to slow in the next few years, so Jamison is breaking ground on some of its projects as quickly as possible.
"People are working against the clock right now," she said. "We're coming to market as quickly as we can."
Some signs of strain are beginning to emerge. The vacancy rate for downtown apartment buildings in U.S. cities jumped to 6.1 percent in the third quarter of 2015 from 4.4 percent in the first quarter of 2013, according to Reis. During the same period, the suburban vacancy rate fell to 4.1 percent from 4.4 percent—suggesting some renters are leaving high-price inner-city areas and moving further out.
Author: Laura Kusisto, WSJ