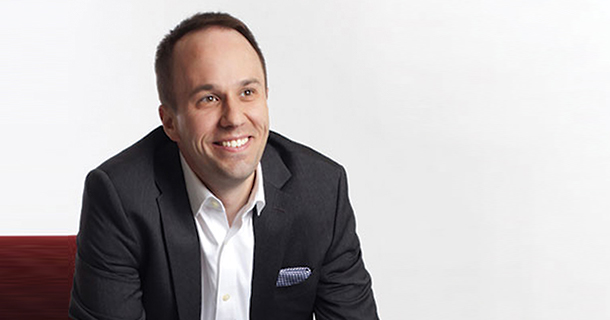 So in the still quiet, the rumor mill churns full velocity as folks try to make sense of this red shod talent from Salt Lake City. Zimmer, president of privately held Entrata—formally known as Property Solutions—is in a good place by his own declaration. "Let me just say we are profitable," says Zimmer. The last published account of the property management software company's revenue was $40 million according to court filings in 2013; He suggests that's a woefully outdated number. Still, since that time the company has made a pivot or two on brand and product positioning, as well as become ensnared in legal action with its competitor, Yardi headquartered in Long Beach, Calif.
Such ballyhoo seems a far cry from the company's launch when Zimmer and college buddy, David Bateman, (Entrata CEO) met at Brigham Young University while getting their MBAs in 2003. As part of their academic work, the two engineered software that eventually went on to win a scholastic award and garnered their degrees. Post university, they began selling Resident Works, a commercial version of their software to nearby Salt Lake property management clients. Resident Works was rebranded Property Solutions and the two went on to win Fortune Magazine's Young Entrepreneurs Award.
The beginning is a familiar tale: Their product and company continued to win the hearts of their customers, and they built on this goodwill with revenue growth. Though the initial application has long retired, the core utility and operational culture of Entrata remains recognizable from its earliest launch. The software continues to work from a single platform, open API, centralized customer center, and agnostic browser/operating system. Only recently was a no cost model for their leasing and rents platform added in hopes of encouraging revenue from their ancillary services.
"Our competitive edge is steeped in our architectural design," says Zimmer. He believes that the product is the only one on the market to offer full platform multi-tenant architecture with all product content accessible via a single dashboard. This model means a company's entire portfolio of data is hosted in a single database cluster, affording customers simple, comprehensive management of lead and resident data through the entire life of the lease. "We use the agile methodology of developing software so modifications are delivered to the user base incrementally and in a timely fashion," says Zimmer. "Enhancements are immediately available and release notes are published regularly. The only reason the software may not auto update is to accommodate change management or training. Our competitors, Realpage and Yardi, operate with individual databases for each community so access to cross-product reports or complex calculations are slow or practically impossible."
Entrata gained its lion's share of customers through their website, portal and payment processing platforms. In 2008, Riverstone contracted Property Solutions for their 700-property portfolio-wide web presence says Chris Finnetto, VP of Atlas Apartment Homes, LLC. "I was handed this company and told to make it work," he says. "It was brutal. They were a startup and I was scared to death. Looking back it was like we were doing the contract review and the demo at the same time, but Ben never flinched."
The Leasing and Rents Module, Entrata's Core, accepted its first beta clients in Q1, 2012, and became generally available in June, 2015. Currently, there are 264,827 units on their financial services program, with 3 million units under contract incorporating at least one product offering.
Anything Salt Lake City stirs curiosity and the simple reply, "Was the Church involved? No, the Church was not involved." per Zimmer. "Our only major funding was less than $1 million from a number of local Utah angel investors." (The largest investor primarily lives in Japan but also maintains a residence in Utah). Zimmer says that the company regularly receives offers from investors, and they are just not interested. "We've never needed the cash, but who knows what the future holds?"
Their corporate operations are supported by 1,400 employees including 400 staff at the corporate headquarters in Salt Lake City; 250 in the call center in Provo, Utah, and 40 specialized business development leaders in Dallas, Texas. Their development team operates from India.
Entrata recently announced that its revenues will exceed $100 million supported by $1.5 billion in rent collections, spanning service contracts with thirty-four of the NMHC Top 50, and the admiration of 20,000 management companies. Impressive considering the company's growth from $150,000 in 2003 to $7 million in 2009. Zimmer brushes it all off, "It's a lot of work, but it's a lot of fun."
The not so fun side of the business includes the continuing litigation filed in 2013, Yardi Systems Inc. v. Entrata Inc. (F/K/A Property Solutions International, Inc.) As recent as December Entrata requested a summary judgment from the court: "This case is an attempt by the dominant company in the property management software industry, Yardi Systems, Inc. to quash competition from a young and growing property management software company…"
The basis of Yardi's 2010 filings is relief from an infringement by Entrata of Yardi's intellectual property. Zimmer is silent on the pending litigation. Some thought the litigation would cast darkness on the Entrata operation, but the company, by Zimmer's account, continues to grow.
It's unusual that a startup can follow such a rapid-fire trajectory of growth. When it happens, it's certainly a curious thing, even news. And through it all, Entrata has employed all manner of tactics, perhaps stirring the waters along the way. Circulating allegations include everything from bringing in scores of young people with vendor badges to paper the NAA tradeshow floor with Entrata marketing materials to the notorious, mostly misguided Tesla car sweepstakes. Still there were also long balls: With the launch of the Entrata re-brand Zimmer and his group hosted a private showing of the Michael Jackson One Cirque du Soleil. He adds that the private event drew 1,800 conference attendees. "Of course we did an opening presentation, but really it was an opportunity for us to thank our clients for their partnership in building the software."
Entrata participates on every geographic level, attending and sponsoring 5-6 national conferences and 60-80 regional and local shows annually. The company engages heavily in targeted media campaigns, including direct mail campaigns, email blasts and what he refers to as an exceptional lead management and follow up program.
When asked about their secret recipe, Zimmer is quick to respond. "At Entrata, we have amazing people, a solid product, with the appropriate product fit at the right time. The multifamily industry is a tight knit market, and we rely on our customers to drive our product competencies. We started with the right team, made our clients happy and the referrals kept coming."
What does the future hold for Entrata and its Internet technologies? Zimmer is passionate about security, recently announcing the Cyber Security Bill of Rights. "We believe that there is a lot of neglect in this space." Referencing Essex management's network breach 18 months ago, "This is a key concern for all of us. The majority of security breaches come from stolen credentials, not from cracked passwords. Real password security comes from two factor authentication. In addition, personally identifiable information (PII) should be encrypted in both transit and at rest, meaning for the latter, that it is not plain-text visible in the underlying database. The Cyber Security Bill of Rights outlines these guidelines and more. We have implemented it all in our own system and are now working to get the entire industry on board – both vendors and property management companies."
Zimmer, 38, is understated when he speaks of his early success. "Our technologies were built organically based on feedback from the industry. We ultimately have them to thank for our success."
Regardless of vantage point, Zimmer and his team are one of the many fascinating stories of multifamily. And the red tennis shoes? They will be present and accounted for at NAA in San Francisco in June. Some things never change.