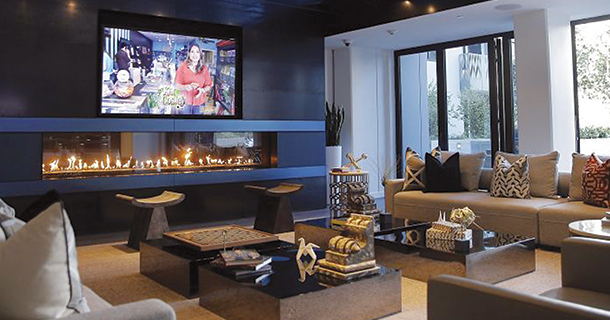 Much of the new rental apartment stock that hit the market last year was of the high-end, luxury variety—and that trend doesn't appear to be slowing down, according to a new report.
In 2015, 75 percent of large, multifamily rental developments completed were classified as high-end, according to a report from RENTCafé, a national apartment search website. The ratio of luxury apartments to total apartments was up 63 percent from 2012. Data used for the report came from the Yardi Matrix database, RENTCafé's sister company that specializes in apartment-market research. The large developments studied contained 50 apartment units or more.
And these new rentals aren't only in the country's most notable cities. In Jacksonville, Fla.; Kansas City, Mo.; Midland-Odessa, Texas; Milwaukee; and Oklahoma City the only large apartment complexes built last year were luxury, the report found. In the Southwest and Mid-Atlantic regions, 88 percent of new developments were luxury.
One reason for this luxury apartment boom is an increase in those who could purchase a home but who rent by choice, including empty-nest baby boomers and double-income Millennial households, according to the report. Many of those who choose to live in these buildings are attracted to the lifestyles they provide. Fancy fitness centers, concierge services, socializing opportunities and elaborate pet centers are common; the buildings are often situated in trendy, amenity-rich neighborhoods in or near the city's core.
Another reason that luxury apartments are appealing to Millennials: It's "harder than ever" for would-be first-time home buyers to purchase a home today, whether due to tougher credit requirements, a lack of a down payment or, in some cases, student loan debt, said Stockton Williams, executive director of the Urban Land Institute's Terwilliger Center for Housing. "The cost of development has gotten to a point where it is difficult for builders to produce that quintessential starter home," he said. That means people are often renting for longer.
"Millennials are postponing their first home purchase until later, if at all," said Miro Copic, principal of BottomLine Marketing in San Diego, who follows real-estate trends as well as buyer attitudes and behavior. It's also worth noting that the growth of luxury apartments seems to be concentrated in areas of high growth for Millennials as well as retirees, including Charlotte, N.C., and areas in Texas, he said. In Charlotte, 21 high-end properties were built in 2015, compared with only two in 2012, according to the report. In Midland-Odessa, nine high-end properties were built last year, compared with one in 2012.
The trend may affect middle-income renters the most, said Georgiana Mihaila, spokeswoman for RENTCafé. They're now being priced out of the areas in which they want to live—causing them to either spend more on rent than they can really afford or move to less ideal locations.
Just how expensive are these luxury apartments?
In Chicago, for example, it costs $1,323 per month on average to rent in a new nonluxury building, while it costs an average of $2,417 per month to live in a luxury building, according to the report. In the city's new Wolf Point West building—a 46-story luxury apartment that offers views of the city's skyline and Chicago River, a rooftop terrace, fire pits, a pool deck with cabanas, a bicycle room and indoor dog run—it will set you back $1,691 per month for a studio apartment and up to $10,617 per month for a three-bedroom penthouse, according to an information sheet from the building.
In a growing number of cities, as rents have risen, developers of luxury or market-rate apartments are required to include a percentage of affordable units as well, Williams said. Typically, this means that 10 percent to 20 percent of the total number of units in a development must be priced to suit working households, including teachers and law-enforcement workers. The details vary from place to place, but the implementation of new or stronger rules is on the rise not only in large cities like New York but also in places like Lawrence, Kan., he said.
"It's an old idea," Williams said, but the "incredible upward pressure on rents, even as apartment construction is going gangbusters," is bringing it to the forefront. "Now, the fastest-growing affordability problems are in the middle-income range."
While it's difficult to tell when the market will shift toward building more affordable developments again, one thing is clear: Luxury is paying off now, Mihaila said. The average occupancy rate in high-end rental properties was 95.8 percent at the end of 2015, "which clearly shows that there's demand for these units," she said.
"As long as the perceived value is strong, these communities will expand," Copic said. "Like everything, this will slow down as demand slows down."
Author: Amy Hoak, MarketWatch