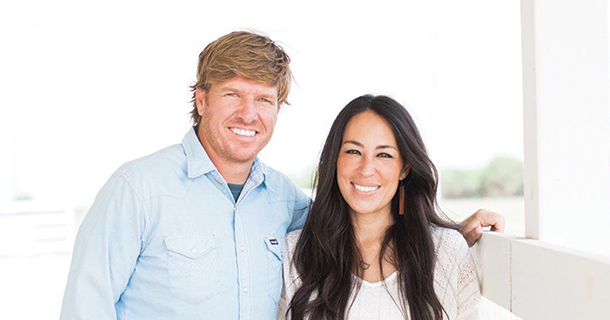 Among those speakers was Chip Gaines, who recounted his experience doing facelifts on single-family homes in Waco, Texas, during his presentation at the conference. Chip, who shares the spotlight with his wife Joanna on the popular HGTV show "Fixer-Upper" told the audience at the NAA gathering that he got his start renovating homes when he was a student at Waco's Baylor University.
"He was one of the first guys out there buying homes, flipping them and renting them to students or selling them to students' parents," Joanna told the university's student newspaper a few years ago, when the plan to add "Fixer-Upper" to the HGTV lineup was announced.
Chip and his family renovated some 10 or 15 homes on 3rd Street near Baylor, she said.
Boosting NOI, controlling expenses

Philadelphia-based Campus Apartments, Inc.'s VP of facilities and project management Matthew Kelly, who participated in a conference panel discussion about extending the life of multifamily assets through preventive maintenance, also provided some insight into the business of renovating and maintaining student housing.
"What we intended to do is show how a preventive maintenance program can affect your expenses at your property level and then, ultimately, your NOI at a portfolio level," he said in early July, recalling the focus of his participation on the panel "Proactive vs. Reactive: Extending the Life of Your Assets."
The most important focus of the company's preventive maintenance plan is the quarterly inspections of all units in Campus Apartments' portfolio, which includes more than $2 billion in assets under management, a large percentage of which have been renovated by the 58-year-old company that develops, owns and manages student housing in 24 states, serving more than 70 colleges and universities across the country.
"You make sure you're looking under everything, touching everything in an apartment and looking under all of the sinks and cabinets and just being thorough in the inspections," he said.
Renovation projects provide some of the greatest opportunities to create value in real estate, so most of Campus Apartments' assets have been, in some form or another, value-add or rehabilitation projects, said Kelly.
Preserving history

Historic preservation is another area of expertise for the vertically integrated student-housing firm that also specializes in construction management, property management and development.
"We've done some historic preservation at buildings that we currently own and manage, like Seneca Apartments in Columbus, Ohio, which was a former hotel that was built in 1917," he said.
Campus Apartments and its co-investors spent around $21 million on the adaptive reuse and upgrade of the grand old hotel that became a beauty school in 1960 and served as the Ohio Environmental Protection Agency's headquarters from 1976 to 1987. After that, it sat vacant until 2005, when the student housing company rescued it from oblivion and turned it into a 77-unit apartment community.
In September 2014, Campus Apartments completed the $65 million second phase of a redevelopment project at Shippensburg University about 150 miles west of Philadelphia, where the company's headquarters is located. The upgrade of the university's on-campus residences, which began in 2011, resulted in six new residences that house more than 1,800 students.
Growing the portfolio

In September 2015, the student housing expert purchased three student housing properties with a total of 1,707 beds in College Station, Texas; Syracuse, N.Y., and Lehigh, Penn., for $116 million.
Plans for those properties included repositioning through unit and common-area upgrades and a rebranding program, the company said when the assets were acquired.
"Each of these acquisitions provides a value-add opportunity in a pedestrian-to-campus location," said Campus Apartments CIO Daniel Bernstein at the time, adding that such investments have become increasingly difficult to find.
Kelly, who joined Campus Apartments in 2005 and has served in his current position since 2010, said the most challenging part of his job is the yearly turn of 70 to 80 percent of the company's properties every summer between July and late August.
"One thing we always say is the turning starts on move-in day, not move-out day, so it's tied into our preventive maintenance. It's an ongoing project making sure that these units are in good condition so that we can get them ready for the next year's students," he said.
Preventing capital drain

David Nischwitz, senior VP of property redevelopment for Fogelman Management Group (FMG), focused on initiatives that forestall future capital drain during his part of the panel discussion about preventive maintenance during the NAA conference.
He stressed the importance of developing concise initiatives for preventive maintenance on big-ticket items like HVAC systems, making sure the equipment is cleaned regularly, properly leveled and free of air-flow challenges.
He also cautioned apartment owners and managers to be vigilant in regular evaluation of the condition of wood-related exterior items that might be damaged by weather events or because there isn't enough paint to protect them.
"We put aside money every year for touch-ups between larger paint events. An exterior paint job on many multifamily assets is one of the most expensive investments you can make during ownership of an asset," said Nischwitz, who joined FMG four years ago after 16 years with Mid-America Apartment Communities.
An exterior paint job for a typical garden property costs between $600 and $670 per unit, he said, adding that the company spends an average of $10,000 to $20,000 per unit on "buttoning up, touching up, doing a little bit of wood rot replacement every year" at the 78 apartment communities that Fogelman oversees.
Regular cleaning of gutters, vents and chimneys and ensuring that drainage systems are properly maintained also help to prevent major capital expenditures down the road.
Strong bones

Many of the assets Fogelman manages were built in the late 1990s and early 2000s, which the company refers to as "newer vintage" communities. They have great architectural features, Nischwitz said, like crown molding, unique floor plans and large kitchens that open to dining and living spaces.
"But they may need improvements to the fit and finish, to the appliances, countertops and flooring to make them look more modern," in order to compete with the highest level of development in the market, he said.
A substantial portion of Fogelman's portfolio is in the Southeast and Sunbelt states where a lot of new development is coming in and those new competitors in the market have increased the company's focus on finding untapped value at the apartment communities it owns and manages.
That untapped value can be realized through unit interior renovations like replacing white and almond appliances with stainless steel and black appliances, light-colored Formica countertops with granite and brass hardware with brushed nickel or oil-rubbed bronze, he said, adding that Fogelman favors Moen faucets.
And, while white cabinets were out of vogue for a time, the clean, fresh look they can bring to a kitchen has returned to favor.
In the flooring department, the company likes engineered hardwood composite flooring, which is becoming standard in many new developments and Nischwitz is impressed with the new luxury vinyl tile (LVT) that has the look of wood and can be repaired easily if torn.
"Some of the sheet vinyls that are in the wood look have come so far that you can actually take a razor blade and cut a portion of that out and put a new section in and you can't even tell where they made the patch.
"LVT is probably one of the most advanced product improvements that I have seen in the unit upgrade program. I've been so impressed with the advancements in the last five years in that category alone," he said, adding that Fogelman gets most of its LVT from Mohawk Industries, Inc.
Unit interior upgrades typically cost between $2,000 and $6,000, Nischwitz said, adding that Fogelman currently has more than 20 properties undergoing such facelifts.
Minimal repurposing

The company realizes further untapped value through "minimally repurposing" amenities that have become dated, turning former business centers into Fit studios, spin rooms and yoga rooms and turning racquetball courts into spin and multipurpose rooms.
Large decks around swimming pools provide an opportunity to install outdoor kitchens to create an upscale, resort-like look at an otherwise under-utilized amenity, he said.
When Fogelman buys a property, the company focuses on improving the impact of the frontage, the overall drive first impression and the areas in and around the clubhouse in the first six months of ownership, said Nischwitz.
"What I've always said is the goal with landscape improvements, particularly in the beginning of ownership or management of a community, is when someone drives into the community that prospect thinks, 'Wow, there's something special about this property. I don't know what it is, but this feels right.'"
Trimming trees to open up the canopy, making sure there's a lot of visibility is important, as is the quality of the turf—ensuring that it is weed-free and perfectly manicured and lawn areas are green when they are supposed to be green and dormant when that's appropriate, he said.
Nischwitz also focuses on including a variety of color and texture in the foliage and flowers at Fogelman properties.
Seasonal color

"I'm all about lots of different seasonality, so that no matter what time of year, there's something unique going on in the landscape," he said.
He also favors signage that reflects the community it enhances. "I don't want some sleek-looking marble or stainless steel sign out front when it's a rustic community," he said. "Sign designs and rebranding need to be themed to the property."
Fogelman Management Group, founded 53 years ago in Memphis, Tenn., as Fogelman Properties by Avron Fogelman, grows mainly through acquisitions and has been on something of a buying spree in the past few years. Fogelman Properties, now a division of the company, acquires the assets and the management group proceeds with improvements.
On June 20, the company bought the 248-unit, Cobblestone Fayette in Fayette County, Ga., that was built in two phases that were completed in 1991 and 2002 and rebranded it Addison on Cobblestone. And, in a historic purchase of four communities in one day in February bought the 379-unit, 14-year-old Westlake Apartments in Orlando, the 474-unit, 19-year-old Farms at Cool Springs in Franklin, Tenn., the 414-unit, eight-year-old Preserve at Forest Creek in Memphis and the 456-unit, nine-year-old Steele Creek South in Charlotte.
Plans for Westlake include a large exterior paint job, enhancement of the entrance landscaping and some updating of the clubhouse. At Farms at Cool Springs, a light interior upgrade is planned.
"A lot of what we like to do is take a B/B+ asset in acquisition and move it to a B+/A asset. We've found that to be a real niche of ours," he said.
On the affordable side

United Renovations Specialty Group (URSG), a dedicated division of the 15-year-old UR Holdings' family of companies, was founded in 2012, to provide services for affordable multifamily housing renovations nationwide.
The company that only renovates tax-credit properties has done facelifts on some 32,000 units in 21 affordable communities since then, most of which are in California, Malynda Dickinson, URSG's chief financial officer, said in June.
While the company has renovated affordable communities in Colorado, Florida, Maryland, Texas and Rhode Island, its markets are dictated by where federal and state tax credit opportunities are most plentiful and California is the primary market for that, she said.
The tax credit requirements also dictate the time line for completion of the work.
"A lot of times in a market-rate deal, you will get a contract and renovate the property over the span of one to two years, as units become available. In affordable multifamily properties, you do an extensive renovation within a short window of time, generally while it's occupied," said Dickinson, who joined URSG as director of finance in November 2014 and was promoted to chief financial officer Jan. 1, 2016.
Costs vary

The cost of renovations at tax credit properties varies considerably, depending on the scope of the projects and the age of the communities.
The budget the owners were able to achieve with tax credit financing and the needs of the property define a renovation's price per door, because they have to meet that 15-year compliance period that is mandated by the financing program, she said.
"I've seen $34,000 a door. I've seen $65,000. I would say, if you look at the broad spectrum, $38,000 to $40,000 is what I see as a trend, but it really can vary because it's very property specific," Dickinson explained.
Renovating a market rate apartment community usually is much less expensive than an affordable community rehab because an owner of an affordable community is incentivized by the long hold period required by tax credit rules to invest more money in the property, she said.
If you have to hold a property for 15 years, paying to replace a lower-end product multiple times is usually more expensive than spending more upfront for a higher-end product, explained Steven Kirlin, marketing manager for the UR Holdings family of companies, who joined the company around three years ago.
Durability matters

"You're putting in more durable materials on the tax credit side because you're looking at something that's going to take the test of time," he said.
But, if an owner plans to hold a property for just three to five years, that owner probably isn't going to spend as much on upgrades, said Kirlin, explaining that market rate ownership strategy typically involves leaving some renovation opportunity for the next owner.
"It's a different model and it's certainly different in the amount of money that's being spent upfront," he said. "On our typical market rate community, you're spending more like $10,000 to $15,000 a door.
URSG does, however, look for alternative way to save owners money on affordable asset upgrades, which the company refers to as "value engineering."
The long view on pipe

A good example of that is the use of a new product that saves on plumbing rehab.
"When it comes to these older buildings, often you're going to find that the pipes have collapsed or eroded or they're no longer using the right kind of material and re-piping is necessary," Dickinson explained.
Re-piping, she said, is very expensive, not just for the pipe, but also for the demolition necessary to install the new pipe and the repair work afterward.
Nu Flow is an epoxy-based product that costs about the same as a re-pipe, but eliminates the expensive demolition process, is the solution URSG found that has greatly enhanced the company's approach to plumbing rehab.
The product is inserted into the old pipes through a focal point and blown through the system to create a coating on the inside of the pipes that essentially makes them new again and lasts for up to 75 years.
"You should see some of the pipes that they are able to fix completely," said Dickinson. "It's pretty amazing."
"The most important part of this process is the shorter relocation time, which saves money for developers and maintains a high level quality of repair with the inclusion of a significant warranty. In addition, you're avoiding the typical demo cost associated with re-piping, as well as any additional demolition needs or concerns that would result in a remediation issue," added Kirlin.
The quick turn

Because the tax-credit financed properties the company rehabs are almost always 100 percent occupied, it's important to do the work quickly to avoid relocation costs and reduce resident inconvenience.
The tight schedule involves multiple trades doing lots of jobs at the same time, Dickinson said.
"So, we put a slip on the door each day that says, for example, 'This unit is available,' or 'Demo has occurred and now we're installing cabinets and plumbing fixtures.' And the next unit has a different sequence. So, each day that sequence shifts and that's how we go through it," she explained.
The most rewarding part of her job comes after the work is finished, said Dickinson, recalling a particularly memorable experience at a Pasadena, Calif., community where the finishing touches had just been completed on a woman's apartment.
"She came into the courtyard where we were talking and she started crying and said, 'I'm having a party here tonight and I'm going to have everyone over. My daughter is graduating and I can't wait to show it off. You don't know how good I feel now, when I close my door.'"