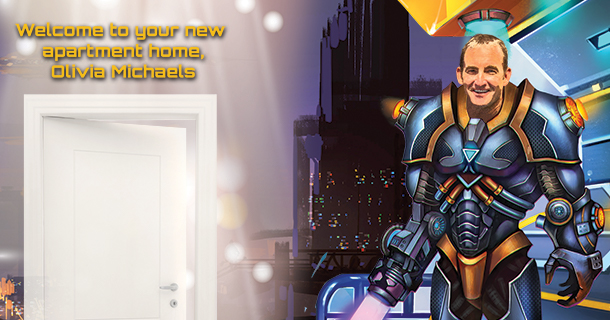 In the multifamily arena, where change is slow to manifest and acceptance of new technology even slower, there are very few true disruptors.
Much of the industry changing technology, like revenue management that emerged in 2007, was driven with investments from the large REITs like Camden Property Trust and the former Archstone-Smith and, while that technology is widely used today by medium to large apartment companies, it was slow to catch on, even among some of the other REITs.
"There hasn't been a lot of innovation or disruptive technologies developed for the apartment industry in the past ten years that I can think of," said Mike Mueller, CEO of LeaseHawk, the most recent of several wildly successful companies in the multifamily arena that he has founded or funded throughout his multifamily-focused career.
A man with a vision

Mueller is one of those technological trailblazers, who early in his career envisioned leveraging technology to solve problems not only of the day, but foreseen in the future, pinpointing solutions to needs many people weren't even aware would be an issue in years to come.
He envisioned the Internet and then the smartphone would change the way owners and investors marketed and rented apartments. He founded one of the industry's first Internet Listing Services (ILS), and the first online apartment reservation system and, in April 2005, to help educate the industry, launched the Apartment Internet Marketing Conference (AIM), which was purchased in 2007 by Steve Lefkovitz of Joshua Tree Internet Media.
His cutting edge visions have fueled his private investments and, since 1999, Mueller has put his money where his intuition leads him.
He made ground-floor investments in RealPage 16 years ago, when it was still a DOS-based system, and funded the startup of LeasingDesk and advised MyNewPlace, both of which were acquired by RealPage in 2007 and 2011, respectively. RealPage went public in 2010.
"I knew the future was going to be a computer-based property management system that Steve Winn, CEO of RealPage, was creating, so it turned out to be a very good investment for me," said Mueller, who now envisions a completely new type of platform.
He believes when investing, timing is everything—being in the right place at the right time with the right technology—but he credits his team for making his visions a reality. "I may have a vision, but it's the people that I have on my team that are able to implement and execute it," he said, adding that some have been with him for more than a decade.
According to Mueller's LinkedIn page, his current investments include Capital Access, a privately owned finance company that provides loans to small businesses; Contatta, a privately held software company similar to Slack, and AnyOneHome, a call center company for the apartment and single-family market. He also owns interests in GrayHawk Capital, a diversified portfolio of technology companies, and MindCrowd.org, a collaboration with TGen that conducts memory research related to Alzheimers.
To bring his latest ideas to fruition, Mueller had to wait nearly 20 years for technology to catch up.
The idea behind disruption

Today, through LeaseHawk, Mueller is merging best practices and technologies from a number of other industries to create an entirely new platform that promises to change forever the future of apartment leasing and the way apartment owners and operators manage their customer/renter relationships.
Mueller sees a future where analytics measure every aspect of every customer communication and interaction, whether text, email or voice calls, making customer revenue management finally available, he said in June.
Mueller's personal foray into and interest in the technology field began during his 16-year stint as a commercial real estate broker, a career he entered after graduating from the University of Nebraska-Lincoln with a BS degree in business, after being accepted to the school on a pole-vaulting scholarship. Just recently he was invited to serve on the Dean's Advisory Board.
While working from 1979 to 1995 as a VP at Coldwell Banker Richard Ellis (CBRE), one of the world's largest brokerage firms, Mueller utilized VisiCalc, the first computer spreadsheet program for personal computers, originally released for the Apple II by VisiCorp, to analyze apartment buildings in Phoenix.
That effort in 1983, years before the desktop or personal computer became commonplace among real estate brokers, resulted in a 23-building portfolio sale for $165 million—a deal that in today's dollars would translate into a billion dollars plus, he said.
Mueller's feat with the Apple II prompted Apple to write a story in their newsletter describing how he leveraged the computer to generate success in commercial real estate.
By the early 1990s, Mueller was cataloging, via a computer database program, the rental rates and value of every apartment property in Phoenix—a tedious task that paid off when apartment owners called him to ask what their buildings were worth.
Because he already had the information in his database, he was able to fax the value of their buildings to his clients immediately, while most brokers might need a 24-hour turnaround window before they could gather and pass on similar information to their clients.
"Within a matter of seconds I'd say, 'Walk over to your fax machine, I just sent it to you,' and they would be blown away by the speed and efficiency the technology offered," said Mueller, adding that today, just as it was back in the 80's and 90's, "technology is really about speed and efficiency and how to do your job better."
The database also paid off when his friends and clients asked about apartment rents in any of the areas around Phoenix.
"I could easily print out what we called a rent survey and show them exactly where the building was on a geocoded map, what the different floor plans were and the rents. You couldn't get that information back in the early and even mid-90s because classified advertising and the print publications typically didn't publish pricing or give detailed floorplan information," he said.
But Mueller realized there were bigger fish in the technology sea.
Lead-to-lease evolution

"The problem I was solving for then and now solving for 20 years later, is how to quickly, easily and accurately provide an apartment renter, who is looking for an apartment home, the real-time information they need to help them make a leasing decision. The more information they have at their fingertips, the easier and faster they can make that decision," he said.
Publishing lead times made it difficult to include this information because it would be outdated by the time it was published, since some periodicals, like ForRent Magazine, came out monthly.
So Mueller had the idea to include in the printed rent ad a number to call for pricing—258-RENT.
"The technology used at the time, and still used today, is referred to as an IVR, or Interactive Voice Response system that prompts the caller to hit a certain number on the keypad for a specific area such as 1 for Phoenix or 2 for Scottsdale, before prompting the caller to hit a key for the number of bedrooms he or she is looking for."
"The technology forced you to go through a lot of prompts, which was cumbersome, but, at the end, the system had enough information that it would then fax you a list of all the properties that met your criteria."
"When I launched that back in the mid-90's, it was great technology and we had a lot of interest, but it was very expensive because, in order to get people to call 258-Rent, you had to advertise on billboards, in magazines and on radio," said Mueller.
Moreover, the challenge of which advertising source got credit for the lead and ultimately the lease was and is still opaque.
"When you walk into an apartment property it was typically the rental magazine that got the credit for the add source, probably because they delivered donuts and had the relationship with the leasing agent. So it was frustrating," said Mueller, recalling how nearly every magazine subscribed to during that time period included an AOL disc to sign up for Internet service.
"I must have had a collection of about 50 of those. I said to myself, 'This Internet thing is really the future. It's a lot faster and easier to find information and now everyone has access to it across the country,'" he said.
With that realization, he approached the CBRE board of directors in 1995, explaining he wanted to catalog every apartment in the U.S. and put them online so they would become searchable for renters and brokers alike.
"I explained that we could use that information to do all kinds of analytics and proformas. They said, 'That's a nice idea, Mike, but stick with what you know. Go back to being a broker.' I said, 'Well, if you don't put me in business, your competition will.' And I went to Bill Millichap at Marcus & Millichap and about half an hour into the conversation, he asked me, 'How much do you need to launch and when can you get started?' because Bill was in Palo Alto and saw what was going on with the Internet.
"So I figured out how to catalog all the apartments in the United States and created a huge database—which became one of the very first ILSs—and we put it online under the heading 'AllApartments.com' to ensure we popped up at the top of the list, because back then everything online was categorized by alphabet, and AllApartments also was descriptive of our service," explained Mueller.
Online transformation

The dot.com boom soon hit and the Internet took off. AllApartments.com changed its name to SpringStreet in the late 90's, merged with Realtor.com and went public in 1999 under the name HomeStore.com. Today, it is called Move.com, a subsidiary of NewsCorp, and trades on the NASDAQ under the symbol MOVE.
"Typing in AllApartments.com will still take you to listings on Move.com, 20 years later," said Mueller.
Believing he had no place in a huge corporate environment after the IPO, Mueller took a six-month hiatus. While speaking at a ULI conference in Minneapolis about the future of apartment leasing, he told the audience that it was only a matter of time before the apartment industry, like the airline, car rental and hotel industries, would be able to offer renters and investors access to online real-time pricing and availability.
He was approached after his talk by a number of apartment owners who suggested he should be the person to make that idea a reality.
So Mueller reassembled his group of tech specialists in November 2002, founded Realty DataTrust and went about creating technology that, once the software was downloaded at an apartment property, it would automatically upload that property's pricing and availability to a centralized server.
He imagined an application like Napster—the first music sharing service—for the apartment industry.
Mueller and his team would then load that information into a database and make it accessible to the consumer by adding a clickable 'Check Availability' button on any website.
"When you would hit that button, it would actually show you what was available in real time, because we had grabbed the info from the little stand alone PC sitting at the property office and put it into the centralized database and that made it accessible via the Web.
"That process took a number of years to properly get traction, but I knew it would happen because I thought it was a no-brainer, since you could get airline, hotel, and rental car pricing in real-time. It's what the customer experience should look like and I'm still shocked 14 years later that the ILS industry still thinks the customer will fill out a form to get this information," he said.
The product his team created was named VaultWare and, by 2011, over 4,000 plus apartment properties were using VaultWare's online reservation system that allowed potential renters to see actual pricing and availability. With a self-screening option, potential renters could find out in seconds if they were qualified, because VaultWare had partnered with all the credit screening companies. Until VaultWare, the only way to run a credit check was for the leasing agent at the property to run the report.
One of the spinoffs of VaultWare was PadZing, the first online market survey tool for owners and managers to compare market rental rates against their market comparables. It also was the first apartment industry product developed specifically for the iPad.
"Almost five years later, a lot of companies are still using VaultWare's system, because I sold that company to MRI in December 2011," said Mueller, who went on to purchase the multifamily division of CallSource and launch LeaseHawk in February 2012, where he has worked quietly behind the scenes to rebuild the platform that could shake the leasing side of the multifamily business to its very core.
In addition to CallSource's multifamily division, Mueller also acquired an education division, which he entirely revamped into a leading provider of online education and learning management for the apartment industry. In 2014, Mueller sold LeaseHawk's Wings and PLU Learning Management Systems, along with its catalog of online educational courses, to Grace Hill, based in Augusta, Georgia.
Going dark

Mueller bought CallSource with the idea of merging their telephone technologies, like call tracking, with the email inbox in leasing offices, adding in tools like Skype with Voice Over Internet Protocol (VOIP) capabilities, throwing in the ability to text customers, and make it all accessible with an application similar to Salesforce.com, a customer relationship management (CRM) app, but gear it specifically for the apartment industry. This was a very ambitious goal, especially when every inbound and outbound communication is stored in the Cloud and made accessible via a mobile or desktop device, Mueller explained, adding that this simple, easy-to-use solution is LeaseHawk, the first communications platform for the apartment industry.
Mueller had a clear vision when he purchased CallSource, a company that has continuously produced revenue in the eight digits, but the technologies he needed weren't fully developed, so he and his team had to move slowly. The first piece LeaseHawk needed to develop was a robust back-end so that every single phone call, inbound and outbound, got routed, recorded and stored in the Cloud.
"It had to be 100 percent reliable, meaning it had to work 24/7/365. It's very similar to what Twilio, a company that just went public, does," Mueller said.
The next challenge was to develop a CRM program that would work on a mobile device, "because our industry does a terrible job of managing the relationship with their customer. If you look at the lifecycle of the relationship, it starts as a 'lead' and we never really give any thought to that relationship once they become a resident," said Mueller, explaining that LeaseHawk's CRM has now evolved from the first beta, which was completed about a year and a half ago.
"If you think about it, there are multiple types of communications you will have with your customer throughout their rental history, which could be years in this environment, since renting is a lifestyle choice," he said.
Mueller's epiphany

But looking back five years, when MRI approached Mueller to buy Vaultware, he wasn't motivated to sell because a new technology had just emerged that would allow him to bring his 1995 vision full circle.
Apple introduced Siri in October 2011 and to Mueller it was an epiphany.
"As soon as Siri came out, I said, 'This is the future of apartment leasing. You're going to get everything you want to know about an apartment by asking an intelligent assistant using a voice interface. It won't be limited to just leasing either, but lease payments, renewals, maintenance, etc. Look at how quickly Amazon's Alexa voice interface has evolved," he said.
Siri changed the way users thought about interacting with their smartphones and was a huge incentive for Mueller's acquisition of CallSource, which would provide the telephony technology piece he needed to merge with a Siri-like front end.
Siri allows the user to ask questions and receive answers simply by tapping the Home button on the phone face and using their voice.
But Mueller realized that the small size of a mobile screen made typing to obtain information impractical and that people would opt to call to get their information whenever possible. Thumb typing to fill out a "Check Availability" form on a mobile device just won't happen, Mueller believes.
"Five years ago, when you would hit 'call' from your smartphone you would typically be calling the property from an Internet ad source that would connect to CallSource's back-end phone switch. We would then route the call to the property and record the call. Well, the problem with today's caller's expectation is they expect someone to pick up the phone after four or five rings no matter the time of day. Nothing has really changed in the 20-plus years the industry has been tracking and recording calls. What blows me away is 49 percent of the time no one at the property picks up the phone, leaving the caller frustrated and rarely leaving a message," said Mueller.
The revolution will be virtual

In addition to the communications platform and CRM application, Mueller has created a virtual leasing agent with the ability to answer every phone call made to the property, intelligently ask and answer questions and even set up appointments, then record, transcribe and store the communication in the Cloud.
As this revolutionary technology evolves, machine-learning technologies will crunch these communications and interactions and create a leasing score similar to a FICO credit score, he predicted.
"Who is your best lead? Who is your best resident? And all this will be done objectively to avoid fair housing issues," he said.
Mueller believes LeaseHawk's technology solutions are the game changers the industry has been waiting for, but notes there are still a number of hurdles to clear.
"Our biggest hurdle, however, is not the technology, but the people who are afraid of change. Sometimes it's the leasing agent, because they might view their job as replaceable by technology, since most of what they do is now automated, like lease payments and renewals. However, the most threatened group by these technologies will be the ILSs, since total transparency is available from first communication until it turns into a lease.
"The holy grail of lease ad source attribution will finally be solved. Property owners will be able to accurately pinpoint if a lead is qualified or not and call, 'foul' if it isn't. Transparency also will apply to the leasing agent, whose performance will be instantly accessible. Their ability and timeliness to follow up will be automatically time and date stamped, as will their ability to close a lead to a lease. Imagine every leasing agent in your company automatically measured by their closing ratio," Mueller said.
It will be interesting to see the affects of true disruption on the apartment industry. Stay tuned. Soon Mueller will have a much bigger story to tell.