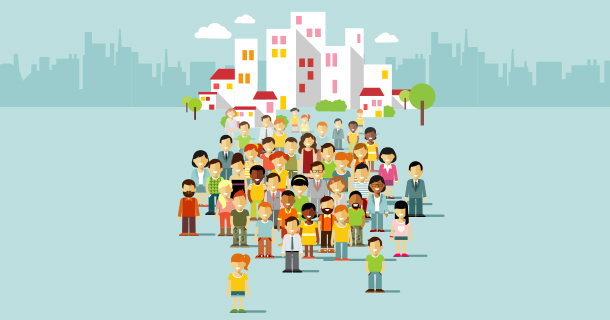 Take a look around, from urban to suburban areas, you'll notice there's quite a different demand. The advent of the luxury apartment industry, mixed with the powerful Millennial mindset, has drastically changed the game.
With the rise of a new market, new renters, and numerous social media platforms, there's a plethora of ways to connect residents and take advantage of the favorable multifamily space. Specifically, we're looking at the social networking app Nextdoor, and discussing a property's ability to leverage this platform to improve resident satisfaction.
The nexus of Nextdoor
While we often spend our social networking time staying in touch with friends and family miles away or tuned into world events, what about the neighbors next door that simply share a wave in passing? The purpose behind the Nextdoor app, a hyper-local site that verifies users by address, connects residents and neighbors through a real-time discussion board. While a resident may turn to Facebook or Instagram for socializing, they hardly have an appropriate outlet to share their concerns with neighborhood crime, selling furniture, lost pets, or area-specific recommendations. That's where Nextdoor comes in.
"Because Nextdoor allows users to connect with their neighbors by just plugging in their address and email, residents are able to easily join an online community with their neighbors within their apartment community and nearby," said Jordan Nix, former marketing and sales coordinator at AMLI Residential.
With over 108,000 neighborhoods across the country or more than 50 percent of all U.S. neighborhoods using Nextdoor, the impact of the social networking platform has quite an influence.
However, the majority of these neighborhoods are exclusive to single-family homes, and not apartments. With the Millennial lifestyle delaying, or opting out of homeownership, renters seek the same neighborly connection in their apartment communities. While the resident interest is out there, the Nextdoor network isn't optimized for multifamily quite yet.
Addressing the challenge
Properties are always looking to connect residents whether it be community events, online resident portals, or hosting resident appreciation nights. When a social network platform gives residents an outlet to exclusively share their neighborhood news, wouldn't apartments want to embrace the opportunity? Well, to some multifamily properties, the setup process on Nextdoor for apartments may hinder them from using it as a resident engagement tool at all.
Nextdoor maps out specific locations, outlining neighborhoods based on houses or buildings in that vicinity. Each apartment community, unfortunately, is only a building with an address. Nextdoor doesn't recognize each unit number, which means it can't recognize an apartment complex as an individual neighborhood. Residents can't associate with a specific apartment community on Nextdoor, but rather must join a larger surrounding neighborhood, such as downtown Dallas, Little Forest Hills, or Uptown.
The only way to make a custom neighborhood on Nextdoor for a single apartment and their residents only, would require taking the time to submit a property list for every unit—broken down by address and apartment number. It's simply too time consuming for property managers.
With Millennials reinventing the homeowner lifestyle, there's a need to create a platform for community advocates and resident engagement. Statistics show that Millennials are waiting longer to buy homes and staying in the multifamily space longer. For ages 18-34, the true homeownership rate has fallen to a new low of 13.2 percent. Why aren't social networks like Nextdoor taking advantage of the market?
As it exists now, Nextdoor makes it difficult to network and create a community platform for multifamily residents to interact online. However, it can be used in a way that apartment communities can leverage.
Pro tip: If your apartment community doesn't have a resident portal and wants to embrace a tool similar to Nextdoor that sparks conversations among residents, consider Modern Message. It's an up-and-coming gamification program that allows residents to communicate with each other through a social network that builds advocates and captures their voice online. Through a competitive leaderboard that incentivizes friendly competition, Modern Message empowers residents to start the conversation.
Overcoming the challenge
Nextdoor tends to scare off management companies because it seemingly opens a door for residents to communicate with each other without controls. While that can be a scary concept, it's also a powerful opportunity. With residents feeling connected to fellow neighbors, they are more likely to stay in their apartment community.
According to Nix, Nextdoor is a space for multifamily properties to participate in conversations—not to interrupt conversations with their marketing messages and campaigns. When seeking out advice or recommendations, residents look to multifamily professionals to be "community experts."
By creating an account on Nextdoor as a single member, property managers can add to the conversation within their surrounding neighborhood while identifying as the community manager. This allows properties to contribute with recommendations to the neighborhood's best restaurants, salons, cleaning services, dog sitters, or babysitters; essentially a resource to current and potential residents.
From Nix's perspective, she identifies Nextdoor as an opportunity to build community thought leadership, stating, "Residents have trusted you with something as important as choosing their new home; now they are looking to you for community recommendations and referrals." Become an active member in your property's surrounding area and start connecting on a personal level.
Multifamily professionals have the upper hand by already knowing their residents and neighborhood. As a result, they can easily offer suggestions and recommendations, adding value that will create awareness at the property level. So instead of acting as a portal for residents at your complex, Nextdoor can allow apartments to act as the defined thought leader and community advocate within the neighborhood.
Author: Ashley Tyndall