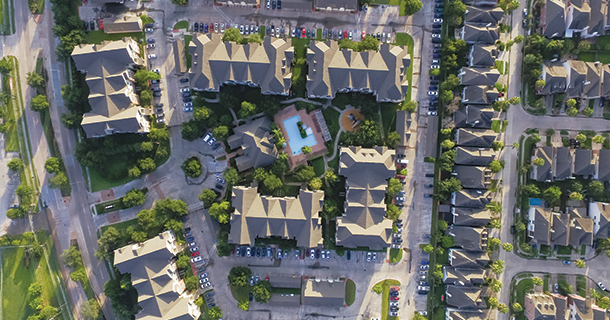 As co-founder and CEO of Riverstone Residential, Danner spent the past decade in various leadership roles growing the former property management arm of Trammell Crow Residential (TCR) that was purchased by Greystar in 2014.
One of Danner's goals at Riverstone was to leverage technology to improve company efficiencies while building a sense of community in which residents felt more at home. Danner believes SightPlan's maintenance and resident service platform can help other property managers hit both those targets.
"Success in property management to me is based on an aggregation of relationships. As a manager, we depend a great deal on the expertise of others. We rely on the ILSs to help create awareness for our properties, we trust revenue management systems to help improve our yields and we expect our answering service vendors to take calls when we can't. I'm intrigued by the advantages the right supplier partner relationships can bring an operator and I hope in this new role I can contribute as much success to our management company customers as my suppliers delivered to me over the course of my management career," he said.
Industry trajectory
Danner, who received a BA in Chemical Engineering from Georgia Tech and an MBA from the University of North Carolina, was drawn to property management after graduate school in 1989, when he took on a summer internship at Washington D.C.- based NV Properties, sister company to single-family homebuilder NV Homes.
He got hooked on the business and, after leaving NV Properties, became a regional manager and later VP at the former Summit Properties (acquired by Camden Property Trust in 2014), where he remained for six years.
Two years after Summit became a REIT in 1994, Danner took advantage of an opportunity at TCR when his good friend, Russ Davis, who ran one of TCR's regions, said, "'Hey, there's a region opening up. Do you want to come work for Leonard Wood?'
"I knew Leonard by his reputation in the industry, so I left Summit and went to TCR and fate has it from there," said Danner, who, by 2005 was a member of TCR's management board during a time when the company was making strategic decisions about future business plans.
As more competitors entered the management business and profits generated by TCR's third-party management arm began to dwindle, the board decided to divest themselves of that group to maintain focus on development and acquisitions.
While the idea of leaving TCR wasn't pleasant, Danner and fellow COO and management board member Christy Freeland approached the board with a plan to purchase what had become one of the nation's dominant third-party management firms.
"We said, 'Why don't you let us take it and we will pay you back over time?' They thought it was a great idea because it provided for continuity of operations and Riverstone was born," said Danner.
London-based Consolidated American Services bought a controlling interest, bringing in the heavy capital to help Riverstone grow organically and through M&A. The company's subsequent trajectory did not go unnoticed. Greystar offered to purchase Riverstone in 2014 and the board accepted.
"The sale was bittersweet because from a business perspective you want to monetize your investment, but from a personal perspective we built up this company and had a great team of people. It was, however, the absolute best time to sell," admits Danner.
Throughout Riverstone's integration, Danner oversaw Greystar's U.S. property operations and business development, while other Greystar leadership focused on its European investments. Once integration was complete, he departed Greystar.
Leveraging experience
Several companies looking for a seasoned manager to oversee their portfolios approached Danner, but he had reservations about joining another management firm.
"By the time Riverstone sold to Greystar, we were hitting on all cylinders. Times were great, the culture was great, we had really great people and it would be tough to replicate that, so I felt it was really time to find a new way to contribute to the industry," he said.
Ultimately, it was Danner's struggles as a third-party property manager that attracted him to SightPlan.
There were problems to be solved and SightPlan has the tools to solve many of them, he said.
"My problems are similar to the problems faced by all property managers, especially those with assets that operate on multiple platforms.
"It was tough to get things done when some properties were using different systems and lacked process standardization. At the end of the day, we didn't have the tools to do our best work," he said.
Danner had been following SightPlan's progress over the years, first at Riverstone and then Greystar.
SightPlan founder Joseph Westlake, a technology entrepreneur who spent ten years at Microsoft, began in 2013 to assemble the SightPlan team. Just a year later, they would gain acclaim by winning NAA's Shark Tank Innovation award at the 2014 Education Conference.
Westlake had listened over the years to the frustrations of his wife, Nylavae, a multifamily asset manager, about the tasks that slipped through the cracks at site level because the tools to accomplish them did not exist.
Believing he could create a solution to those vexations, he gathered together his tech contacts, some from Google and Yahoo, along with investment from experienced multifamily veterans, and formed SightPlan with the aim of offering a new approach to site operations.
"SightPlan came to us early on to learn more about our needs and to get our feedback on their solutions. I was intrigued by their ideas and we stayed in touch. Then, just as I was leaving Greystar, Joseph approached me, saying, 'Okay, we've built a solution to meet those needs. We have customers, we've tweaked it and worked through the kinks and are ready to go, but we need a CEO from the industry to help take it to the next level,'" said Danner.
Danner was interested, but took a deserved break from work, spending the next six months contemplating his options, while continuing discussions with Westlake.
"Through those discussions we realized how well aligned our visions were. We concluded that together we could make a really meaningful impact on the industry. I started in May and we've been going non-stop since," said Danner.
Those shared visions include a new kind of operating platform with powerful, yet easy-to-use technology that's within reach of everyone in the industry, he said.
SightPlan insights
"Our industry is part of a tectonic shift happening in American housing. For the first time in nearly a century, renters will outnumber owners in every major U.S. market, leading to dramatic growth in our already sizeable 1.1 trillion-dollar apartment industry. These changes, including more renters-by-choice, are raising expectations for operational excellence, increasing focus on asset preservation and revealing limitations in the traditional multifamily toolset," shared Danner.
SightPlan was designed to make it easy for site teams to receive resident service requests through all channels, including an interactive answering service.
"It can also help replace clumsy logbooks and paper work orders, build preventive maintenance programs that stick and provide a modern resident experience—all while ensuring compliance with company policies and better risk management," said Danner.
The evolution of smart phones and apps, along with affordable and widespread Wi-Fi and data coverage, has made much more possible today.
With a combination of technology and best practice reinforcement, SightPlan execs believe their product can help multifamily owners and operators deliver significant benefits to their communities, including the ability to:
Make best practices common practice by combining work orders, inspections and preventive maintenance into one solution.
Boost resident loyalty with status updates and streamlined communications that help keep residents in the know.
Deliver insights for better decision making through a verified view into the actions that unlock portfolio value.
"We tested SightPlan's service initially at the 444-unit Tampa Woods, our new value-add acquisition in Tampa, Fla.," said Michael Harger, VP of marketing and development at Adara Communities, which paid $58 million for the 31-year-old asset that will benefit from a $2 million renovation over the next couple of years.
"We have been extremely pleased and are optimistic about the service provided, so much so that we have decided to roll it out in several other of our markets. We are looking forward to the partnership continuing," he said.
Clearing the hurdles
One of the biggest hurdles Danner faces at SightPlan is the snail's pace at which the multifamily industry adopts new technology.
Danner believes some of the reluctance of industry operators and managers to try new tools is the lack of time and capital. "I saw this at Riverstone. I knew there were a lot of great ideas and products out there, but property management is a low margin business and it's not like we had all these corporate resources sitting around ready to implement all the newest technology," he said.
The larger companies, he said, are slowest to adopt new products.
"If you think of the smaller companies as motor boats and the big ones as battleships, its harder to turn them as fast as you want to. We see that today at SightPlan," said Danner, adding that while SightPlan serves both large and small management companies and owners, it's the smaller companies that seem to be nimble enough to adopt new software features quickly.
"The larger firms spend more time dipping their toes in before they wade. Their actions are certainly understandable given that new technology is introduced by start-ups that found a niche and have a dream, but haven't yet been proven.
"Given the opportunity, innovation can really move our industry forward. Revenue management is a great example. Pricing ideas from the travel and hospitality world applied to multifamily have led to one of the longest periods of rent growth in our industry's history. That's the promise of innovation and we're aiming to prove ourselves and deliver value of that scale for the operations side of the business," Danner said.