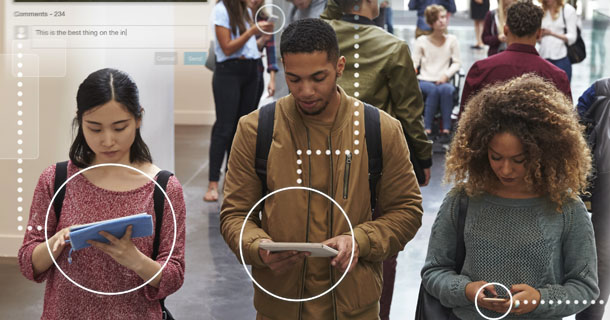 As the customer relationship management (CRM) revolution gathers velocity, apartment operators take a closer look at cloud-based solutions designed to manage the entire lifecycle of the renter.
Opportunities to enhance revenue by providing a better renter experience are ubiquitous at every online customer touch point, beginning with the property search. Why is this important? According to a survey by CEI, 86 percent of buyers are willing to pay more for a better customer experience.
With online access to ILSs (Internet Listing Services), individual property websites and reviews, apartment hunters have the ability to make decisions about an apartment community before ever stepping on the property.
Yesterday's lead-to-leasing tools—both integrated and standalone models—are growing up into full customer-centric CRM solutions. The integrated versions offered by acquisitive-natured market giants like Yardi, RealPage and MRI Software are connected to a suite of property management software that handle functions like accounting, billing and revenue management, and all data flows are stored in one place.
Standalone CRMs may offer some features not standard in the integrated models. Because of Multifamily Information and Transactions Standards (MITS), which allowed for tighter integration between back office property management systems, those versions are now able to integrate and play nice with most of the accounting-based and revenue management systems in the industry, giving apartment managers a choice of solutions to fit every size portfolio, preferred sales methodology and budget.
Adopting CRM solutions for multifamily is a logical next step for apartment operators in their day-to-day goals of marketing and managing their properties. But no matter how sophisticated the technology, it must work within a company-wide strategy that guides implementation and proper training to ensure staff are aware and taking advantage of the many benefits the solutions have to offer, which means combatting entrenched behaviors and ideas. And that is the greatest challenge for the companies that offer these dynamic tools.
LeaseHawk
LeaseHawk, technology innovators in Scottsdale, Ariz., gives management companies a communications platform loaded with cutting edge tools focused on creating the best possible leasing experience.
The mobile-first platform was built from the latest technology, not from a legacy system created a decade ago, said LeaseHawk Founder Mike Mueller, adding that the application features the industry's first Siri-like conversational assistant and the only CRM that enables texting and outbound calling from within the system.
LeaseHawk not only tracks millions of calls a month, they were first to track each and every communication, including texts, calls and emails in one interface, he said.
The integrated system creates a customer-focused experience by enabling the leasing team to personally respond to and engage with customers, on their terms, from any mobile device or desktop.
The CRM allows staff to easily manage every relationship by automatically logging each communication sent and received then creating and storing in the cloud a comprehensive timeline of these communications to maximize service and personalization. Centralizing all communications eliminates the need for manual entry by leveraging voice transcription and also provides a structure to facilitate moving prospects through the leasing process.
Ease of use and improved follow-up result from LeaseHawk's instant notifications, while mobile capabilities improve service levels, renter satisfaction and create a positive image of the management company, said Mueller.
Leasehawk also tracks the effectiveness of ad sources to help management budget marketing dollars. Meanwhile, live analysts score every lead and assign them a grade that helps the leasing team determine which leads are actually true prospects.
Equally important to understanding the quality of leads is the tracking and evaluation of the leasing staff's performance.
LeaseHawk's call scoring does double duty—filtering out callers who are not looking to lease or who do not meet qualifying criteria and measuring how the leasing agents perform on actual calls.
Leasing professionals are automatically evaluated throughout the entire leasing lifecycle on call performance and how quickly they respond to leads and convert those leads to residents.
This visibility into the state of the leasing team, helps on- and off-site management identify training opportunities and skill gaps that need to be addressed.
LeaseHawk integrates with all the industry's property management systems, but Mueller points out that those programs are basically accounting packages developed to manage numbers, not relationships. He believes apartment managers are better served managing and storing communications in a proprietary platform such as LeaseHawk's.
What sets LeaseHawk apart from the competition is its Siri-like conversational assistant ACE (Answer Calls Every time) that is designed for those periods of time when the leasing office is closed or staff is unavailable, which happens about 40 to 60 percent of the time during office hours and 100 percent after hours. While large companies have the capital to spend on call centers, many small to mid-size companies do not.
Not only does ACE ensure no call is missed, it has the ability to answer commonly asked leasing questions, like pricing and availability, set appointments and collect guest card information. According to Mueller, ACE has been setting an average of three appointments per property per month. ACE is fully integrated into the CRM, so all data, including appointments, is automatically populated for the leasing staff.
The LeaseHawk CRM then ensures follow-up through instant notifications, with mobile capability for access when the agent is away from their desk and by identifying and prioritizing each contact where action is required—ensuring no leasing opportunity is ever missed.
While intelligent automation technology is more common in other industries, it is still in its early stages. LeaseHawk has already been innovating in this space for the multifamily industry with its Siri-like automated assistant that now has real-world results and offers a more affordable and effective alternative to call centers, said Mueller.
The greatest hurdle for innovators in the multifamily space is getting the industry to accept new technology, but Mueller says that LeaseHawk is making headway and adoption continues to increase.
"Today's renters are tech savvy and want to communicate on their own terms. It is important that management companies embrace the newest solutions that allow them to communicate with their customers quickly and efficiently to offer the best experience," he said.
Meanwhile, the LeaseHawk team continues to enhance and stay abreast of technology that can improve workflow automation and prospect scoring.
RealPage
RealPage believes its clients are strongest when they manage their entire sales funnel through a single platform. The Carrollton, Texas-based company offers a full suite of CRM solutions, from ILS syndication and SEM (search engine marketing) to mobile-first websites, contact centers and lead management that extends through quoting, lead conversion, marketing, leasing, resident management and renewals.
"Each of these components are important individually, but become exponentially more valuable when deployed together as part of a single comprehensive customer relationship strategy," said Karen McDonald, RealPage director of marketing.
She stresses that one of the biggest factors in determining if a resident will renew their lease is the quality of service they receive. Each of RealPage's resident services solutions—ActiveBuilding, resident portal, payments and concierge—are tailored to drive customer engagement and boost resident satisfaction that is crucial to sustaining high renewal rates and reducing turnover costs.
ActiveBuilding ensures every inbound and outbound contact from every prospect and resident is answered via the prospect's preferred form of communication. NPS (net promoter score) surveys sent out by email also help properties identify renter satisfaction, address concerns or solicit referrals early and throughout the lease term.
The social network features of ActiveBuilding include Interest Groups Marketplace and Community Wall to help residents connect and stay plugged in at their community.
Lead tracking, lead scoring and cost analysis work seamlessly together within ActiveBuilding to help marketing teams make more intelligent decisions about their ad spend.
"The first step in measuring the effectiveness of a client's advertising dollars is being able to tie specific leads to specific ad sources and then track them to lease conversion," said McDonald, noting that lease outcomes provide the measuring stick for evaluating lead quality, while scoring provides a predictive forward-looking measure of lead quality independently of the effectiveness of the sales staff at a property.
Meanwhile, "cost-per" reporting that allows marketing managers to input ad spend to evaluate the efficiency of marketing spend, provides actionable results that enable smarter business decisions that can lead to greater ROI, she said.
"Assessing lead quality is most important for prioritizing outbound follow-up, but not so much for inbound lead management, because sites should always respond to inbound queries as soon as possible. Leasing agents don't have time to follow-up with every single open lead every single day. Scoring leads helps to identify the highest value leads and reach out to them more quickly to maximize leasing outcomes," she said.
RealPage's Lead2Lease with lead scoring evaluates the quality of each lead using a Bayesian statistical approach that predicts the likelihood of each lead to convert into a lease based on observation of hundreds of millions of past data points.
"This is distinct in the industry as most lead scoring models take a 'rules-based' approach, which is only as good as the assumptions that are programmed into it. Our statistical approach is rooted in actual data, free of human bias or mistaken assumptions and provides the most powerfully predictive measure of lead quality," said McDonald, explaining that this statistical approach to lead scoring is new and a game changer. But RealPage continues to invest in bringing data science to bear in prospect management to provide automated recommendations of follow-up type and timing and to build more detailed pictures of the lifetime value of customer relationships.
McDonald believes the RealPage advantage is in the breadth and depth of its product offerings that give its clients the ability to capture, process and analyze extremely wide datasets about customers.
"The sheer scale of data, from the top of the sales funnel all the way through lease renewal, allows us to perform true big data analysis on prospect data in order to produce customer insights that simply aren't possible from a more a la carte approach to leasing and marketing solutions. Collecting all of this data in one place on one platform and using it to drive better leasing and marketing decisions is the wave of the future," she said.
I Love Leasing
I Love Leasing is the lead management portion of a larger suite of products and services developed by Spherexx.com that began life in 2000 as a website developer and full-stack ad agency.
With 10 years of service under its belt, I Love Leasing has established thousands of third-party integrations, direct and bi-directional, with companies like Yardi, RealPage, MRI, AMSI and RentManager. Real-time quotes are pulled directly through integrations with revenue management companies like Yieldstar, LRO and I Love Leasing's own revenue management tool, RentPush.com, assuring prospects have access to up-to-date rents and available units.
Spherexx.com founder Becca Wilson believes I love Leasing stands apart from its competition because it is not an accounting program, but a customer-centric tool that can be customized to each client's workflow versus the off-the-shelf-only options provided by some lead management service providers.
"We listen to our customers' leasing teams, marketing staff, property managers and owners to find out exactly what they need to better utilize I Love Leasing, implement changes as new needs arise and update the program to accommodate changes in the industry," said Wilson.
Spherexx owns two ILSs, MyRental Assistant.com and ResearchApartments.com, and any property using I Love Leasing is automatically set up on those lead-generating sources at no cost.
Licensing includes a free mobile app for leasing agents who use Android and iPhone and an iPad leasing app called LeasingBook that works in tandem with I Love Leasing is also available, but agents have the ability to text directly through the program without a personal computer or onsite mobile device.
I Love Leasing provides multiple notifications of new lead activity, pop-up boxes, emails and texts. Whenever an agent and prospect communicate, a follow-up reminder is automatically generated. "I Love Leasing most recently added texting as a service to provide faster, more direct communication with prospects who prefer that form of communication," said Wilson.
The solution's unique features include its professional-looking, html-formatted emails with built-in calls to action that can be customized by color scheme and photos that can be swapped out at any time. These prewritten emails cover the entire leasing process, whether they are suggesting an appointment, thanking the prospect for touring or providing updates on their application. "We also include a digital brochure that gives the prospect a lot of information they may have missed in their apartment search" said Wilson.
Every email, text and phone call that comes through I Love Leasing is tracked to the second. "Agents are unable to alter that information, so I Love Leasing is able to accurately report the percentage of prospects that have received follow-up," she said.
Every lead is scored and agents are able to distribute or transfer leads among sister properties with full tracking of the transfer transaction. Every prospect emailed through I Love Leasing is provided with a link to refer the property.
I Love Leasing's customer service teams and account managers are available to answer any questions leasing teams may have about the product by phone, email or online chat. And, to ensure I Love Leasing's many features are understood and properly utilized by agents, free monthly training sessions are provided.
"Clients can choose add-on features like the AdKast ILS syndication tool that helps clients update their listings on more than 50 ILSs, a list that continues to grow as new vendors are launched and come on board," said Wilson. Clients also have the option to add websites, search engine services, search engine marketing, including social media, along with advertising services of Spherexx.
I Love Leasing is testing several new technologies that will be coming to market within the next few months. Watch for updates in the next issues of MHP.
Yardi Inc.
Santa Barbara-based Yardi, Inc., offers its multifamily clients a complete bundled marketing solution within the Yardi Multifamily Suite.
RentCafé is the online solution that includes rich responsive design websites, online leasing and a resident portal with free resident app for online and text payments, maintenance requests and electronic renewals. RentCafé Connect is an answering service with live on-demand agent support. RentCafé CRM is the online lead tracking and CRM system that follows the customer from first contact to move-out.
"Because Yardi's tools are integrated with the core management and accounting system, the onsite team doesn't need multiple logins and can handle everything from the first call or email to signing the lease electronically or hitting the move-out button, all within the same system," said Yardi Senior Director-Marketing Esther Bonardi.
Bonardi believes true multifamily CRM starts with a clear definition of who the optimal renter is for an individual property, even before a lead comes in, but it doesn't end with the standard leasing tools of today.
Once the targeted personas are identified, leasing staff can market directly to them by having a good partner for Google Adwords to make sure ad campaigns are reaching that ideal customer and then pulling them into the leasing funnel. The CRM helps identify which marketing sources deliver leads that convert to rent-paying residents versus those that may deliver a high number of leads, but convert at a lower clip.
"CRM isn't just about lead tracking and lead management. Your onsite teams should be nurturing and managing relationships with those customers who are in the application process, as well as valued residents. Building follow-ups around the application process, the move-in, service requests, lease expirations, etc. help ensure that you retain as many of those prospects you've converted as possible. The more residents you're able to keep satisfied, the higher your online ratings and reviews are and the higher your renewal percentages. Conversely, turn costs, vacancy loss and costs of acquiring new customers will be lower," said Bonardi.
Features like Nudge Marketing are designed to convert more visitors into leads and shorten the leasing lifecycle by helping walk the customer through the process, thus increasing the effectiveness and ROI of the website and the customer's online leasing experience. "Clients using Nudge Market-ing are seeing as much as 20 percent more leads from their websites than those that aren't," said Bonardi.
Nudges can be set up for lead generation or for promo codes that discount the application fee or showcase a particular property special. "They may be the deciding factor that gets prospects to choose our client's property over the competition, while ensuring they apply online," said Bonardi.
Clients can schedule follow-ups for all three customer types—prospects, applicants and residents—at every step and event in their lifecycle and make sure that the onsite associates, who are the face of the company and interact with the customer, are meeting expectations of how management want resident interactions handled. "For example, in the residency lifecycle, every event or work order is a touch point with the opportunity to show the resident you care and increase renewal percentages, while assessing the performance of the staff," she said.
To help convey the long list of features included in the RentCafé CRM to existing customers and ensure they know how to use them, Yardi offers many opportunities for training and encourages its clients to set time aside to stay up to speed on emerging innovation.
"Whether it's chat, SMS/text or lead scoring, we are constantly developing to stay on top of current trends and technology," said Bonardi of her company that offers everything from property management, a mobile suite of renter lifecycle marketing and an investment management suite.
MRI Software
MRI Software, headquartered in Cleveland, Ohio, has been providing multifamily property management services for more than 45 years, even before the launch of the personal computer. "MRI pioneered the shift from paper to digital and essentially created the real estate software industry as it exists today," said Jason Schedler, director of product management at MRI Software.
The latest iteration of MRI Software's property management platform, Version X, boasts ease of use and full web functionality. "What we were striving for was a solution just as powerful and usable as before, but more intuitive and approachable for staff and prospects," said Schedler.
"Version X doesn't look or behave like a traditional ERP (enterprise resource planning) accounting system and represents a leap forward toward establishing a powerful CRM tool for MRI Software clients," continued Schedler. The company's Multifam-ily Connect Suite, which includes Prospect Connect, Market Connect, and Resident Connect, enables clients to capture all leads, data and activity throughout the resident lifecycle.
MRI Software's multifamily solutions are designed to meet the industry's increasing demand for mobile and web-based services. Resident Connect—an application for desktop, tablet and smartphone—allows residents to interact with their property management company and other online partners to track packages, make lease payments and complete a number of other online functions. According to MRI Software, 50 percent of prospects and residents already interact on the portal from a mobile device. Schedler expects to see those numbers rise in Q1 2017, when the Resident Connect portal achieves full mobile responsiveness.
To simplify the user experience, the system requires only one login so that once a prospect has filled out a guest card and created an account, that same login follows them throughout their resident lifecycle.
MRI Software acquired CallMaX in October 2016 to further expand the company's lead-to-lease capabilities. A multi-modal, automated communications platform, CallMaX enables prospects and residents to reach leasing staff and property management teams anytime via their preferred method of communication, including email, text, web chat, or phone. CallMaX's front office solutions include automated inbound call processing, broadcast messages, resident surveys and package tracking notification.
MRI's CallMaX also offers call tracking and scoring for maintenance and courtesy response calls—providing management with insights into how the maintenance staff is handling resident touch points. An app called Rapid Reply gives maintenance and courtesy professionals using Android or iPhone mobile devices the ability to respond immediately with issue-appropriate phone, live chat or text messages to residents who call in with an emergency service request. A unique feature allows maintenance staff to send an image of themselves to residents who report a maintenance emergency, so that the resident knows who will be arriving at their door.
MRI has begun work integrating the CallMaX offering into its Multifamily Connect Suite. Every communication and interaction will be accessible through MRI's Version X, so property management staff can play back or read voice calls, emails and texts. CallMaX also captures missed calls with an intelligent answering service that answers questions in a conversational voice.
Through the combination of MRI Software's Multifamily Connect Suite and CallMaX's services, leasing teams can capture and track all prospect leads across all channels and analyze marketing campaign performance to optimize ad spend.
"MRI Software aims to remove the barriers that cause delays in leasing and make the process as easy as possible for property managers and residents alike. In the coming year, the company plans to deliver analytics and data stores for operational data, so there will be more true business intelligence and visualized reporting to interpret the single source of lead data," said Schedler.
MRI Software's priority is to enable customers to do what works best for their business and integrate with their preferred partners. But, Schedler stresses, while choice and flexibility are important, they should never come at the expense of the experience for both clients and their customers, the residents.