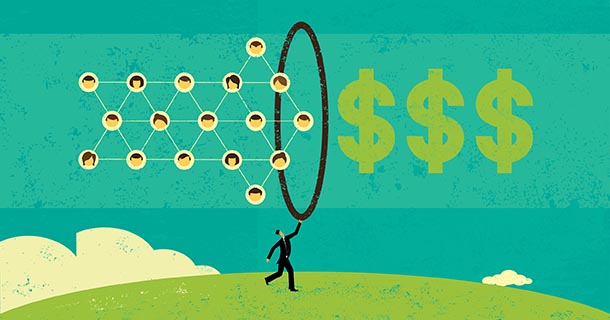 Learning to appreciate the thrill of rental applicant screening all comes down to perspective. A fascinating technology that can be adjusted for different market conditions, screening systems help leasing agents qualify renters using credit, income, rental payment history, criminal background and other data sets to determine whether or not they'd be a great renter.
Screening policies have also been front and center with regulators at HUD, and could evolved to help property managers find out more about applicants and their friends.
"Tenant screening can be a dull Jeopardy! category or it can be a blast," says Pam Storm, founder of Atlanta, Ga.-based Rent Marketplace, which offers online screening services for smaller market landlords typically owning 100 units or less.
Storm has been in screening for over a decade, as a senior vice president for specialty credit at CoreLogic and as general manager and vice president for LexisNexis before the company was sold to First Advantage in March 2013.
In 2016, she launched Rent Marketplace to offer the "down" market access to elegant, fast and accurate screening solutions. Like other screening experts, Storm says changes in social media and technology have landlords of all sizes interested in gaining more insights to their renters than days past, when the primary concern was simply certainty of on-time rent payments.
"You used to ask 'Who is your best renter?' and a property manager would look at you like you were crazy and answer 'Someone who pays their rent,'" says Storm.
"The answer to that question now is much more nuanced: it is about a renter who stays longer, who refers their friends, who buys into upsells, who pays late consistently but pays all the late fees. There is a real desire to know that level of renter behavior now."
There's also a clear and present desire to avoid liability and litigation related to the applicant screening process. On April 4 of last year, the Department of Housing and Urban Development (HUD) issued guidance on how landlords need to handle criminal background checks, seeking to replace blanket exclusions of applicants based on criminal history for a more individualized approach. Preparing for HUD's guidance to become the law of the land, as well as competing for the best residents as rent growth slows, has progressive managers leveraging screening systems to the max.
Sudden impact
"The background screening environment has become so litigious that most clients are really just looking to follow standard best practices," says Kelly Canepa, director of ResidentVerify and ResidentInsure for Lehi, Utah-based Entrata. "There are a number of changes happening with how criminal records can be searched and what can be reported. It's important that clients work with their legal counsel and screening providers to ensure they are compliant with new regulations."
John McDermott, general counsel for the Washington, D.C.-based National Apartment Association agrees. While McDermott said last year that HUD's guidance isn't a particularly new stance on how the agency looks at criminal background checks by landlords, it nevertheless is a warning flag that HUD is focused on criminal screening and its potential for disparate impact on minorities and resulting fair housing violations.
One exception? Druggies. Even though HUD wants landlords to look deeper into criminal hits to determine the recentness, severity, and relevance to housing of most arrests and convictions, the FHA still allows rental owners to bar applicants busted for the manufacture or sale of drugs.
And while HUD's guidance isn't the law per se, and only represents the agency's thinking on criminal screening, most professional property owners and managers are working with their screening partners and playing it safe. "Larger customers seemed to jump on the guidance much quicker, but property owners of all sizes are keying into the HUD guidelines," says Nat Kunes, vice president of product management for Santa Barbara, Calif.-based AppFolio. "As Ben Carson takes over HUD for the Trump administration, we still ultimately expect to see some type of court decision on what types of criminal activity are and are not allowed."
Dialing it in
That said, there's no reason for property managers to shy away from applicant screening for criminal history in conjunction with the typical look at credit, income, and past rental payments. Quite the contrary. According to McDermott, the risk posed by safety concerns for communities and the prospect of liability lawsuits is a substantial, legitimate and non-discriminatory interest justifying the screening of prospects.
For property managers still uncertain about following HUD's guidelines, a recognized best practice is to review screening parameters on a quarterly or bi-annual basis, an evaluation that software and system providers almost universally assist with. A regular check of screening thresholds also allows property managers to adjust credit and income levels as needed to remain competitive with the market. Following the credit crisis, for example, many multifamily operators adjusted their systems and processes to allow for credit dings caused by the collapse of sub-prime mortgages.
With the impact of the recession (mostly) in the rearview mirror, screening experts say most multifamily firms haven't recently had to lower screening parameters in order to qualify prospects and keep occupancy strong. "We've had a couple of clients ask about screening against payday loans and that kind of lending," says Ed Wolff, president of LeasingDesk Renters Insurance & Screening at Richardson, Texas-based RealPage. "But we also have a setting to allow clients to screen an applicant's debt-to-income ratio, and almost no one is using it right now. Clients care about income far more than debt at this juncture."
Even as rent growth slows, the industry is largely keeping screening requirements in place, and most importantly, consistent across the board. Tim Kramer is a property operations specialist at Chicago based property management firm Draper and Kramer. He advises due diligence when changing application requirement, and then only as a matter of corporate policy. "If we dial back the income requirements we have in place, it may result in a few more applications being accepted, but to what end?" Kramer says. "It could result in more financial stress being placed on renters who would not have otherwise qualified. Then they might end up either being delinquent, or not renewing if rent increases in the next year."
Better data, better residents
Helping multifamily owners and operators protect against those kind of delinquencies and build superior renter demographics has been the wide-spread adoption of rental payment history analysis and other behavioral data sets. When combined with credit, income, and criminal background, additional applicant data can provide transparency into a renter's ability to pay rent, their propensity to renew, or even the likelihood that they'll refer a property to friends.
"The improvement of screening technologies boils down to one thing: data," says Nikki Scheman, a business development executive for Costa Mesa, CA-based Experian RentBureau, which partners with most screening companies to provide real time rental history to property managers. "Advancement in screening technology involves the gathering of more data points, like rental payment history, to better predict the likelihood that an applicant will pay in full and on time. The more correlations you can make, the better you can predict an applicant's reliability."
In addition to rental payment history, screening providers are exploring ways to incorporate a larger look at applicant social media profiles to create customer relationship management profiles and are also developing more stringent identification technologies to combat fraud. "ID verification is a hot topic," says Wolff. "Property managers want to ensure that the person an applicant says they are is indeed who they are as ID theft continues to increase year over year."
Kunes agrees, and as AppFolio looks to develop passport verification and other technologies, adds that big data and machine learning will continue to offer new insights into prospects interacting with property managers. "That will still continue to be a bit of a nebulous world, though," he cautions. "You could foreseeably create elements that unknowingly create disparate impact with the use of algorithms. It doesn't matter if there is intent or not, and as a result anything is open to being a discriminatory practice."
The long game for multifamily will be development of screening systems that integrate deeper with revenue management software and CRM systems to help optimize both customer loyalty and profitability over the course of the lease and renewal/retention process. "The future of screening is to help property managers understand who their best renters are, what they have in common, and how the community can attract more of them," says Storm. "It will be about insights, speed, delivery. That includes accuracy and completeness, but it means tell me more about my candidates and my best renters, and how I can get more."