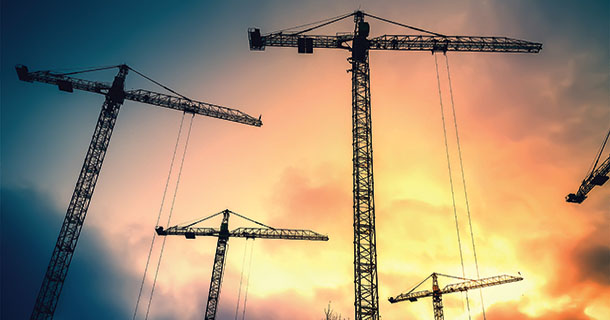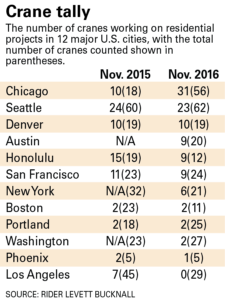 Sightseers in Chicago should keep their eyes open for cranes—the towering, metal kind.
The Windy City has more cranes for residential projects currently dotting its skyline than 11 other major U.S. cities, according to the Crane Index, a biannual survey of crane activity by Rider Levett Bucknall North America, a Phoenix-based construction consultancy.
As of November, Chicago had 56 construction cranes at work, 31 of which were being used for residential buildings, the survey found. Seattle had the second most residential cranes at 23, followed by Denver, with 10.
"There's been a big increase, predominantly in the residential market," said Paul Brussow, an RLB executive vice president.
In all, 33 percent of all cranes in the cities observed were dedicated to residential projects.
Construction in the most active cities differs from past building booms, where condo towers dominated the skyline. Instead, cities such as Chicago are bulking up their luxury rental stock, agents said.
Aaron Galvin, the owner of Luxury Living Chicago Realty, a rental-focused brokerage, says the city will get more than 6,500 new apartment units in 2017 across 33 buildings—about as many units as the previous two years combined. He says the building is being driven, in part, by out-of-towners lured by the city's growing tech industry.
"We're a rental-heavy city," said Matt Laricy, an agent with Americorp in Chicago. He added that developers who might have trouble financing a new condo tower will face fewer hurdles in the high-end rental market, where a one-bedroom can fetch more than $2,000 a month.
In Seattle, nearly all of the new residential construction is for luxury rentals, said Dean Jones of Realogics Sotheby's International Realty. "Those crane towers are also building offices, hotels, mixed-use [projects]. The only one left behind is condos," he said, noting that there are just 44 condos currently for sale in a city with about 650,000 people.
More than 378,000 new apartments are expected nationwide in 2017, a 30-year high, according to a report from research firm Axiometrics.
"I don't know where all these new people are going to come from to fill all these new spaces," said Laricy.
Author Stefanos Chen, wsj.com