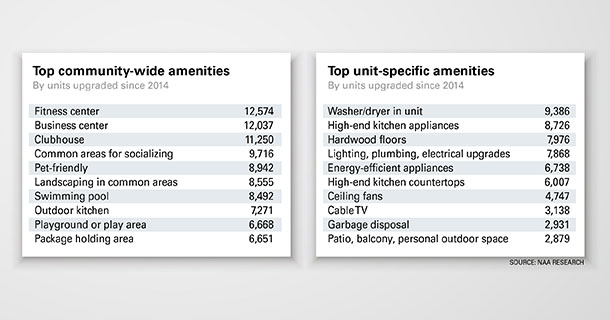 As the building boom in downtown Chicago rolls well into another year, competition among developers in attracting new renters has hit a fever pitch. Nearly 6,600 apartments are scheduled for delivery this year in Chicago alone, and to stand out, developers look to include those building and in-unit amenities that will attract new renters. But which amenities matters most?
According to the NAA and Enodo Score, the most popular building amenities are those that bring people together. The organization has concluded that common amenities such as fitness centers and common areas for gathering and socializing tend to be the highest rated and most important amenities by renters.
In terms of in-unit features, renters tend to appreciate appliances and items that make life easier. For instance, in-unit washers and dryers were ranked as the most desirable in-unit amenity while balcony and patio spaces rated lowest. In real estate listings and promotional materials, agents and developers often highlight seemingly ubiquitous features like granite countertops and higher-end kitchen appliances, but the NAA's study suggests that residents do not prioritize these items.
Because certain amenities and features matter more to residents, developers that provide fitness centers, business centers, and common areas can expect to get premium rents. Still, competition in Chicago remains fierce. For example, the new Wolf Point West tower features many of the standard amenities highlighted in the NAA study, but it also features other premium amenities like a virtual golf simulator. Meanwhile, new rental developments in the neighborhoods feature amenities like bocce ball courts or repurposed 'L' cars as common spaces to stand out.
Excerpt AJ LaTrace, Curbed Chicago; results of the study were based on 100,000 responses from 35 states.