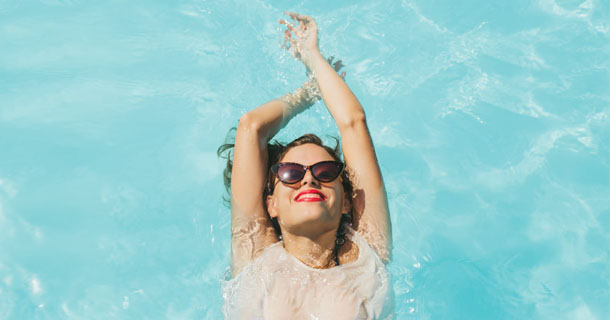 But the apartment industry is catching on with the help of partners like software provider Yardi, which tapped the hotel sector for cutting edge solutions to repeat business and extended leases during its 2017 multifamily marketing forum in Austin in April.
Industry principal for Yardi marketing solutions Esther Bonardi, organizer of the forum, introduced Conner Smith, senior director for Kimpton Hotels & Restaurants, for the marketing master class session. He shared with the audience his company's mission to be the world's best-loved hospitality brand by delivering personal experiences at unique, one-of-a-kind properties.
Smith described techniques that multifamily property managers might find useful to increase brand loyalty.
Also taking the stage during the two-day event were marketing specialists that had migrated to multifamily from the hotel space—Bozzuto Group VP of Consumer Marketing Kelley Shannon and Apartment Services SVP Dennis Dietz.
Smith began by explaining the Kimpton philosophy. "We try to build love and equity with the singular master-brand Kimpton. But the part of our brand promise that people love is they get to stay at boutique properties that offer localized jewel-box experiences with intentional touches built in. This makes each hotel feel like its own brand," said Smith, explaining the challenge of creating uniqueness at each of Kimpton's 64 properties located in 34 cities—a strategy he calls "brands of one."
Localized branding results in no two Kimpton hotels looking alike or featuring the exact same amenities. Each property is tailored to the flavor of its locale and target demographic.
Yet some much-loved features are consistent across the portfolio, like the cheetah-patterned bathrobes, the pet-friendliness, the complimentary wine hour and the bicycles that are available for guests at many of the hotels.
Kimpton's non-standard approach takes inspiration from its founder, Bill Kimpton, an investment banker who traveled extensively. He found that the huge 1,000-room hotels prevalent during the 1980s made travel a lonely experience. But he enjoyed staying at the mom-and-pop, bed-and-breakfast establishments spread across Europe, where proprietors remember your name, invite you to share in a glass of wine, ask about your kids and make you feel part of their family.
Kimpton brought that personalized concept to the U.S. in 1981 with the launch of the Clarion Bedford on Van Ness in San Francisco, the nation's first boutique hotel.
"Bill's vision has inspired us to be a company that believes heartfelt human connection makes people feel better. It fuels everything we do. We know our guests, and I imagine yours also, are looking to buy experiences. They love to share them on social media, so we program those experiences into each of our properties," said Smith.
Design anchors everything at a Kimpton hotel—the food, the drink, the shows, the music and even the unique touches and personal interactions between staff and guests.
By being a design-led brand, focused on the local flavor of each property's market, Kimpton stands out equally well in a 1970s converted Holiday Inn, like the Goodland in Goleta, Calif., or a beautiful 1850s converted bank in Philadelphia, said Smith.
Kimpton accomplishes this "inconsistent consistency" by creating a muse for each hotel—a specific guest profile from which the design team takes daily inspiration—then hiring a local design firm to create a customized look around the muse and the market, making every property 100 percent "bespoke" and reflective of a specific hands-on vision, rather than one dreamt up in a corporate conference room.
When each local firm completes its anthropological design work, Smith and his in-house team take over and add the final flourishes.
Smith stressed that the key to being a well-loved hospitality company begins with the employees. He described how Kimpton CEO Mike DeFrino flipped the industry's typical top-down corporate hierarchy to put employee satisfaction first and guest satisfaction second.
"When employees are happy, guests are satisfied, and when guests are happy, they pay and the owner is happy. And when your colleagues feel like they own the brands they are representing and feel comfortable enough to bring up an idea to management, that's when you deliver a rich, strong brand," said Smith.
Kimpton has earned a 92-percent employee satisfaction rate.
Meanwhile in 2014, after years of organic growth in the U.S., Kimpton agreed to sell to global hotel giant InterContinental Hotels Group (IHG).
By leveraging IHG's strength of distribution and global reach, Kimpton launched internationally, but the design of each hotel is still handled by the San Francisco office. New properties scheduled or now online are in Amsterdam, the Cayman Islands, Paris, and Grenada.
Since the IHG acquisition closed in Q1 2015, Kimpton master-branded its properties online, enabling guests to locate every hotel on the Kimpton website. "Previously we had to invest a lot in search engine optimization to allow searches for each property by their individual name," he said.
Opening a session focused on providing high-touch customer service to hotel guests and apartment residents in the high-tech digital age, Yardi's Paul Yount began by explaining the similarities and differences of the two sectors.
"Hotels rent space for a night and work hard to earn repeat business, while multifamily rents space for months and works hard to earn extended business by way of renewals. Both are in the business of renting space.
"One is short-term nightly, with the goal of more business in the future, and the other is long term, with the goal of extending customer life over multiple years.
"But at the end of the day, both are reaching out to people, helping them find the location where they feel comfortable, happy and at home and then provide a service experience that makes them want to stay or return," he said.
Bozzuto's Shannon talked about 'customer obsession,' a popular buzz phrase that denotes placing customer satisfaction and a great customer experience above everything.
High-tech and high-touch also are oft-used buzzwords. Integrating the two helps ensure that every touch point and experience of your resident or guest, down to the smallest detail, is extraordinary, she said.
"Multifamily can learn from hospitality that customer experience matters. Hotels treat you as a guest and, whenever they touch you, they are delivering a personal message using your personal information," said Shannon.
Before joining Bozzuto to oversee the marketing for the company's 200-property portfolio, Shannon spent six years at Marriott, where she managed strategic relationships with Expedia and Travelocity when those websites were relatively new.
"In addition to managing relationships and ensuring we had real-time pricing and availability in 2004, I also led the global effort across the company to handle all online marketing," she said.
Dietz, who now handles leasing, advertising, operations and service for the 8,000 units in the 33 communities Apartment Services manages in Maryland and Pennsylvania, agrees that high-touch concepts used in the hospitality sector can translate well to multifamily. He joined Apartment Services three years ago, after managing a Days Inn in downtown Baltimore for 17 years.
He shared a story that highlights how an increased focus on customer service can take a hotel or an apartment community from "zero to hero."
When Dietz moved from Los Angeles to take over the Days Inn, the property was 10 hotels from the bottom of a list of 2,000 hotels worldwide that were named as the worst-service properties in the world.
"The staff had no understanding of service," he said. "It took a year and a half and the firing of a number of employees to turn the property around, because they could not grasp the concept of hospitality," he said.
His property went on to become a Chairman's Award winner in 2002 and was named Hotel of the Year among the same 2,000 hotels.
One secret to Dietz' success was encouraging guests to leave reviews with the help of a resident retention and reputation management program, called SatisFacts, which he continues to utilize in the multifamily sector.
"SatisFacts polls residents six months after they move in and gives them the opportunity to rate you. Ratings at the apartments I manage were at about 32 percent because the only reviews we were getting were negative, posted when people were mad. But by routinely asking for everyone's opinions, satisfaction jumped to 70 percent, and we just implemented that program seven months ago," said Dietz.
"To help employees better understand our mission, we created a STAR card that had to be kept on their person. At meetings, employees who carried their card got $5," he said.
STAR is an acronym for "Service to Always Remember" that Dietz and his team at Days Inn thought up in their quest to become the best hotel in Baltimore.
"On the backside of the card we listed 10 things each employee could do to make a difference. Instead of asking if guests enjoyed their stay as they checked out, we asked if there was anything staff could have done to make the guests' stay better.
"We established a Five-Ten Rule. If any employee was within 10 feet of a guest they had to smile or nod and at five feet, they were required to say something like, 'How's your day,'" said Dietz, who saw results in improved occupancy.
"We went from a 1.2 average 'like to stay' to 2.0 'like to stay' at a time when Trip Advisor was just coming online and, if our guests said they wanted to write a letter to the owner because they were happy with our service, we handed them a business card and asked them to go to Trip Advisor and post a review instead," said Dietz, who adds that saying a simple "My pleasure" and genuinely meaning it, when guests ask staff questions, goes a long way toward creating a friendly guest experience.
Shannon noted that everything hotels do today aims at driving a better customer experience and getting high guest ratings.
"Franchisers are making it mandatory in the mid-tier hotel sector to put the last five Trip Advisor comments on their website, forcing management to keep a certain standards level, because who wants to read that your hotel is horrible with horrible staff?" she asked.
Reviews also help hoteliers meet the needs and wish lists of their guests and keep up with the latest technology, such as swapping out the traditional three-prong plugs for USB charging stations and putting Wi-Fi in conference rooms and by the pools.
A few years ago, Dietz noted, Days Inn added lamps by the side of the bed with plug-ins for phones and computers, but eventually they no longer met the needs of guests. "Now they have panels next to the TV with plug-ins for speakers so guests can play music through their iPhones," he said.
Shannon said her company created a platform called Bozzuto Listens to keep abreast of resident issues, needs and concerns. "We really wanted to hear what they had to tell us so we could serve them better. It's done two things; one, it's allowed us to get complaints before residents feel they have no other avenue left but to go to social, and two, it pings the property manager, the regional, the SVP, the company president—everybody gets these things.
"Since launching the platform two years ago, we've probably gotten 3,000 emails from residents with messages like, 'I'd really like Wi-Fi at the pool' and once our president saw that, we implemented it as a standard. Another request was, "Could there be trashcans in the mailroom, so we can dump junk mail instead of cluttering counters?'" she said.
Bozzuto responded to that request by designing inconspicuous trash receptacles in the mailrooms of its new properties.
Some hotels recently initiated voice-activated rooms with iPad controls that allow guests to turn the temperature up or down, control lights and play music through their mobile device, said Shannon, adding that Bozzuto is testing smart-home technology at some of its properties because it is the wave of the future and hospitality is leading the way.
She noted that loyalty programs, CRMs and apps also allow hotels and multifamily companies to be more customer-obsessed and ensure a prospect or resident has the best experience possible.
Bozzuto sees every customer touch point, from the first time a prospect discovers the company online, through the application process and lease as an opportunity for customer obsession, said Shannon.
"Is our story tight and consistent across our digital touch points, and do you feel the same when you walk on the property? Are you greeted from the property staff? Are they living the story of that community?
"Then, when they become a resident, you acknowledge personal moments–birthdays, special events and tragedies. All of those are times where we really have to make sure we are touching them the right way because that's what they will remember.
"It's a long process and we haven't completely figured it out yet. We now have a customer experience manager position we hope to fill soon because we believe those moments of truth are extraordinary," she said.
Dietz agrees. "We have a retention manager, whose whole job is to figure out what's wrong and how to fix it.
He said, "I understand 'customer obsession' and it does not quite translate the way it should in multifamily, because of old-school thought processes. From time to time, there are different reasons leasing and service are pitted against the resident, such as, 'You didn't pay the rent because you didn't have the money, not because we didn't replace your sink'," he said, adding that getting staff to be less adversarial still remains a challenge.
Shannon noted, "Mr. Marriott used to say, 'Treat your employees well and they'll treat the guests well and your customers will keep coming back.' It was a mantra.
"Then I get to Bozzuto and Tom Bozzuto is very much focused on core values and culture. He would say, 'We hire for nice, you can train for everything else.'"
Bozzuto focuses on creating extraordinary experiences for its residents and customizes each of its properties to fit within its specific neighborhood, giving special attention to each element throughout the entire development process.
This attention to detail and fit with the surrounding community earned Bozzuto four awards this January from the National Association of Home Builders, including Multifamily Development Firm of the Year, Marketing Manager of the Year, Best Website and Best Interior Merchandising of a Model Unit.