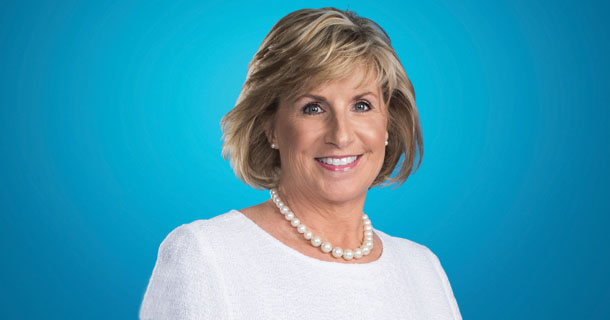 Nominated for the position by President Donald Trump on April 28, Patenaude has the experience and knowledge to complement retired neurosurgeon Ben Carson, who took over leadership of the department on March 2.
Dr. Carson had no government or political experience prior to his appointment as HUD secretary. His perspective on housing issues is informed by his experience growing up in a poor household headed by a divorced mother who worked three jobs in order to keep the family out of government housing.
Patenaude, on the other hand, has spent nearly 30 years working in the world of government housing policy, including a stint at HUD, and for the past three years, as president of the J. Ronald Terwilliger Foundation for Housing America's Families.
Shortly after her nomination was announced, Carson tweeted that Patenaude is "an excellent choice for the position of deputy secretary," thanks to her "extensive knowledge of housing issues and dedicated service to this department under two previous administrations."
She was equally supportive of Carson's nomination in December, saying that she considered him one of the brightest people on earth and an inspiring figure.
In a Jan. 17 letter addressed to Mike Crapo (R-Idaho), chairman of the senate committee on banking, housing and urban affairs, and ranking member Sherrod Brown (D-Ohio), Patenaude voiced her "strong support" of Carson's nomination for the position of Secretary of HUD, adding that he has "the intelligence, good judgment, leadership qualities and communications skills to be an outstanding leader of HUD," urging the senate to confirm his nomination quickly.
After speaking with Dr. Carson, she said she knows he fully understands the issues of housing affordability and availability, and appreciates the high stakes that are involved.
"Once confirmed, I look forward to working closely with him and his HUD team to help meet America's pressing housing needs," she concluded.
As HUD's second in command, she will have every opportunity to achieve that goal and more.
If her nomination is confirmed by the U.S. Senate, which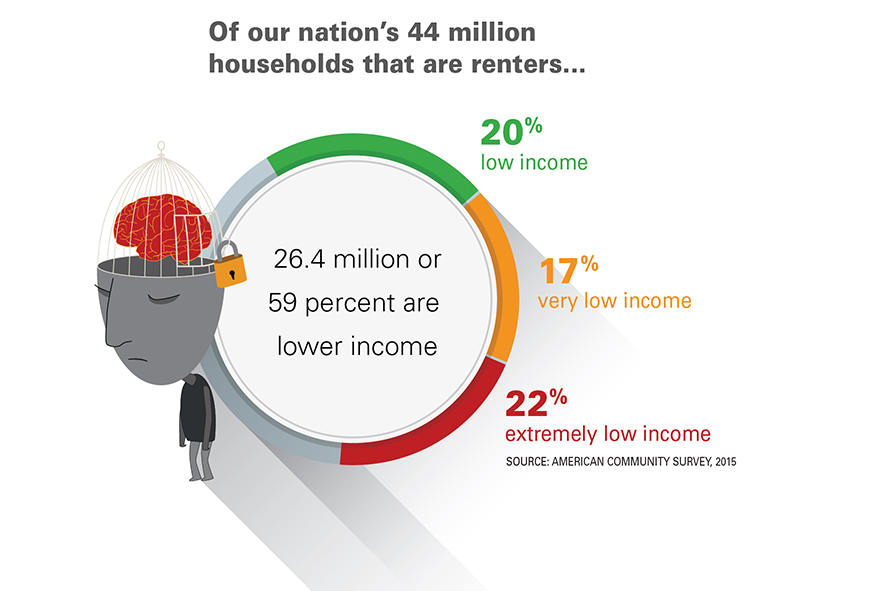 likely will happen sometime in late May or early June, Patenaude will take over management of day-to-day activities of the department that has a budget of almost $50 billion and oversees public housing programs for the poor, fights urban blight, helps struggling home owners stave off foreclosures and guarantees mortgages through the Federal Housing Administration (FHA).
She also may be looking at streamlining HUD if President Trump's proposed 13 percent reduction in the department's budget is approved. His plan calls for the elimination of programs like Community Development Block Grants (CDBG) and the HOME program, both of which she managed while working at HUD during George W. Bush's presidency.
Patenaude, who was considered a potential pick for HUD secretary prior to Carson's nomination, served from 2005 to 2007 as the department's assistant secretary for community, planning and development in the George W. Bush administration administering more than $8 billion of HUD funds. She earlier worked as assistant deputy secretary in the department's Office of Field Policy and Management, where she restructured HUD's field offices, reducing the office's workforce by 40 percent. While at HUD, she also managed $17 billion in disaster recovery funds for Gulf Coast rebuilding efforts following Hurricane Katrina.
Patenaude began her career in housing with the New Hampshire Housing Finance Authority, where she oversaw the Section 8 rental assistance program, and later served as state director and deputy chief of staff for U.S. Senator Bob Smith.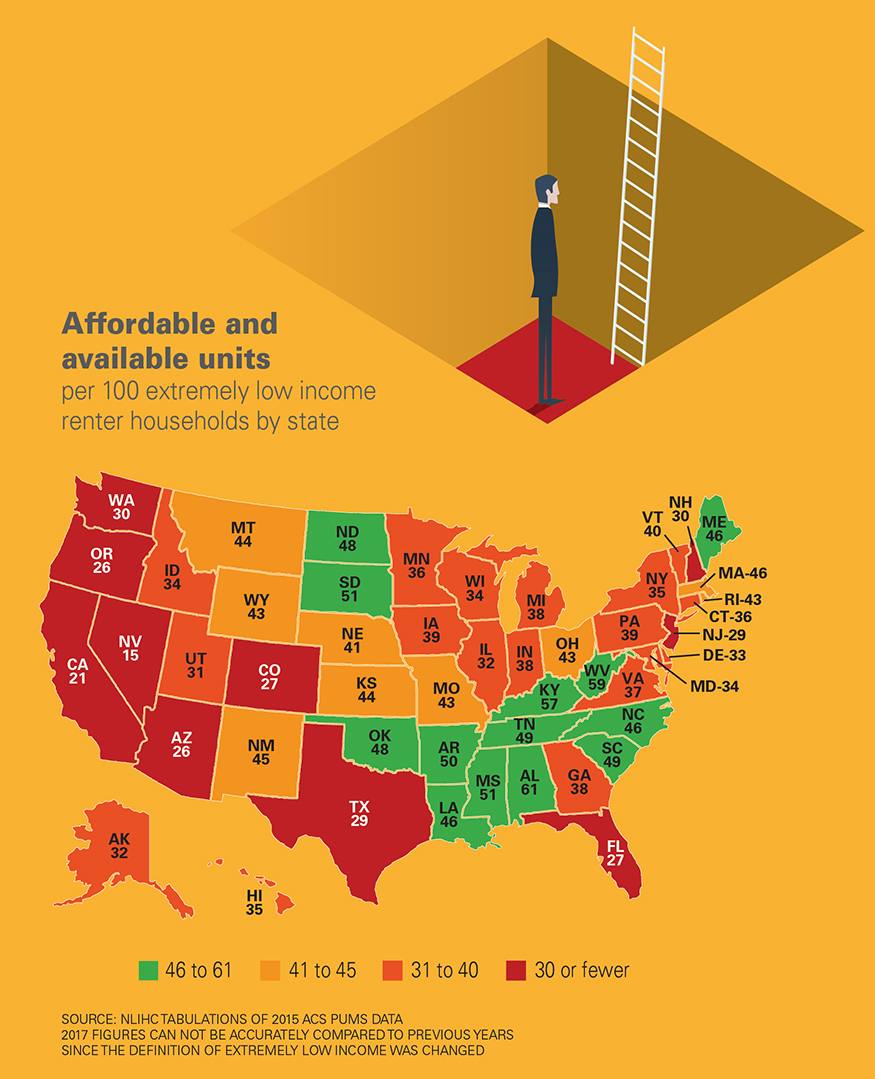 Made for the job
Prior to her government service, she was vice president of Manor Homes Builders, Inc., a nationally recognized custom homebuilding firm.
A graduate of Saint Anselm College, she earned a Master of Science degree in community economic development from Southern New Hampshire University.
After leaving government, she became executive vice president at the Urban Land Institute and founding executive director of its Terwilliger Center for Workforce Housing. She established the latter as a housing research and education center with a budget of $5 million dedicated to increasing the availability of housing affordable to America's workforce.
In 2011, she became director of the new Housing Commission at the Bipartisan Policy Center. She left the center in 2014 to help Terwilliger launch his foundation.
In her writings, Patenaude has focused on housing affordability, both for low-income renters and for first-time home buyers.
"The current situation in housing is completely unacceptable," she wrote in her letter supporting Dr. Carson's nomination as HUD secretary.
Patenaude cites studies which indicate that the number of renters with housing cost burdens, defined as spending more than 30 percent of their incomes on rent, had reached a new high of 21.3 million in 2014, with 11.4 million of these being renters who spent more than 50 percent of their incomes on rent. Harvard's Joint Center on Housing Studies has projected that if rent gains continue to outpace income growth as they have in years past, the number of renters paying in excess of 50 percent of their incomes on rent could reach 14.8 million by 2025.
Patenaude has stated that high rent burdens are driven by a severe shortage of rental homes affordable to the lowest-income families. She adds that, due to wage stagnation, burdensome regulatory policies and the many renters encumbered by heavy student loan debt, millions of credit-worthy families are unable to realize their dreams of home ownership.
As tens of millions of millennials form new households in the coming years, and as the U.S. population ages and becomes more diversified, the housing system that is already falling short will be even more heavily strained, she warned.
Low Income Housing Tax Credit
A step toward increasing the supply of affordable housing which Patenaude has repeatedly called for in her writings is expansion of the Low Income Housing Tax Credit (LIHTC).
The LIHTC was introduce in the Tax Reform Act of 1986 and is designed to encourage private investment in affordable rental housing for low income residents. Under this program, each year the IRS allocates a limited number of federal tax credits to state housing credit agencies on a per-capita basis. The state agencies award the credits to developers of qualified affordable housing projects based on the state agencies' priorities. Factors considered may include the type, location and ownership of the affordable rental property. The developers sell the credits to private investors in order to raise equity for the project. The private investors use the credits over a 10-year period in order to reduce their federal taxes.
In return for receiving the tax credits, developers agree to set aside rental units for low-income residents. At a minimum they must set aside either 40 percent of the units for renters making no more than 60 percent of the Area's Median Income (AMI) or they must set aside 20 percent of the units to renters making no more than 50 percent of the AMI. Rent on these units must be no more than 30 percent of the AMI. While these are program minimums, developers may designate a higher percentage of their units as affordable in order to win the competition to be awarded tax credits. Properties must maintain their affordable status for 30 years.
Addressing the impact of local level regulations on affordable housing supply Patenaude has said, "More communities must have the wisdom to adopt permissive zoning and land-use policies that encourage the construction of a far greater number of affordable rental homes."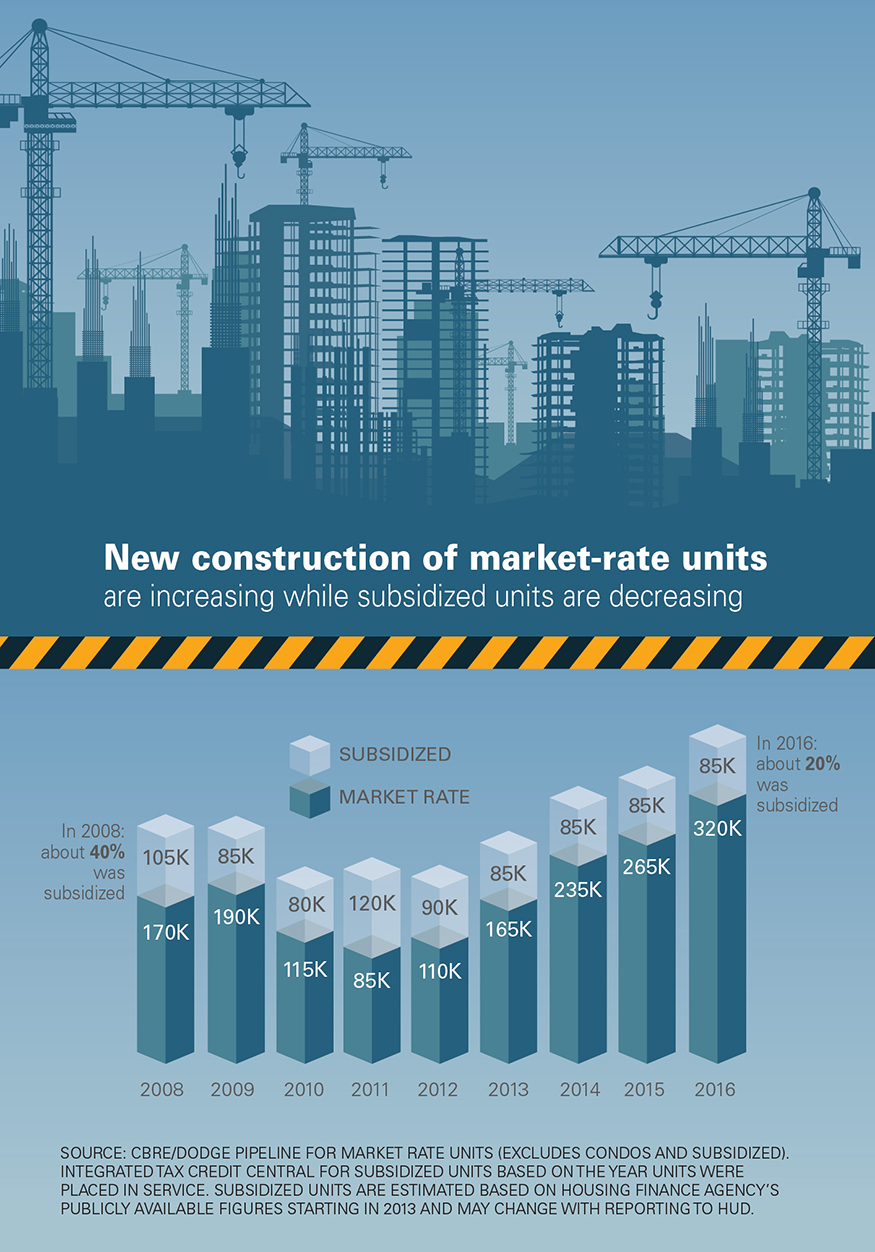 The path forward
Patenaude has said that fixing the problems at the core of the rental affordability crisis is critical to strengthening the demand for single single-family homes. "The national homeownership rate has dropped to a level not seen since the 1960s. Millions of young adults, burdened with student loan debt and unable to save for a mortgage down payment because of rising rents, are effectively shut out of the home ownership market. The gains in home ownership among minority families have largely vanished." she said.
She has also written about issues with mortgage availability.
She praised the FHA's "Blueprint for Access" program when it was announced in 2014. This program had the objectives of educating borrowers about home ownership and mortgage finance, of establishing "clear quality assurance policies so that lenders can provide access to mortgage credit without fear of unanticipated consequences" and of avoiding unsound lending practices.
Patenaude discussed the unintended consequences of actions such as banks being forced to buy back from the GSE's loans, which had defaulted during the housing crisis. This led to banks being unwilling to lend to any but the most credit-worthy borrowers due to "put-back risk". She supported "qualified mortgage" rules in order to give banks some clarity into this risk when making a loan.
In analyzing the platforms of the two major parties in the run up to the election, Patenaude saw hope for action on housing. She wrote "There is plenty of common ground here: Both platforms recognize the unsustainable nature of today's rental-cost burdens. They acknowledge some of the externalities of rising rents—a lower homeownership rate because it's more difficult to save for a mortgage down payment and the dislocation of families who are forced by high rents to move to lower-opportunity communities. They also hint at solutions that can draw bipartisan support. Both platforms, for example, recognize how regulatory policies can act as barriers to new affordable housing production."
A chorus of some of the housing industries biggest organizations joined in to celebrate her nomination as HUD's deputy secretary, encouraging the Senate to quickly confirm her. Among the many praising her nomination were National Association of Realtors President Bill Brown; Gary Acosta, David H. Stevens, president and CEO of the Mortgage Bankers Association, and Diane Yentel, president and CEO of the National Low Income Housing Coalition.
The National Apartment Association (NAA), the National Multifamily Housing Council (NMHC) and the National Association of Home Builders also said in statements that she is an excellent choice for the deputy secretary position.
"Having had the privilege to work with her for many years, we can attest to her commitment, integrity and critical knowledge of the issues impacting the housing industry… and look forward to working with Secretary Carson and his team to develop and implement balanced housing policies that recognize the importance of rental housing," the joint NAA and NMHC statement said.
Secretary Carson will mostly act as the public face of the department through activities like his recent stopover in Ohio, where he visited low-income housing facilities and a homeless shelter, and planned visits to Detroit, Dallas and Miami, as part of a listening tour around the country this spring.
He will focus much of his energy on persuading developers to hire local low-income residents for construction programs.