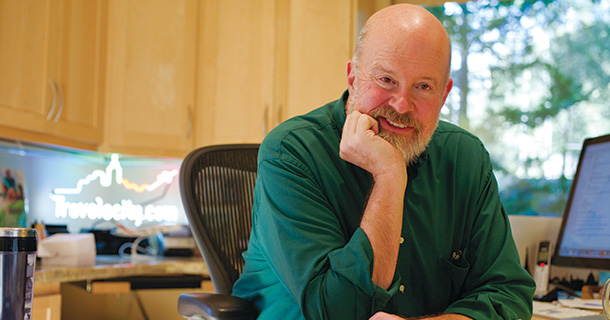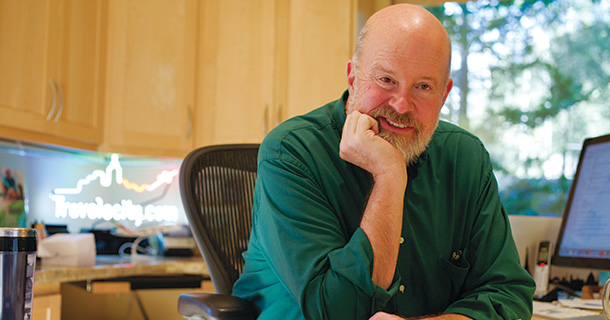 This serial entrepreneur definitely knows the upside of risk. In the late 80s while Jones worked for American Airlines, the company's CIO directed Jone's department to put the Sabre system online with AOL. This was quite revolutionary since at the time, travel arrangements were made predominately by travel agents. Still, it wasn't long before agents rallied to try and shut the online Sabre down, even as it showed mediocre success.
Instead of scrapping the project, AA's CIO hid the operation in its IT department under the premise that Jones would figure out how to create some value of it. Jones was, after all, a travel agent.
"Instead of hiding it," said Jones in a 2012 interview with Forbes, "I put it on the internet and freed us from the design shackles of AOL and Compuserve. It grew like a weed."
Still, this was a moment Jones remembers as risky. Hanging in the balance was an 18 year career, "a big mortgage, a big salary and a big family" he said at RealWorld. "I decided to take a huge risk."
Jones capped his career with AA as chief information officer of its Sabre division. While at Sabre he led a team of six to build out the project that eventually became Travelocity.com.
Created in 1996, Travelocity was the first website to allow consumers to reserve, book and purchase airline tickets sans travel agent or booking agent.
Subsequently "Travelocity went public for $1.2 billion. Big risk. Big reward," said Jones.
Jones left Travelocity in 2002 after Sabre purchased the remaining outstanding shares and the company went private.
Less that two years later, Jones found himself at a fortuitous dinner with the former heads of Orbitz and Expedia. The trio sketched out a business model on a napkin that would go on to become Kayak.com. "Eight years later we sold it for $1.8 billion," said Jones. Kayak was sold to The Priceline Group in 2012.
Today Jones is chairman of Wayblazer, a travel site that uses artificial intelligence to power personal searches on travel sites and applications, according to its website. The user interface incorporates natural language, which is said to better extrapolate context and intent. Wayblazer was founded by both Jones and Manoj Saxena, former general manger of IBM Watson.
Converting disruption to innovation
"The reason you call it disruption is because you didn't do it," said Jones. Someone else's innovation is your disruption. Jones' solution: start innovating.
Jones believes that while many are envious of Silicon Valley, the secret sauce is their ability to make fast decisions and have those decisions reach the light of day. He says that the operational process found in many corporations today kill innovation and shut down the path to disruptive thought. This derails their ensuing business models.
The disruption that we've seen—in music, cars, payments and more—are only the beginning according to Jones. It's not something to fear, but to embrace. Jones says that rather than worry about keeping up with the rapid fire pace of technological advances, leaders should accept them and their accompanying risk.
Connectivity has fueled a torrent of disruption, and with over five billion internet-connected cell phones in the world, it will only grow.
Something that started as a communications method in the event of nuclear war has evolved into a source of information, and then a platform of exchange. The internet's constant flow of information gains commercial viability when innovators devise ways to stream this into empowerment for consumers.
In 2013, Ralph Jacobson, IBM worldwide retail industry analytics manager estimated that 90 percent of the world's data to that point had been created in the preceding two years. Coming in from "everywhere," Jacobson cited everything from sensors used to gather shipper information, to social media posts, digital pictures and videos and cell phone GPS signals—to what amounted to over 2.5 million terabytes of data generated every day. It's likely this number has been exceeded since this estimate is over four years old, but the point remains salient.
Jacobson assigned big data four dimensions: volume, velocity, variety and veracity.
Herein lies the gold, according to Jones. The biggest challenge before businesses today is to make sense of this big data. "That's disruption by algorithm," said Jones. Eighty-percent of this newly minted data is unstructured. It's complex, but with complexity comes opportunity, said Jones.
Get ready for more change
Simplifying complex data into simple, actionable insights can have profound implications. One example is IBM's Watson projecting a 95 percent chance of success of a specific treatment being right for a particular patient. We are just beginning to see systems that, for the first time, give advice, said Jones.
This is a breakthrough that requires advanced AI. "If data is the new oil," said Jones, "then AI is the new refinery." And it's already here in your self-driving car, your Roomba vacuum and your Amazon Echo."
In fact Jones believes that AI is the new UI (user interface) so much so that it is the technology behind his latest company, Wayblazer. AI allows richer input whether through a chat bot, natural language search, gestures, or even wearables.
In turn, this added layer of consumer input provides greater insight into customer intent. What does the customer really want—which leads to perfect selection. Search only gives us clues but AI, machine learning, and algorithms enable the perfect selection at the right moment. "Now you're in business," said Jones.
Jones predicts even more change. Uber looked at the traditional taxi cab business model and said we don't want to own, license, or service cars. Let drivers find us. We'll find clients, set prices, dispatch, bill and collect. Add software and we'll be the biggest company in the world.
Airbnb did same thing: Let hotels find us. We won't provide security, hire staff, manage properties, or set prices. We'll just provide software, and we'll be the biggest hotel chain on the face of the earth. What do they have in common asked Jones? "Less capital and more speed. That's a big change. We should all be looking for the next business model."
In Jones' world, businesses simply need to accept risk. "We can all mitigate it with A-B testing. Twenty percent of what you see every day on Kayak every day is a test," he said. Just build prototypes. Take small risks. And get big rewards. If you don't take risks, you're not moving forward. And learn to make better decisions.