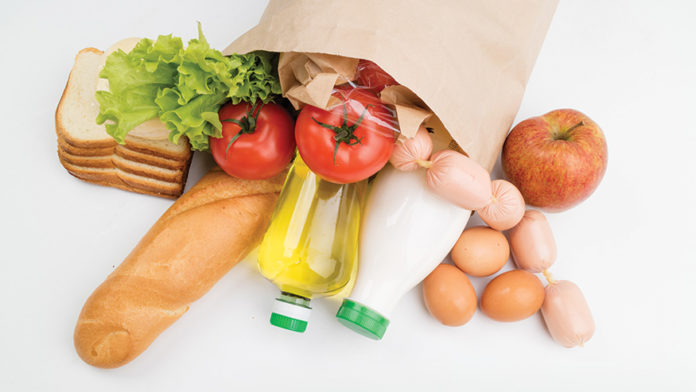 Refrigerated package lockers have recently been introduced to the market, spurred by the increase in deliveries of meals from companies like Blue Apron and Hello Fresh, and produce and refrigerated items ordered through Amazon's Prime Now, Instacart and local grocery stores.
Apartment communities are beginning to add them to the banks of lockers that make package delivery to multifamily housing manageable.
Three companies that provide products to this market are Smiota, Inc. of Pleasanton, Calif., American Locker of Las Vegas, Nev., and Parcel Pending of Irvine, Calif. Each company's product provides a different feature set so apartment owners and operators need to carefully assess which product best fits the needs of their residents.
Smiota, Inc.
Smiota, Inc., whose name is a shortened form of smart IO transaction automated, was established in 2014 by CEO and co-founder Manju Kashi, who was inspired to do so after he experienced a package theft at his door. The firm that offers a mail room solution and is working on a package room solution, launched its Smiota PoD refrigerated locker system in mid-March.
In August, the 183-unit 2Hopkins apartment community in downtown Baltimore became the first in the U.S. to install Smiota's refrigerated lockers. The electronically controlled locker system installed there contains 62 dry package lockers and 8 refrigerated lockers that can be set to temperatures ranging from 23 degrees to 50 degrees.
"A big driver for them was that 2Hopkins is not close to a grocery store," explained Smiota's chief marketing officer and co-founder Waheed Rasheed. With refrigerated lockers "there is a much bigger time window for delivery since the resident can order online and the couriers can deliver fresh produce, milk and eggs directly into refrigerated Smiota PoD."
Apartment residents are alerted that they have a delivery via email, text or a smart app they can download to an iPhone or Android phone and can open Smiota's lockers with a code they receive along with the delivery alert.
"We can monitor our refrigerated lockers in real time, so we are able to know the exact temperature of every installation and change it remotely from our headquarters, and we are alerted if there is any change in the temperature settings," he said.
If the temperature is not within the proper range, a text message goes out to the support staff at the apartment community that a locker is not staying within that range.
"We know how many packages are in there because we remotely know how the lockers are functioning, so we are able to send word to the support staff or do a diagnostic remotely," he said.
In addition to the refrigerated lockers, Smiota offers a sub-zero locker system where lockers can be set to temperatures down to minus four degrees.
Smiota's software can combine access controls for dry, chilled and frozen lockers into one tablet-like interface screen that is integrated into the lockers. When couriers authenticate themselves, they are given the option to deposit into any of the lockers, depending on the kind of items being delivered.
"Let's say you get an order from Safeway that has diapers and tissue rolls and it also has fresh produce and some ice cream. You could deposit all three items using the same interface for separate lockers," said Rasheed.
And the recipients can use the same interface for picking up deliveries in separate lockers.
Smiota's auto-shut refrigerated and frozen lockers are available in sizes that range from eight regular size doors to four larger locker doors. "It's pretty customizable, based on your need," he said.
Not only are refrigerated lockers a boon to apartment communities, but they also are a very green solution, he added.
When packages containing perishable items are to be left outside a dwelling, a lot of insulation is required. With refrigerated lockers, items like milk and eggs can be deposited directly into the lockers, which saves senders the expense of insulating their deliveries and also conserves space in landfills.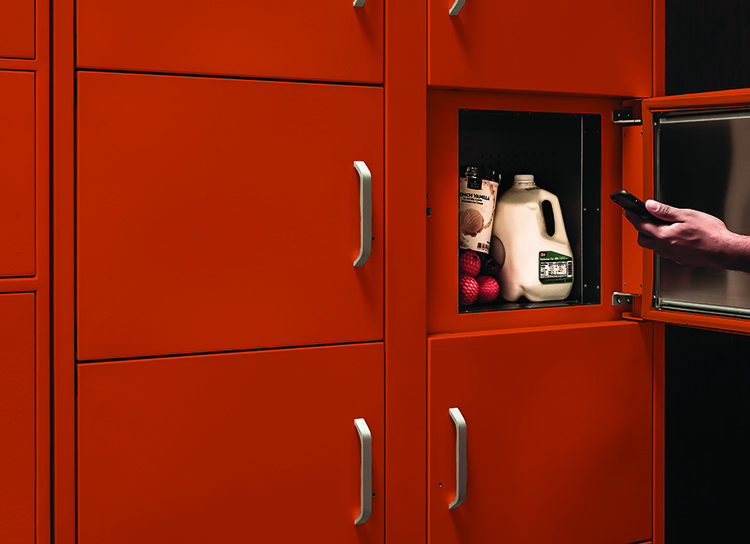 American Locker
American Locker has been in the locker business for the past 85 years and entered the electronic locker business around five years ago. The company has developed temperature controlled lockers that can be set to temperatures from minus five degrees to plus 113 degrees, keeping items ranging from ice cream to hot food at desired temperatures.
"It's a brand new product that we've only had for maybe three or four months," said Terry Woolford, the company's chief commercial officer. "We've actually got a couple out on beta test right now with customers I've been working with to finish off this product."
Woolford, who joined the company about a year ago, said the inspiration for creation of the temperature controlled lockers began at his own front door. He's a regular user of the Amazon Prime delivery service, which leaves his orders on the doorstep of his townhouse, but won't leave any perishable items like milk or cheese or frozen products there if he's not available to accept them.
"So, that got me started down the road of whether there is a market outside of click and collect for temperature controlled lockers," he said.
He queried his conventional locker customers, who agreed that there was definitely a need, inspiring the development of American Locker's temperature controlled locker systems.
"So, that's where the creation of i-Cool came from," he said.
American Locker typically installs the temperature controlled lockers as part of systems that also include conventional electronically controlled lockers. The desired temperatures are set on a column-by-column basis and a column can consist of anywhere from two big lockers up to five smaller lockers, according to Woolford. The company can monitor the temperatures of the lockers remotely.
"Each column is independently controlled, so it's a lot like your fridge/freezer at home. Temperatures for the frozen lockers are legislated by the Food Standards Authority, so the lockers are set independently to maintain that temperature," Woolford said.
Apartment community managers have the ability to reconfigure the temperatures for the chillers. They can't reconfigure the lockers from heating to cool, but they can make the change from a chilled to a frozen locker and can log into a cloud-based system called MyLockerReport.com to check locker temperatures independently.
Package recipients are notified by text or email that they have a delivery and can open the appropriate locker with a mobile device or via a touchpad incorporated into the bank of lockers.
American Locker's average apartment community i-Cool system costs a little less than twice as much as a conventional electronically controlled locker system. The refrigerated lockers require extra construction like insulated doors and walls and a refrigerator compressor on top and include temperature monitoring elements, said Woolford.
Parcel Pending
"I just signed three different contracts in the last 10 minutes and all three include refrigerated lockers," said electronically controlled package locker pioneer Lori Torres, CEO and founder of Parcel Pending. She launched the company in 2013 to address the rapidly growing problem of package handling at apartment communities. The company saw 72 percent growth year-over-year as of July and now has customers in 40 states and Canada.
Her company introduced refrigerated lockers, along with a line of outdoor package lockers, at the National Apartment Association's expo and education conference in June. The response, she said, was huge, with a jam-packed booth throughout the event.
"It was incredible. People around us actually came up to us at the end of the show and said, 'What was going on with your booth? You had so many people there the entire time,'" said Torres, explaining that there was a lot of interest because there is considerable need.
"We actually have a lot of orders that have already come in, located all across the nation. The one in front of me right now is in Georgia," she said.
She's preparing to deploy the first orders for the refrigerated lockers at the end of Q4 this year.
Parcel Pending's refrigerated lockers will mostly be installed near banks of conventional electronically controlled package lockers. Both types of lockers can be unlocked using Parcel Pending's mobile app or by keying into the kiosk a delivery code sent along with a delivery alert via email, voicemail or text message.
The lockers maintain temperatures between 35 degrees and 40 degrees and are ideal for accepting food, beverages, medicine, flowers or any other deliveries that require some degree of refrigeration, said Torres.
The company has the ability to remotely monitor all of its locker systems in real time to see if the lockers are occupied and to help the resident or property manager with any package management issues, like a misplaced delivery.
"It's live data, real-time data, so we're able to see all the transactions and the activities that happen with remote software," said Torres, adding that the reporting model that keeps track of all that data was recently upgraded and enhanced.
"With a product like ours, you have to continue to innovate," she said.
What has driven Parcel Pending's impressive growth?
"I really believe it's our outstanding customer service. The experience that our customers have had with Parcel Pending has contributed to that growth and also online shopping has continued to grow by over 10 percent a year, so there's a need for this solution," she said.