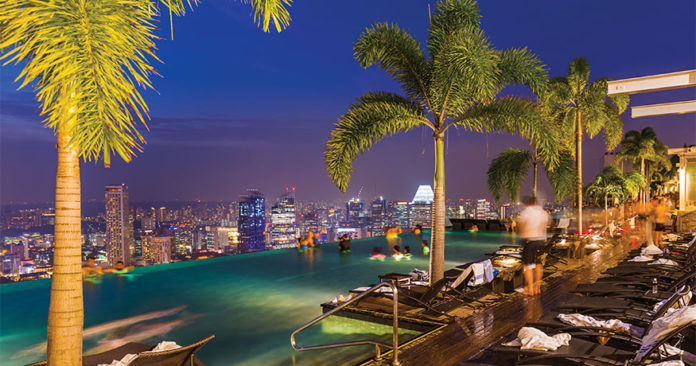 Developers are working overtime to squeeze outdoor amenities into their new apartment buildings, even in urban neighborhoods where the only place to put an outdoor amenity would be on a rooftop.
"You can't build a community without outdoor space," says Alicia Scott, vice president of design for LMC, a Lennar Company, an apartment community builder. "Even in mid-rise and high-rise product, it is not wise to create a building without outdoor space."
Developers are making room for amenities like dog runs and swimming pools—sometimes on the rooftops of urban high-rise towers. These spaces can be expensive to build, but have proven to be very valuable to renters.
"As apartment units have gotten smaller, the need for outdoor spaces has gotten stronger," says Matthew Whalen, senior vice president for AvalonBay Communities, a multifamily REIT.
Roof decks appeal to renters
More than half of renters (56 percent) said that they "interested" or "very interested" in rooftop space, according to the 2017 NMHC/Kingsley Renter Preferences Report, a survey released this fall by the National Multifamily Housing Council (NMHC). (The survey did not ask about rooftop space in 2015).
At Avalon Yonkers, on the Hudson River waterfront in Yonkers, N.Y., the community includes two roof decks, where resident can enjoy watching the sunset over the Palisades park across the water in New Jersey. These roof decks are compact, with just 400 to 600 sq. ft. of space apiece. The rest of the rooftop is divided from the decks by trellis plantings and landscaped hedges.
"It really feels like you're sitting in a garden," says Whalen. "The last thing you want to see is a lot of air conditioners."
These rooftop decks are expensive to create—even small roof decks like those at Avalon Yonkers need to be served by the building's elevators so that people with disabilities can use the amenity.
"Roofs are just now starting to be used as amenities, but there are many impediments, such as zoning laws, weight restrictions," says Steven Cantor, a landscape architect. "It's difficult to make them accessible and useable if they are not built to support people from the beginning."
Developers also need to make sure to avoid water leaks and rooftop noise. "We elevate a deck over the roof and install sound attenuation to avoid vibration or anything that could cause noise into the apartments," says Whalen.
The Marlowe, Lennar's new mid-rise building in Chicago, will also include a rooftop dog run, with a heated shelter for the pet owners. Pet amenities are an increasingly important kind of outdoor space. Over 68 percent of LMC's residents have some kind of pet. "At the Marlowe you're seeing the evolution of the dog spa. It used to be a small, concrete space in a garage," says Scott.
The swimming pool
Swimming pools are still the one of the best amenities an apartment community can have. "The first amenity is the pool area, especially in the suburban setting," says Whalen. "I have always heard from our residents that the outdoor pool space is important."
The vast majority of renters (82 percent) are "interested" or "very interested" in swimming pools, according to the Kingsley report. That's down only slightly from 2015, the last time Kingsley surveyed renters.
That's true even in cold climates, like the New York City suburbs where Whalen is most active. At Avalon Great Neck, for example, the developer has created an infinity pool overlooking Long Island Sound. "It feels like you are at the W Hotel or the Ritz Carlton," says Whalen.
The latest generation of outdoor pools is becoming more like the swimming pools in luxury hotels. "In the past, we did not have the focus to try to match hospitality-style amenities," says Whalen.
Sometimes that means lifting a swimming pool up to the rooftop of a midrise or high-rise building. LMC is now building swimming pools on the top of mid-rise and high-rise buildings. A few years ago, LMC might have put a pool closer to the ground, on top of a parking garage. The extra cost to moving the pool higher can range from $500,000 to $1 million, according to Scott. However, residents value the views offered by their rooftop pools.
Meanwhile, the roof decks themselves are getting fancier finishes. "Roof decks are evolving. With trellises and furniture and heating, they are more like living room spaces," says Scott.
Author Bendix Anderson, NREI online