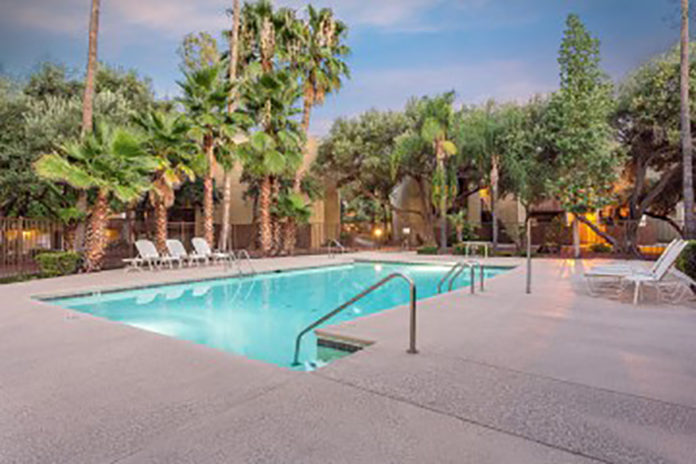 Institutional Property Advisors (IPA), a division of Marcus & Millichap, announces the sale of River Oaks Apartments, a 300-unit apartment complex in Tucson, Arizona. The $20.5 million sales price equates to $68,333 per unit.
"The previous owner repositioned the living spaces of 20 units, and as result achieved a higher monthly rent premium," says Hamid Panahi, first vice president investments. "The success of these improvement programs facilitates the opportunity for new ownership to continue implementing select interior finish upgrades, capitalize on resident demand and maximize revenue."
Panahi, Steve Gebing, senior managing director, and Cliff David, senior managing director, represented the seller, HSL Properties, and procured the buyer, Stoneweg.
Located along East Broadway Boulevard, River Oaks is surrounded by the Central Tucson Office Corridor, a nearly five million-square-foot concentration of office space. The corridor is home to the Williams Centre and 5151 East Broadway office complexes and major Tucson employers such as ASARCO Mining, 3M Motor Vehicle Systems, and IBM.
Broadway Plaza, a 331,550-square-foot shopping center is directly across from the property, and the Broadway Corridor, a one-million-square-foot stretch of retail is nearby. Completed in 1982, River Oaks features a mix of studio, one-, and two-bedroom apartment homes with a weighted average unit size of 707 square feet.
---
About Institutional Property Advisors

With a network of senior-level investment advisors located throughout the United States, Institutional Property Advisors (IPA) is qualified to meet the needs of institutional and major private investors. IPA's combination of real estate investment and capital markets expertise, industry-leading technology, superior support services and acclaimed research offer customized solutions for the acquisition and disposition of institutional properties and portfolios.