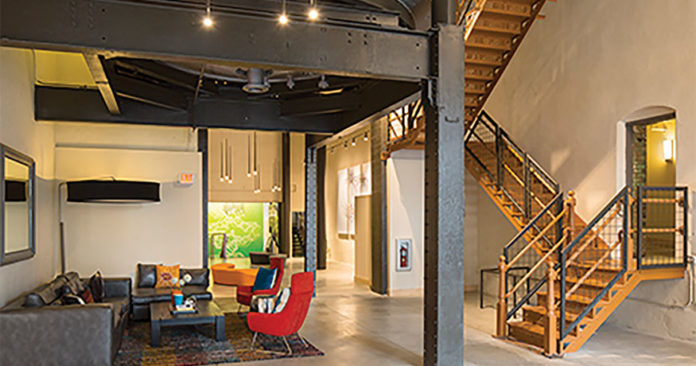 These adaptive reuse projects are often costlier than new construction and fraught with challenges, but the consensus among developers is that the reward is worth the risk.
"It's economic development," says Nick Anderson, a developer with Plymouth, Minn.-based Dominium. "Converting these historic structures into apartments is very labor-intensive, so the projects generally create a lot of construction jobs. The properties themselves become their own little communities and can have a catalyzing effect on the surrounding neighborhood."
Preserving history
Dominium completed construction of Millworks Lofts in Minneapolis last year. The 78-unit affordable housing property was 100 percent leased prior to opening its doors in August, says Anderson. The building, which dates back to the 1920s and was formerly home to Lake Street Sash & Door Co., is on the National Register of Historic Places.
Dominium purchased the vacant building in 2016 and financed the project using both federal and state historic tax credit equity. All major design decisions had to go through both Minnesota's State Historic Preservation Office as well as the National Park Service. Preservation officials look to ensure the integrity of the building is maintained and showcased, according to Anderson. In this case, Dominium preserved original windows, removed paint from the exterior brick to expose the original shell and restored the shed building.
Because Dominium has used affordable housing tax credits in the past, it was an easy and logical transition to the historic tax credit program for the company, according to Anderson.
"Typically, we've been most successful at finding projects that work from a financial feasibility standpoint if the state has a historic tax credit that is in addition to the federal credit," says Anderson. "We've done a fair amount of this work in Minneapolis and St. Paul, and we also have a handful of projects in St. Louis. We see it as a great opportunity because you get to preserve the historic fabric of the neighborhood and wider community."
Attracting creative residents
BKV Group, a design firm with offices in Chicago, Minneapolis and Washington, D.C., has worked with Dominium on major projects. A big focus of the duo's work has been the transformation of warehouses into artist lofts targeting painters, sculptors, musicians and dancers. One of the buildings was Jacob Schmidt Brewery, which ceased operations in St. Paul in 2002. Dominium unveiled Schmidt Artist Lofts, a collection of 247 affordable housing units, in 2014.
"The project was extremely challenging," recalls Michael Krych, a partner with BKV Group. "The main brewhouse had 26 different buildings that had been added over time and each had been designed for a specific function of brewing. But now, the project is the centerpiece of that neighborhood."
In Minneapolis, the Pillsbury A-Mill was one of the first mills on the Mississippi River. It closed in the early 2000s after 50 years of flourmill use and was the 11th most endangered historic project in the nation at the time, according to Krych. Now, A-Mill Artist Lofts is 100 percent occupied with a waiting list. Artists enjoy studio space as an amenity, as it enables them to live and work in the same place.
BKV recently worked with developers Exeter Group and Nelson Construction & Development to complete Residences at Custom House in St. Paul. The 763,000-square-foot, 19-story building was formerly home to the city's post office. A Hyatt Place hotel now occupies the base of the building with luxury rental units above. A rooftop terrace includes a pool, spa, outdoor kitchen, lawn bowling and fire pits.
No architectural firm has done more adaptive reuse projects in the Minneapolis area over the last six to eight years than BKV, says Krych. When Minnesota started matching the 20 percent federal historic tax credits for construction costs, these types of projects really started to resonate more with developers, he adds.
"In Minnesota, you can get a 40 percent tax credit. These older, historic buildings are really expensive to save, fix up and salvage, so this became a vehicle to actually be able to do it," says Krych.
One reason the Midwest is well suited for these types of projects is the large amount of industrial warehouses that were constructed in the region in the early 1900s, according to Krych. These buildings have become difficult to use for their original manufacturing intents and sit vacant and obsolete.
From an architectural perspective, a fairly common approach to designing these redevelopment projects is to distinguish or contrast what's historic with what's new.
"You have to be creative to see the potential in these buildings, which might not be immediately evident," says Krych. "The opportunities might be in how you connect really difficult spaces and make something better than it was before."
Overall, adaptive reuse projects account for about five to eight percent of BKV's book of business, a figure Krych describes as significant.
"We're certainly looking to continue to have this be a thriving part of our business," he says. "They're really great projects to be a part of. It's nice to restore these elements of our past so that they're with us for another 100 years."
Benefits outweigh costs
Jonathan Holtzman, chairman and CEO of Farmington Hills, Michigan-based City Club Apartments LLC, strongly believes in the importance of adaptive reuse. It's as simple as choosing the recycling bin over the trash can.
"No matter how good a new building is, it's never as green as restoring, renovating and repositioning a historic one," he says.
Adaptive reuse projects present plenty of challenges, including environmental, structural and mechanical issues, but with great risk comes great reward. Holtzman has completed approximately 20 historic projects since the early 1980s, mostly converting older office buildings into apartments, and says that the returns on project costs are 50 to 150 basis points higher than returns on project costs for ground-up developments.
Financing for these types of projects is rather substantial and complicated, but there are plenty of talented developers, tax accountants and tax lawyers that know how to navigate the tax credit programs, says Holtzman.
"You have to understand that you qualify for the tax credits once the project is completed," he adds. "You have more risk in the development, construction and putting together the financing, but those risks will be rewarded if you're able to deliver on what you said you would."
The recently completed City Club Apartments–Cincinnati now occupies the site of the former 309 Vine building, which dates back to 1928 and was originally an annex to PNC Tower. In addition to luxury apartment units, the property features a 10th-floor restaurant and food market. A sky park on the 11th floor includes an outdoor movie wall, lounge seating, gourmet kitchen and grills.
The 20-story Fisher Building in Chicago is now home to Fisher Building City Club Apartments. A selection of studio, one-, two- and three-bedroom floor plans are available, along with a clubroom and fitness center.
Lucius Fisher, president of the Union Bag and Paper Co., commissioned D.H. Burnham & Co. to design the original office building, which was completed in 1896. The building was named to the National Register of Historic Places in 1976.
MDA City Club Apartments, also in Chicago, took over the former Medical Dental Arts Building, a 1920s office complex designed by Daniel Burnham Jr. Chicago-based Hartshorne Plunkard Architecture (HPA) worked with Holtzman and his team on the project, which now includes 190 luxury apartments, retail and office space.
Notable features include the transformation of a medical demonstration auditorium into a leasing office, fitness room and movie theater. In addition, a resident lounge and study area extends out to the sky park on the 24th floor roof terrace, which offers views of both Lake Michigan and Millennium Park.
"It's always easier to work with someone you've worked with before because they understand the challenges of these buildings," says Paul Alessandro, a partner who leads HPA's preservation team. "People who step into this market for the first time are often surprised at how difficult and long the process is."
HPA also worked on Randolph Tower City Apartments in Chicago. In the early 2000s, pieces of the terra cotta facade started to fall off the 42-story building and onto the street. The terra cotta exterior was in danger of crumbling completely, according to Alessandro.
First on the project checklist was securing the exterior, nearly dismantling all the terra cotta and reinstalling it with new anchors. HPA was able to find the original terra cotta fabricator, which devised a manufacturing process to produce new material that looked exactly the same, says Alessandro. Once home to a German social club and ballroom, the building featured a lot of interior finishes that were necessary to retain due to their historical significance.
"There are about 50 or 60 different floor plans because we had to squeeze everything in around the historic aspects," says Alessandro. "It became quite a puzzle to put it back together."
Working around existing building structures is the biggest challenge for adaptive reuse projects, in Alessandro's view.
"You don't have the ability to make an optimum floor plate or column spacing. You're often dealing with antique structural systems, which are not necessarily up to current code, and buildings that have been neglected or have hidden damage. You've got to be prepared to make design changes on the fly," he says.
Another important design consideration, according to Alessandro, is to keep in mind that these buildings were once modern.
"If you choose to look at them like museums, you're going to get yourself in trouble," he explains. "The work you do has to recognize the historic nature of the building, but also set itself apart from that so it's clear what is old. If you've done your job correctly, the seams between the old and the new vanish."
Uniqueness abounds
Despite design and development challenges, the opportunity lies in creating unique units that can't really be replicated with new construction methods. David Block, director of development for Chicago-based Evergreen Real Estate Group, notes that adaptive reuse projects carry historic character throughout, whether it be via old windows, ceiling heights or materials.
These projects have always been popular, says Block, but the current wave of development may be a response to millennials and their preference for authenticity—the type of character you can create in a historic building but that would be difficult to accomplish in a new property.
Evergreen is redeveloping the former Blommer Ice Cream Co. factory in Milwaukee into an apartment property called Legacy Lofts. The building, originally constructed in 1910, will be transformed into 38 apartment units. Evergreen will pair the project, slated for completion in August 2018, with the new construction of 26 additional units.
In Batavia, Illinois, Evergreen is completing The Campana, which involves the redevelopment of a former hand lotion factory into 80 apartment units. Using both historic and affordable housing tax credits, 80 percent of the $30 million project's units will be designated as affordable housing. Unique to this project is the building itself, which was made entirely with glass block and therefore has no traditional windows. Evergreen hopes to break ground on the project in spring 2018.
In addition to architects and state historic preservation offices, Block likes to collaborate with historic preservation advocates. Organizations such as Landmarks Illinois are advocates for saving historic buildings.
"There are people in these communities who are very passionate about preservation. We are natural allies. We like to harness their passion and enthusiasm to make really good projects and spread the word," says Block.
Holtzman of City Club Apartments echoes that sentiment.
"This is not a politically charged issue. It has the support of all factions," he says. "Add on the green movement and tax incentives, and there's just no reason that an important historical building should be torn down today. It's a complete shame and it shouldn't happen."
Author: Kristin Hiller