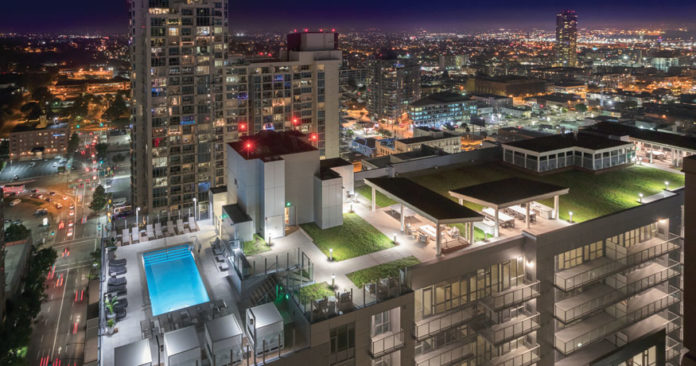 The Rey
The 478-unit The Rey, named Community of the Year and awarded the title of Best High-Rise Community, represents Wood Partners' and The Berkshire Group's entry into downtown San Diego and exemplifies the partnership's focus on infill locations in core, urban and gateway cities.
The 22-story high-rise's development saga began in 2004, with an entitlement effort for construction of a two-tower, 939-unit condo community on a largely vacant block between the 34-story Symphony Towers hotel and office building and the 40-story Vantage Pointe apartments. The project named Blue Sky was approved 2006, but the deal was derailed by the Great Recession.
The project remained dormant until it was revived February 2013 with an updated approval for 959 apartments by Civic San Diego.
Wood Partners and partner Berkshire Group took over the project about a year later, changing the name from Blue Sky to The Rey (Spanish for "the king") and broke ground on the 1.38 acre parcel in November 2014. Because Wood Partners acquired the deal after it was entitled, the developer was somewhat limited in the ability to change the design of the building, focusing instead on re-imagining the rooftop experience and providing upscale amenities.
The development partnership re-engineered the 18,000 sq. ft. green roof to be raised on pedestals, forming a shaded area for residents, creating the largest amenitized roof in Downtown San Diego, which features a resort-style pool and poolside cabanas, private lounge areas, barbecue stations, a kitchen area, beverage coolers and picnic tables.
The company also converted a space that was originally designed to accommodate two apartment units into a two-level fitness facility and focused on technology offerings, including free WiFi and boosted cell service. Other features at The Rey, which was completed last May, include package lockers, trash chutes that sort out recyclables and a lobby lounge with a bar area, a coffee bar and a video wall.
The community that was designed by CCBG Architects, Inc., features studios, one- and two-bedroom apartments with energy-efficient lighting, walk-in closets, wood-style plank flooring, and washers and dryers.
Wood Partners and Berkshire have approval to develop another tower on the site on a field that currently serves as a parking area.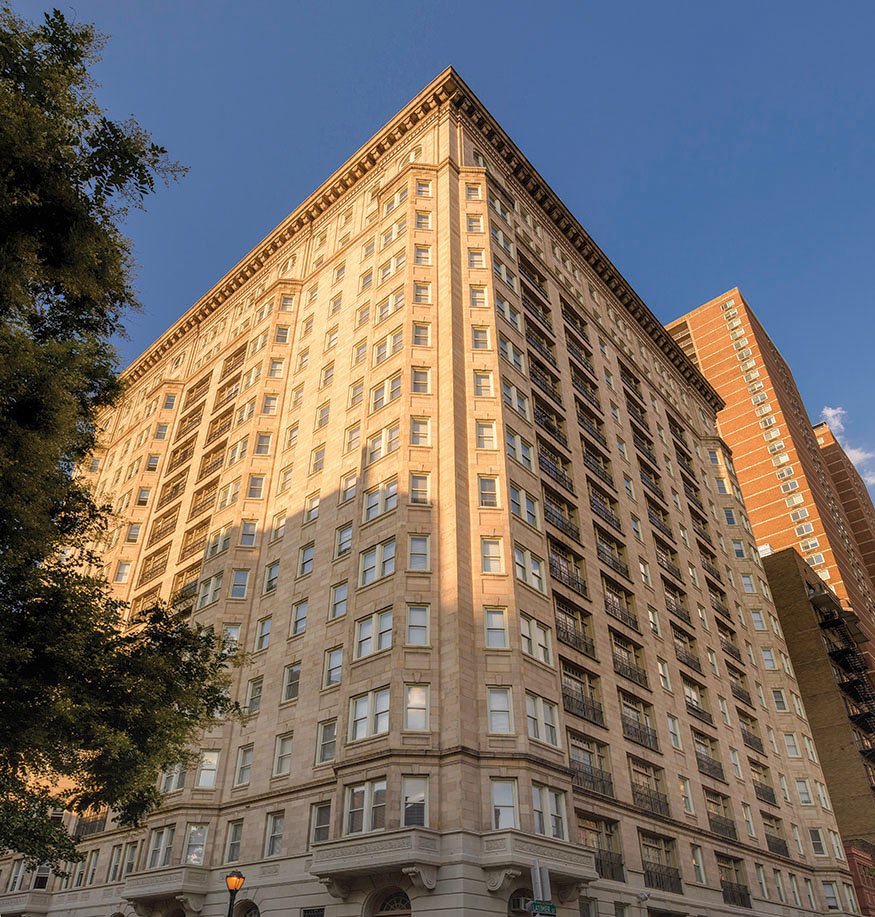 The Versailles
The Versailles, the 111-unit apartment community that took home the Pillars award for best repositioning of a multifamily asset, also features a rooftop oasis that includes a lounge, fireplace, barbecue, an outdoor movie screening area and a dog park.
The green roof that overlooks Philadelphia's skyline was added to the high-rise by Alterra Property Group, which acquired the 112-unit historic building in Q4 2014 and, with architect Barton Partners, began renovation of the Beaux Arts-style structure the following year.
Built in 1921, the 16-story multifamily community consists of two towers rising above an interior service courtyard. Originally each floor had one lavish apartment with an intercom system to summon the servants located in quarters on the top floor. Over the years, the apartments were reconfigured or divided into smaller units and the property lost its grandeur.
Barton Partners sought to recreate the old-world charm of the asset, while supplementing the structure with modern amenities. The one-, two- and three-bedroom apartments were reconfigured to create a feeling of spaciousness and spruced up with random width, solid, natural finish walnut floors, stainless steel appliances in the kitchens, contemporary Shaker solid wood kitchen cabinets and white wood slat window treatments.
The servants' quarters were demolished to create a lounge, business center, conference rooms, demonstration kitchen, yoga studio, media viewing room and a sky bridge.
The basement was renovated to house a fitness center and a children's play room. Marble flooring, a mail area and package room, a concierge desk and a branding wall with waxed steel detailing were incorporated into a double-height lobby.
The historic plaster wall details, columns and capitals and barrel-vaulted ceiling in the corridor connecting the north and south towers were retained and the building's exterior limestone, painted by a previous owner, was restored to its original elegance.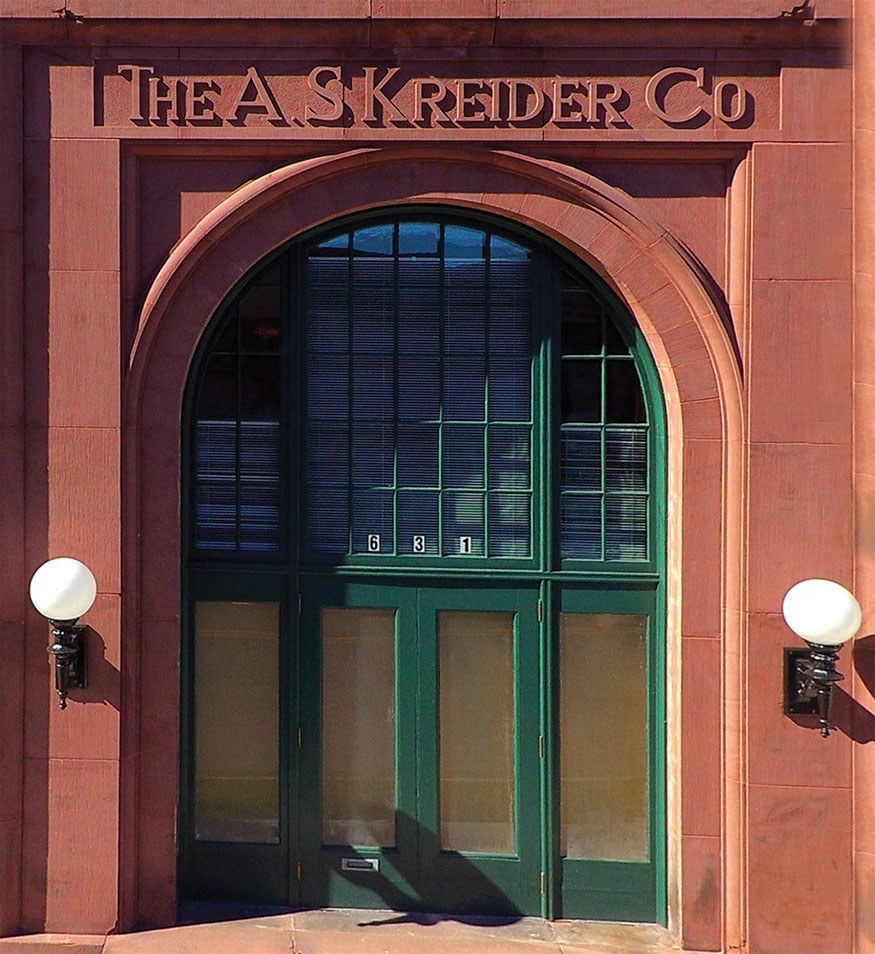 Kreider Commons
Kreider Commons, winner of the award for the best affordable community of 100 units or less, also is an example of a historic restoration of a 100+-year-old landmark.
The community is the The Woda Group, Inc.'s adaptive reuse of the six-story former A.S. Kreider Shoe Company's manufacturing and warehouse building in Lebanon, Penn., not far from Philadelphia. It includes 50 one- and two-bedroom apartments for seniors aged 62 and older.
The 113-year-old Kreider Building served as home to Hermann Handkerchief, Lebanon Dress Company and other businesses in the years after the shoe company closed in 1954. It was more recently occupied by marginal businesses that required no heat, water service or electricity until The Woda Group bought it in 2015.
Designed by Marks Thomas Architects, the six-story heavy timber and brick building recently earned LEED Platinum certification. It features a community room with a kitchen, library, computer room, grandchild room and a craft room. The apartments include energy-saving windows, Energy Star appliances and individually controlled heating and cooling systems.
Arcade Apartments
The 282-unit mixed-income Arcade Apartments, winner of the Pillars award for the best affordable apartment community of more than 100 units, narrowly escaped the wrecking ball. Dominium Development, winner of the award for multifamily development firm of the year, bought the century-old former shopping arcade from the St. Louis Land Clearance for Redevelopment Authority in the summer of 2014.
Named for the spectacular two-story interior rib-vaulted shopping arcade that runs the length of the building, the 18-story historic structure was designated a city landmark in 1980 and listed in the National Register of Historic Places in 2003. It was once the world's tallest reinforced concrete building and housed posh retail merchants and jewelers on its first six floors while doctors, dentists and prominent St. Louis corporations occupied the offices on the upper stories. Today it is home to 202 affordable artists' lofts and 80 market-rate apartments.
The Arcade's first two floors and mezzanine include classrooms for Webster University, a community kitchen, a street-level art gallery and a 170-seat auditorium. The marble hallways and other original architectural flourishes of the structure were refurbished during the restoration that was designed by Ebersoldt + Associates Architecture.
The apartment community also features 11,000 sq. ft. of shared studio space, an artist lounge and galleries located on various floors, where residents can showcase their talents. A performance studio with cushioned hardwood flooring, soundproof music practice rooms, sound attenuated music and multi-media studios, a photography studio, a large paint studio and a flex studio with a pottery kiln are among the arts-focused amenities.
Residents share a rooftop terrace with an indoor clubroom, a pub room with a billiard table and catering kitchen, a fitness center with a steam room and yoga studio.
Apartment features include granite countertops with island kitchens, polished concrete flooring, washers and dryers, over-sized windows, high ceilings and generous storage.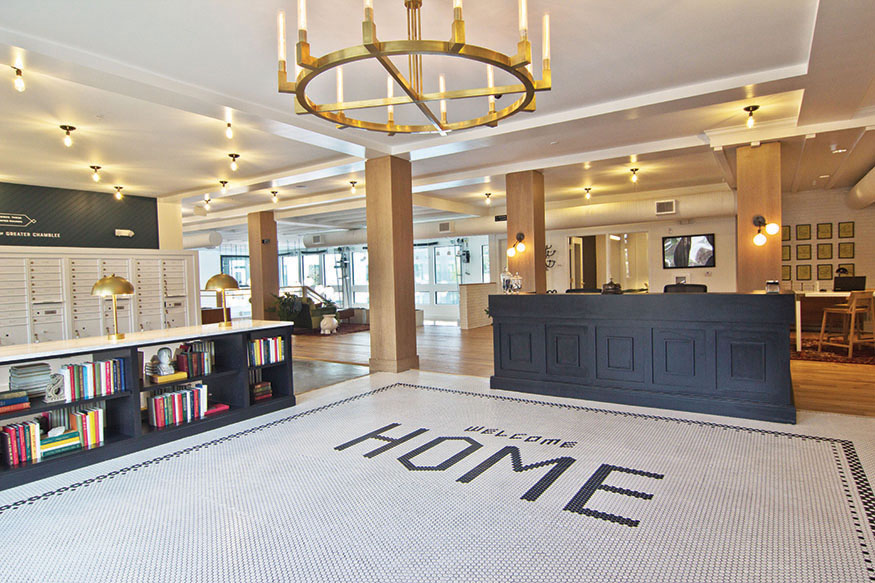 Olmsted Chamblee
The arts also are a focus at the 283-unit Olmsted Chamblee Apartments, winner of the award for best low-rise, non-garden apartment community of five stories or less.
Completed last August in Chamblee, Ga., about 20 miles northeast of downtown Atlanta, across the street from a MARTA rail station, the four-story community includes a stadium-style area with raked seating for art and photography classes and a workshop outfitted with tables and sinks for art or DIY projects.
Developed by CF Real Estate Services, Olmsted Chamblee has proven to be a catalyst for new development in an area that just a few years ago was defined by strip centers, warehouses and sprawling parking lots.
A 37-foot wide rooftop marquee sign that illuminates the city's name in five-foot-tall letters is visible from a mile away, bringing attention not only to the apartment community beneath, but also to the vibrant new neighborhood taking shape around it.
The boutique hotel style Olmsted Chamblee offers amenities that include co-working spaces with a selection of WiFi providers and private offices that may be rented by both residents and outside entrepreneurs. Other community-focused features include a pool with hammocks, outdoor grills and smokers, an indoor bocce ball court, a movie room, a community kitchen and a mail room lounge with a vintage-look tile floor.
The one-, two- and three-bedroom apartments have granite countertops, Nest thermostats, large closets and energy-efficient appliances. The creative design for the project, for which Niles Bolton Associates is architect of record, was led by CF Real Estate Services' development director Brett Oliver.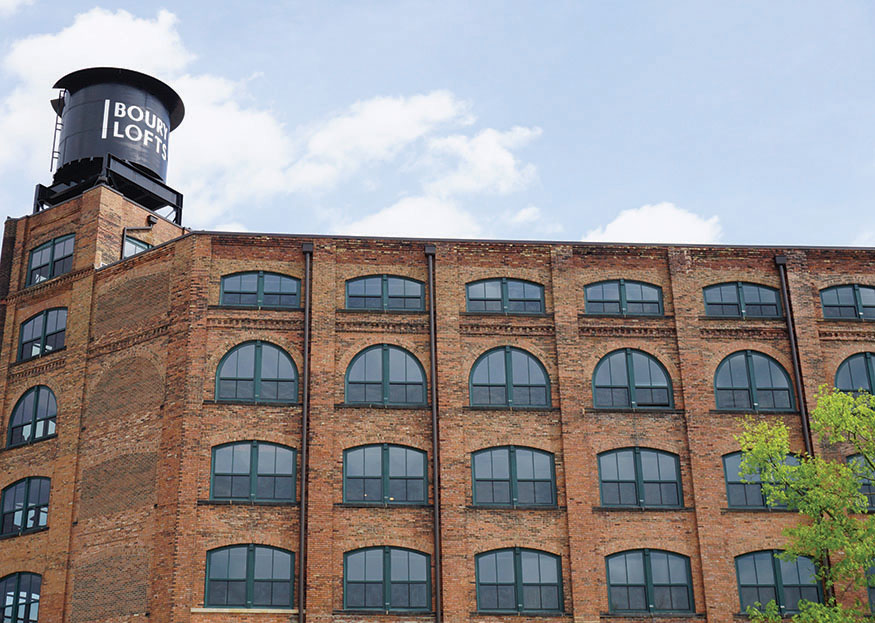 Boury Lofts
The 73-unit Boury Lofts in Wheeling, W. Va., winner of the award for best adaptive reuse from a non-residential product to rental apartments, was also a winner last October of a Preservation Alliance of West Virginia award for the best use of historic tax credits.
The 120 year old, six-story wood and brick Boury Building was home to a biscuit factory, a grocery company, wool and ginseng exporters, coffee roasters and several other businesses before its final industrial use as cold storage. It was one of the largest vacant buildings in downtown Wheeling in late 2015 when it was purchased by The Woda Group, Inc., which transformed it into an apartment community offering one, two- and three-bedroom lofts.
The Woda Group, which had worked with Wheeling's Regional Economic Development Partnership (REDP) in the past, was invited by that agency to transform the Boury Building into a mixed-use community that includes first-floor commercial space leased by the Wheeling Nailers, an East Coast Hockey League affiliate of the Pittsburgh Penguins NHL team.
Boury Lofts is an ideal location for the ice hockey team, located right across the street from the WesBanco Arena, so the team can walk to and from practice and games.
Boury Lofts, which was designed by The Mills Group architects, also includes living quarters and a community media room for the team that is owned by the REDP.
In addition to the space leased by the Nailers, the community includes 50 market-rate and 13 affordable apartments, a reception area, a gymnasium and a coffee bar.
El Monte Veterans Village
Two new award categories were added this year to the roster of development types – Best Military or Veterans Housing and Best 55+ Multifamily Community.
The military housing award went to the 40-unit El Monte Veterans Village, designed by TCA Architects and developed by Mercy Housing to house formerly homeless veterans in El Monte, Calif., about 17 miles east of Los Angeles.
The residents of the apartment community that was completed in late 2014 pay just 30 percent of their incomes to live in the fully furnished studio apartments. They enjoy amenities that include a community room, barbecue area and outdoor stone fireplace, an orchard and a community garden. The community's location provides proximity to the employment opportunities in the greater Los Angeles area, which has the highest concentration of homeless veterans in the country.
New Directions, in partnership with the Veterans Administration and local agencies, provides on-site case management services, health and wellness programs, benefits claims assistance and substance abuse recovery support.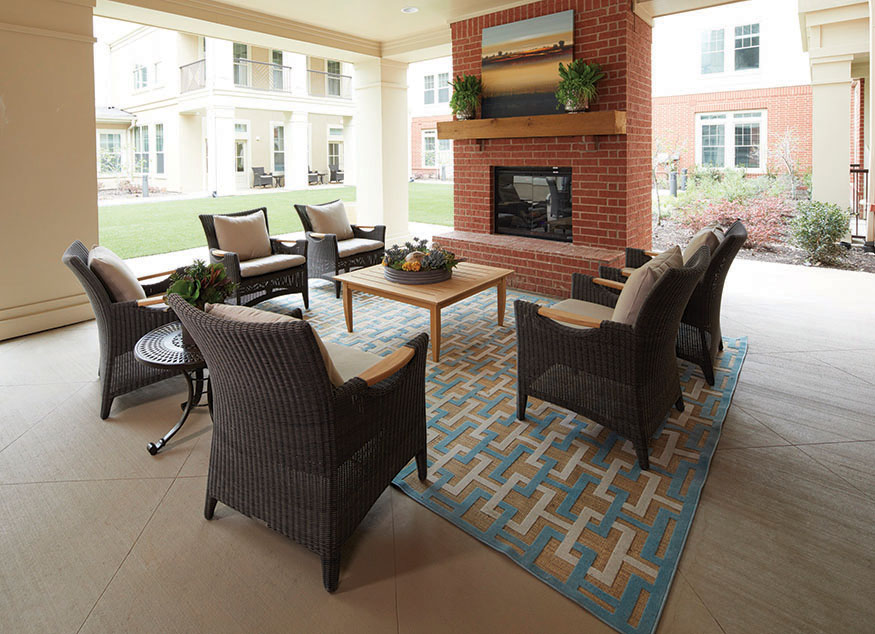 Watermere at Frisco
The 370-unit, two-building Watermere at Frisco walked away with the award for the best 55+ multifamily community.
Designed by ARRIVE Architecture Group, LLC, and developed by Integrated Real Estate Group in Frisco, Texas, the independent living retirement community features two elevated roof decks over parking garages and three ground-level courtyard spaces where residents can congregate and enjoy outdoor fireplaces and fountains. Other amenities include a fitness center, theater, café, salon, wine bar and a guest suite for visiting family and friends.
The open-concept design of Watermere's common areas enhances the feeling of community, while the units' large balconies and dozens of covered terraces make it easy for residents to enjoy being outdoors.
Dining and housekeeping service plans allow the residents of the one-, two- and three-bedroom apartments to tailor their services to their lifestyles, rather than paying for services they don't need.
The four-acre campus also is home to an assisted living and memory care facility, providing residents with the opportunity to age in place.
Other winners of the "Best of" awards in the developer categories that were announced during a luncheon at the NAHB International Builders' Show in Orlando, Fla., on Jan. 9 are:
The Flats at Big Tex for Best Garden Apartment Community of four stories or less, designed by Alamo Architects and developed by The NRP Group
Anthology for Best Mid-Rise Apartment Community of six to nine stories, designed by Hord Coplan Macht architects and developed by Jair Lynch Real Estate Partners
Brambleton Town Center for Best Condominium Community, designed by Lessard Design and developed by Knutson Companies
The Summit at University City for Best Student Housing Rental Apartment Community, designed by Solomon Cordwell Buenz and developed by American Campus Communities
Pike Motorworks for Best Mixed-Use Community, designed by Weber Thompson and developed by The Wolff Company.