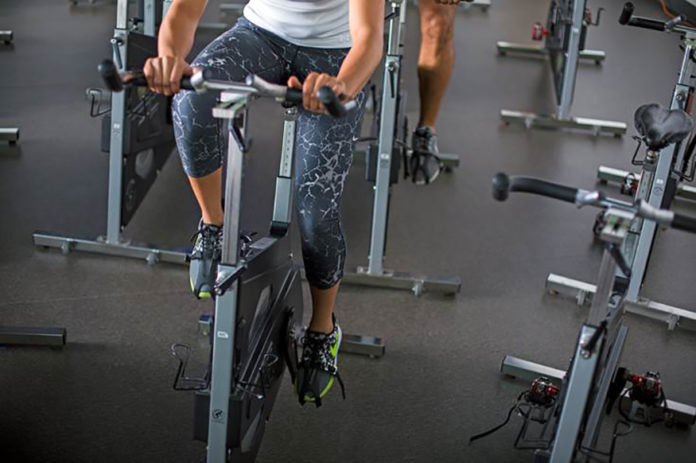 Ecore, a company that transforms reclaimed materials into performance surfaces that make people's lives better, offers its newest commercial product: Strait Rx. Part of Ecore Commercial's Rx Collection, Strait Rx is an ergonomic, low-maintenance, hygienic and sound absorbent surface available in six modern finishes that resemble linen.
"Like the entire Rx Collection, Strait Rx is a high-quality surface with unique features that are designed to reduce the risk of injury associated with falls, while also offering sound control and comfort underfoot," said Bo Barber, Vice President of Sales and Marketing for Ecore. "Leveraging Ecore's patented itstru technology and fusion bonding technique, this product is quieter, safer and more ergonomic than traditional commercial flooring options."
Strait Rx features 5 millimeters of Ecore's vulcanized composition rubber backing fusion-bonded to a modern heterogeneous vinyl sheet from Polyflor. The high-quality, cross-linked polyurethane reinforcement (PUR) provides a polish-free maintenance regime for the entire lifetime of Strait Rx, ensuring a floor that looks clean and fresh with little to no upkeep. The product is hygienic as a result of its heat-welded installation.
Strait Rx is an ideal flooring solution for healthcare, senior living spaces, hospitality, multifamily, education facilities, and any area expecting heavy commercial use.
---
About Ecore
Since 1871, Ecore has been transforming reclaimed materials into performance surfaces that make people's lives better. What started with simple cork closures has evolved into a diverse portfolio of products solving complex problems in applications ranging from playgrounds, weight rooms, and turf fields to hospitals, hotels, and retail environments. Ecore is driven every day by a simple question, "Can a floor do more?" YES. At Ecore, we create products based on the simple notion that floors should elevate beyond current expectations. Ecore's energy is focused on the interaction between people and the surface. As a result, we engineer performance well beyond industry standards related to acoustics, ergonomics, and safety. Harvesting the unique power from a myriad of waste streams, Ecore creates products that align–substantial force reduction with a balanced amount of energy return to create dynamic surfaces that are catered to the individual and the application.

Ecore serves the athletic, fitness, healthcare, hospitality, corporate, multifamily, education, and public space markets. To learn more, visit www.ecoreintl.com.