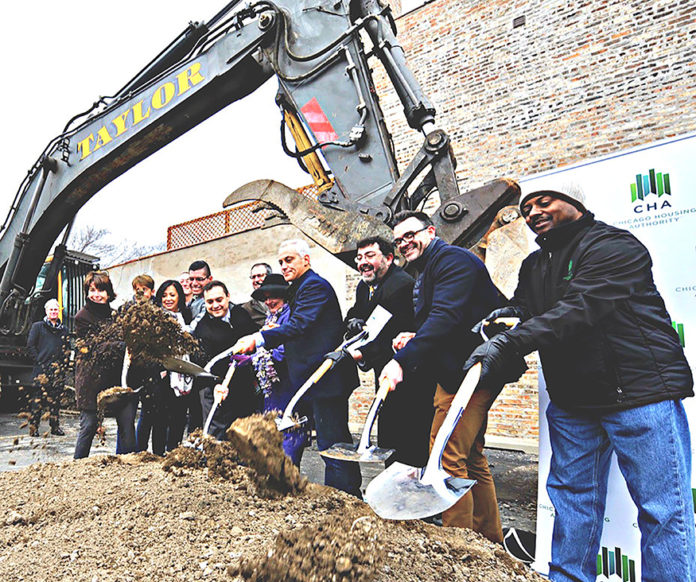 Evergreen Real Estate Group recently celebrated the groundbreaking of two co-located housing and library projects it is developing in partnership with Mayor Rahm Emanuel, the Chicago Housing Authority and Chicago Public Library. City and elected officials joined community residents and development partners on Jan. 28 to mark the beginning of construction.
"We are grateful for the vision of Mayor Emanuel, Chicago Housing Authority Chief Executive Eugene Jones and Library Commissioner Brian Bannon and humbled by the opportunity to collaborate with them and other community stakeholders who have been instrumental in getting us to this exciting milestone," said David Block, director of development for Evergreen Real Estate Group.
One of the projects, the Independence Apartments and Independence Branch at 4022 W. Irving Park Road in Irving Park, was designed by John Ronan Architects. "Evergreen was thrilled to work with the West Walker Civic Association, the Old Irving Park Association, Greater Irving Park Neighborhood Association, Friends of the Independence Library and aldermen from Chicago's 45th, 39th, 35th, and 33rd wards to help realize the vision for a brand-new Independence Branch library coupled with much-needed affordable senior housing," said Block.
Designed by Perkins+Will, the second project is Northtown Apartments and Northtown Branch at 6800 N. Western Avenue in West Ridge. "We also were honored to have the opportunity to work with the West Ridge community and the library advisory committee, which was led by 50th Ward Alderman Debra Silverstein, to help bring vibrancy to this important corner across from Warren Park with the new Northtown Branch library," said Block. "The project is a creative solution for a mixed-use, mixed-income development that addresses multiple neighborhood needs in a single project."
Each development will provide a total of 44 senior apartments, including 30 public housing units and 14 affordable residences.
---
About Evergreen Real Estate Group:
Founded in 1999, Chicago-based Evergreen Real Estate Group is a fully integrated multifamily company that develops, acquires and manages affordable and market-rate multifamily apartments for both seniors and families across nine states. Evergreen specializes in thoughtful, creative residential development solutions in communities around the Midwest. From adaptive reuse of historic buildings to new development in cities and towns facing a shortage of affordable housing, Evergreen offers an experienced team of attorneys, architects, and developers to municipalities seeking to create high-quality apartment communities. Evergreen currently owns and manages 7,000 units of multifamily housing.