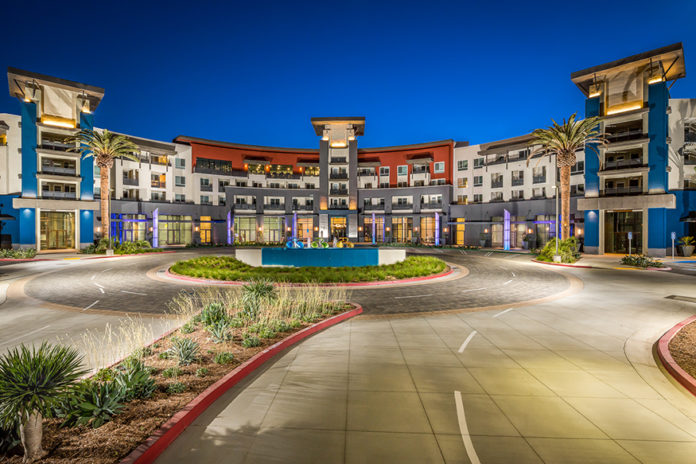 The Metro, a highly-anticipated mixed-use development in the center of the Main Street Corridor right off Highway 91 in Corona, California, has begun its final phase of leasing apartments. As a joint development between Wermers Properties and Watermarke Properties, The Metro features 286 units and over 70,000 square feet of commercial space. It is the first large-scale, luxury, transit-oriented development of its kind in the Inland Empire, linking residents with one of a kind amenities, while providing convenient access to retail and restaurants all at a prime location. The Metro is just walking distance to the MetroLink.
The Metro's completion marks the final phase of development after a series of multifamily projects were previously completed by Wermers Properties. The nationally-ranked General Contractor Wermers Multifamily Corporation built the residential portion. The previously-completed apartment projects include Artisan (404 units) which opened in 2013, and One11 (178 units), which began leasing in the summer of 2016. Combined with The Metro (286 units and completed in late 2017), Wermers built a total of of 868 residential units. The Metro will serve as the pinnacle of the three projects. The commercial portion of the project will include restaurants, lifestyle shops, offices and retail spaces, which will be opening throughout 2018. Currently signed leases include Starbucks Coffee, Z-Pizza Tap Room, Poke Cat, Burgerim, America's Best Eyeglass, Citibank, Organic Junkie, Paws at Main, Nail & Spa Today, D'Vine Mediterranean, Meraki Salon, and Union Barber.
"The Inland Empire gets a significant commercial and residential enhancement with the completion of The Metro. Residents will not only be able to enjoy premium living in an accessible location equipped with state-of-the-art facilities and amenities, but they will have at their doorstep an array of retail and restaurant options. The Metro offers more than just luxury living in the heart of Corona—it offers a dynamic and modern lifestyle surpassing anything available in the market," says Branden Wermers of Wermers Properties.
The Metro includes a contemporary aesthetic throughout the project with ultramodern gym facilities on the 5th floor, a dog park, wifi and game lounges, cabana lined pool and spa areas, as well as a rooftop deck with BBQs and expansive views of the San Gabriel Mountains along the horizon. Each apartment home comes equipped with a personal balcony/patio and energy-efficient Nest thermostat. The aparments boasts designer cabinetry, stainless steel appliances, wood plank flooring, quartz countertops, and large kitchen islands.
"The Metro is the final touch in revitalizing a key neighborhood of Corona. By giving residents the accessiblity and convenience of retail, restaurants, and transit, this development is sure to attract a community that sees its transformative qualities as an invitation to comfort and enjoyment," said Jeff Troesh of Watermarke Properties.