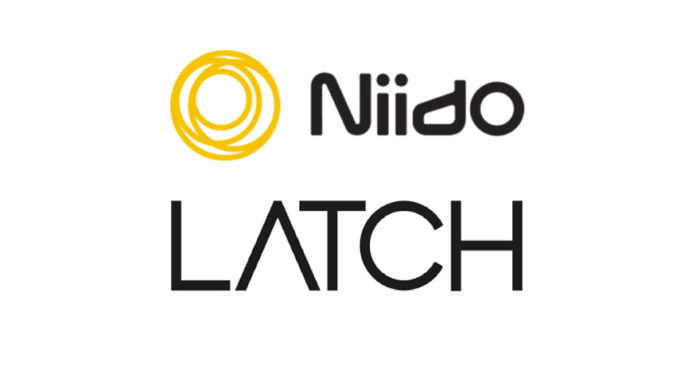 Niido powered by Airbnb, a residential community that supports and encourages home sharing, today announced its partnership with Latch, the first smart access system built for multifamily buildings, to create a sophisticated and seamless access experience for residents and guests.
Latch, the only smart access solution that is available for every door across North America, is working with Niido to ensure that residents and guests have the right access at the right time – a critical component of home sharing – using their mobile devices. When guests book their stays at Niido apartments, they will receive digital credentials which, upon arrival at the Niido buildings, will give them access to the apartment they booked and all the doors necessary to become part of the Niido community. This new technology simplifies the home sharing process and encourages the simple, safe and secure experiences that are central tenets of the Niido Powered by Airbnb brand.
"We are proud to be working with Niido to create a seamless access solution for its buildings," said Latch's co-founder and CEO, Luke Schoenfelder. "Safe and seamless access sharing is crucial to the success of home sharing platforms like Niido that represent the future of hospitality and modern living. We are excited that our products are enabling that future, beginning with Niido."
In October, Niido announced its partnership with Airbnb to build new apartment buildings optimized for home sharing and flexible living, with the first building going live in early 2018 in Kissimmee, FL. As part of this new community, residents will be able to share their units for up to 180 days each year and will have access to several tools provided by Niido, including a new app that is integrated with Airbnb to support checking-in and assisting guests during their stay.
"Niido is really excited to work with the visionary team at Latch to bring an innovative solution that provides convenience and security to Niido's guests and hosts," said Harvey Hernandez, Niido CEO and co-founder.
Latch products have been designed to make access easier for everyone in today's modern buildings. Latch has integrated Bluetooth, NFC and touchpad capabilities that are ideally suited to enhance the way people manage access to their homes, offices, and other shared spaces in urban environments. Users can unlock their spaces with their phone using the Latch app and can grant temporary access that can be monitored using embedded wide-angle cameras. Building managers can assign, manage, and audit access using state-of-the-art web platforms. Service providers and delivery companies can receive temporary access to buildings and residents' apartments to create a new level of convenience and comfort. Latch provides safe, convenient, smart access for every stakeholder at buildings.
---
About Latch
Latch is the creator of the world's first smart access system designed for enterprise users and delivery automation. The company was founded by a team of former Apple employees and has raised more than $26 million in private funding from leading investors and many of the world's largest real estate companies. Based in New York City, Latch is at the forefront of changing the user experience around access. Visit https://www.latch.com/

About Niido
Niido represents a major evolution of the home-sharing industry. The new concept – launched in a partnership between Airbnb and Newgard Development Group – empowers people to have access to the lifestyles they want in communities where they love to live, stay and prosper. Niido properties are the world's first technology-enabled, full-service residential buildings designed specifically to encourage, embrace and support home-sharing and flexible living. The properties feature thoughtfully conceptualized amenities, specially curated for the home-sharing experience. The first and only partnership of its kind with Airbnb, Niido will create extra income for tenants, revenue opportunities for landlords, and enhanced experiences for guests. More information is available at www.liveniido.com