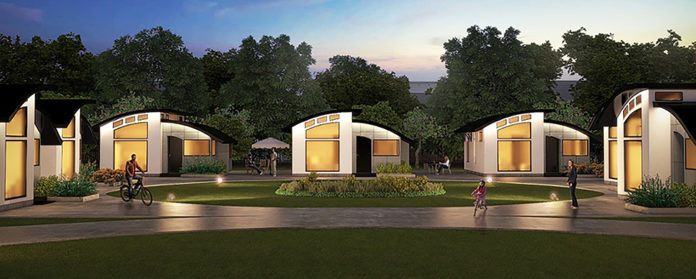 And so my obsession over Flex House, the newest concept-in-a-box (literally) which made its final on-tour appearance at CES in Vegas last month. Created by California-based modular housing company Shelter Dynamics, Flex House was a traveling prototype of a compact, ultra-smart net-zero home.
Flex House includes a fully integrated, advanced smart home system that streamlines energy use, serves as its own microgrid and produces all of its own energy. The micro house comes with state-of-the-art water conserving products and non-toxic, sustainable materials ensuring a healthy indoor space.
The 760-sq.-ft. unit is a pre-fab construction packed with smart home integrations and sustainability-minded fixtures including: Nexus eWater greywater recycling system, Rachio WaterSense smart irrigation controller that optimizes water use based on weather data, Sylvania smart lighting, Lutron smart shades, Wemo smart plugs, Sensi smart thermostat, and Kwikset smart lock –all integrated through Amazon Alexa, which is controlled by voice or app.
The uber-efficiency-focused design can also support charging an electric vehicle (60 PV panels from JinkoSolar, a battery system from Tabuchi Electric, and EV charging station from Bosch), as well as emissions-free landscaping using lithium battery-powered outdoor tools from Greenworks.
The unit includes a high-performance building envelope, and costs between $85,000 and $100,000 depending on the selected feature package. Many of these features could transfer to apartments, moving a property ever closer to the golden target of net zero.