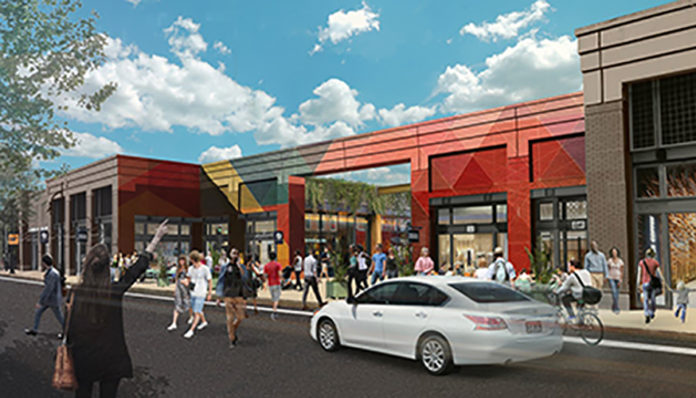 WRS, Inc. is pleased to share new renderings of their 4-block downtown re-development specifically the area located at the Southwest corner of Central and Alabama known as Kenny's Alley/Underground Atlanta mall. Featuring more than 150k square feet of retail, office and communal areas, construction on Block 3 began in January, four months ahead of schedule, and will be complete in 12-14 months.
"Underground Atlanta" is the historic location of the city's founding. At S9 Architecture, we are excited to be a part of its transformation into a vibrant, mixed-use neighborhood in the increasingly dynamic downtown area. Our design emphasizes the intangible yet important qualities of how people perceive and use space, and we hope this holistic approach will make the new Underground Atlanta project a memorable experience for residents and visitors alike," shared John Clifford, co-founding partner of S9 Architecture.
Design and architectural improvements have started and include:
The removal of the former Underground Atlanta food court along Central Avenue. This will open up the alley level to the street as shown in the above rendering.
WRS is opening up the "Exchange" building to Upper Alabama to provide more of an open-air connected corridor between Kenny's Alley and Upper Alabama.
Replacement of all retail windows with modern/industrial office storefronts that will be customized based on tenant size.
Repair of the c 1882 Block Candy Co building at 86 Pryor, and replacement of its 1980's storm windows with historically-accurate and energy efficient ones.
Removal of 1980's "mall" touches like escalators and miscellaneous metal screening.
Repair and repaint all façades, with addition(s) of street art and murals throughout.
Reworking interior access so that it functions more like an office / workshop space rather than a circuitous mall.
"It is important for us to modernize this footprint while restoring and keeping as much of the charm as we can of this iconic area," explained Scott Smith, CEO of WRS, Inc. "We are investing a great deal in the structural safety of Block 3 while upgrading systems including all new mechanical, electrical and plumbing systems. We are working to bring everything to current code including new windows, lighting and new water quality measures for future tenants and patrons."
Block 3 is also the permanent home of The Masquerade, who recently finished cosmetic renovations and the coworking pop-up Post-Office Cowork and coffee shop at 86 Pryor.
---
About S9Architecture:
S9Architecture is a New York-based design firm dedicated to giving form to our client's pragmatic needs, with a unique design approach rooted in "modern contextualism" and inspired by urban narratives. Rejecting pre-conceived ideas and stylistic preoccupations each design solution is informed by programmatic physical environmental economic and contextual forces.  We believe our projects are part of a larger whole acting as glue that helps bind and enhance their context for human experiences.
About WRS, INC:
WRS Inc. provides a range of real estate investment services, including the development of commercial retail, office, and mixed-use projects, real estate property management, and commercial brokerage services. Currently WRS, Inc is developing projects throughout the Southeast including The West-End District in Charleston, SC, and The Foundry in Chattanooga, TN.