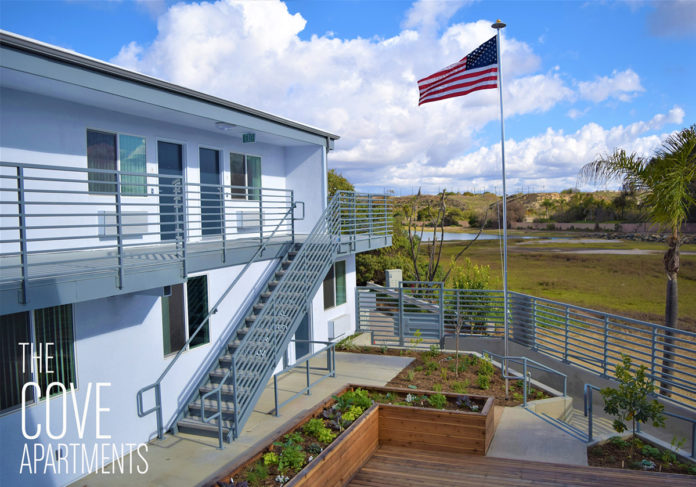 Community Development Partners is pleased to announce the grand opening of The Cove Apartments in Newport Beach, CA. A ceremony to celebrate the milestone will take place Thursday, March 15 from 11am-1pm at the property, located at 6001 Coast Boulevard.  Speakers include:
City of Newport Beach Affordable Housing Task Force, Kevin Muldoon
Community Development Partners President, Kyle Paine
Mercy House Executive Director, Larry Haynes
The Home Depot Foundation representative, Bradley Litchfield
The $6.6 million project provides permanent affordable and supportive housing for homeless veterans and low-income seniors age 62+ earning 30-60 percent of the area median income (AMI). The Cove joins Rocky Hill (Vacaville, CA) and The Orchard (Santa Ana, CA) in Community Development Partners' expanding portfolio of properties serving individuals experiencing homelessness.
Located just steps from Coast Highway and public beaches, The Cove Apartments features 12 one-bed units.  Community Development Partners acquired the property, which was formerly a rundown market-rate apartment complex, and completed extensive upgrades before transforming it into affordable rental housing. The Green Point Rated property now features a refreshed exterior, new unit interiors, a laundry room, and courtyard with a community garden. Supportive services are provided by Mercy House in conjunction with the VA. The non-profit partner is Mercy House with Integrity Housing acting as the co-GP. The project was designed by Rand Kruse, built by Precision General Contractors, and is being managed by Solari Enterprises. Financing was provided from the sale of 4 percent Low Income Housing Tax Credits (LIHTC),Tax Exempt Bond financing from bonds issued by CSCDA with construction debt provided by Citi Community Capital. Additional permanent debt was provided by City of Newport Beach Housing Funds, California Housing Finance Agency (CalHFA), and grants from the Affordable Housing Program (AHP), CITI Salute program, and The Home Depot Foundation.
Mercy House Executive Director, Larry Haynes, adds, "Permanent Supportive Housing, like The Cove, is one necessary solution to the complex issue of homelessness. We are excited to bring Mercy House services to The Cove to help keep its residents whole and healthy."
Kyle Paine, President of Community Development Partners, the project's developer, says, "The Cove is designed to be enriching to the residents and the community. Not only will it help beautify and revitalize an otherwise dilapidated building, it is providing quality housing that honors the dignity of its residents."
---
About Community Development Partners
Founded in 2011, Community Development Partners develops and operates sustainable, life-enhancing affordable housing with a focus on long term community engagement and innovative design. The company's mission is to repair and strengthen the fabric of cities and towns by meeting the housing needs of local citizens through the thoughtful planning and creative development of sustainable, affordable communities. The company has offices in Newport Beach, California and Portland, Oregon and has developed and currently operates properties in Arizona, California, Nevada, and Oregon.