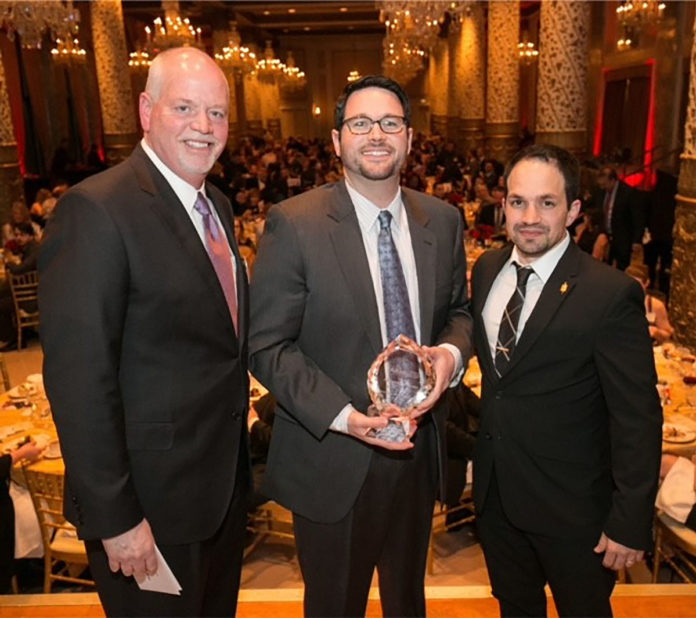 Draper and Kramer, Incorporated, a national real estate services firm, is proud to announce David Newton, property manager at 1350-1360 N. Lake Shore Drive in Chicago, was named Accredited Residential Manager (ARM) of the Year by the Institute of Real Estate Management (IREM)'s Chicago chapter. The award was presented to Newton at IREM Chicago's annual Premier Awards, held March 2 at Chicago's Drake Hotel.
"Every day, our team benefits from the incredible level of professionalism and dedication David brings to this industry in his role at Draper and Kramer," said Julie Johnson, senior vice president and director of management services with Draper and Kramer. "It's wonderful to see him recognized by his peers for being at the top of his field and for elevating what property managers can do not only in terms of enhancing operations, but also creating a terrific residential experience."
ARM certification through IREM signifies an individual has met requirements set by the organization for residential management experience and education; passed the ARM certification exam; completed IREM ethics education; and pledged to uphold the IREM Code of Professional Ethics.
Newton was nominated for the ARM of the Year honor based on factors including his leadership and management through a three-year façade rehabilitation project at 1350-1360 N. Lake Shore Drive; his initiative in pursuing professional development opportunities; his participation in programs such as Draper and Kramer's energy committee, which is dedicated to lowering energy consumption and costs across the Draper and Kramer portfolio; and his involvement in community service, such as volunteering with the Family Empowerment Center in Chicago's Rogers Park neighborhood and participating in the Lydia Home Association's "Safe Families for Children" program.
As property manager of 1350-1360 N. Lake Shore Drive, Newton oversees all aspects of operations for the 740-unit community, including managing finances and employees as well as overseeing resident services. An eight-year veteran of the property management industry, Newton is a graduate of Xavier University, where he earned bachelor's degrees in business administration and marketing. In addition to his involvement with IREM, he is an active member of the Chicagoland Apartment Association.
One of the largest property management firms in Chicago, Draper and Kramer has a residential management portfolio of more than 10,000 rental units across Chicago, St. Louis, San Antonio and Minneapolis, as well as 25,000 condominium residences throughout Chicago.
---
About Draper and Kramer, Incorporated:
Founded in 1893, Draper and Kramer, Incorporated is celebrating 125 years as a trusted financial and property services provider with a deep commitment to people, excellence, service and integrity. Family-owned and one of the leading privately held real estate services firms in the U.S., Draper and Kramer is headquartered in Chicago with a national reach and broad offering of services. The company's decades-long heritage has evolved over the years to meet the needs of its clients and today spans expertise in residential and commercial development, acquisition, property management and leasing; debt and equity financing for commercial properties; and residential mortgage services through affiliate Draper and Kramer Mortgage Corp. Draper and Kramer provides a single source of real estate-related counsel to a diverse group of real estate investors across the U.S including corporations; private and institutional owners and users of real estate; government agencies; condominium associations; and foundations.