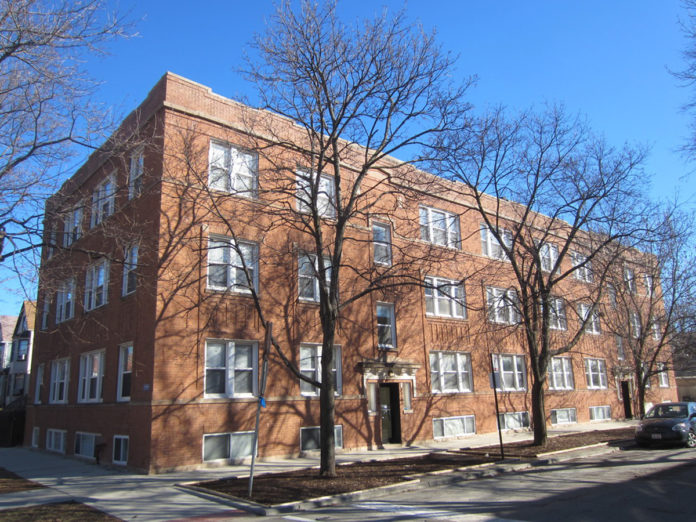 Interra Realty, a Chicago-based commercial real estate investment services firm, today announced it brokered the $2.86 million sale of 3748-54 W. School St., a 12-unit apartment building in Chicago's Avondale community.
Interra Realty Managing Partner Joe Smazal represented both the buyer and private seller. The sale price equates to $238,333 per unit, which marks a new high for a vintage apartment building in the Avondale neighborhood, according to Smazal.
"Investors continue to look for opportunities on the fringe of some of the more core North Side neighborhoods due to the relative value and higher appreciation potential they offer," said Smazal. "Avondale borders Roscoe Village and Logan Square, areas that have experienced rapid increases in property values, so we're starting to see a ripple effect. Another attraction for buyers was the building's spacious units with classic architectural details and high-end, modern features."
Built in 1918, the building includes three rare rental options in a vintage building — one five-bedroom unit and two four-bedroom units, each with three baths. The remaining nine units include two- or three-bedroom layouts with one or two baths.
The three-story building underwent a gut rehab in 2007 geared to creating luxury condominiums; however, the units continued operating as rentals over the past decade. The apartments feature condo-quality finishes including hardwood floors and updated kitchens with stainless steel appliances and granite countertops. Some units also have balconies.
Located at the intersection of Hamlin Avenue and School Street, the property was fully occupied at the time of closing.
Conveniently located near multiple public transportation options, residents have quick access to downtown via the CTA Blue Line. Interstate 90/94, located a half-mile east of the property, also provides easy transportation to O'Hare International Airport and other destinations throughout the Chicago metro.
Noted for its culturally unique offerings, Avondale was recently listed as one of the nation's 10 hottest neighborhoods by travel website Lonely Planet. Abundant retail, restaurant and nightlife offerings along Milwaukee and Belmont avenues are within walking distance of the School Street property.
"Investors have had Avondale on their radar for several years, but we've definitely seen an uptick in activity as the profile of the neighborhood has risen," said Smazal. "We anticipate steady price appreciation over the next few years, so buyers are looking to do deals today in order to capitalize on the momentum."
---
About Interra Realty:
Founded in 2010, Interra Realty is a Chicago-based commercial real estate services firm that delivers integrated, tailored solutions through its boutique, client-focused approach and team of experienced professionals. Since its inception, the firm has closed thousands of transactions valued in excess of $1 billion spanning the multifamily, office and retail sectors, as well as loan sales. Interra's clients range from private investors and high-net-worth individuals to large financial institutions, private equity groups and hedge funds.